This is quick and low cost yet very delicious (my husband's favourite) risotto recipe made with cheap broken long grain rice that cost £0.40 per kg rather than special expensive risotto rice, frozen chicken, dried sage and plain grated cheese instead of Parmesan… Total cost about £4.50 per 5 – 6 portions which may seem a little for some but is still plenty for those who live below the line.
I was inspired to make this risotto on a budget by Michelle from Utterly Scrummy Food For Families who is taking up I'm living below the line challenge (again) to raise money for Save The Children UK. Please, visit her blog to support her.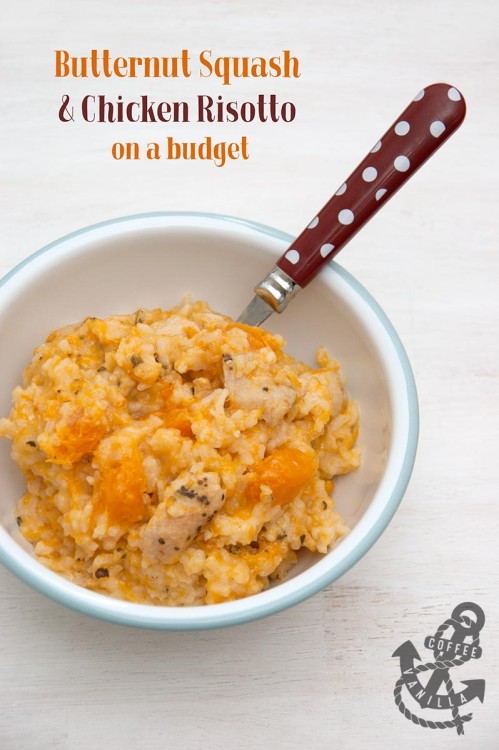 INGREDIENTS
large butternut squash / 1.5 kg (peeled, cubed)
500 g frozen chicken breasts (defrosted, diced)
2½ cups plain broken long grain rice / about 500 g
5 cups of boiling water
couple of garlic cloves (peeled, sliced) or some garlic powder
generous handful of grated Cheddar
3 tbs mild olive oil or some butter
1 tbs dried sage
salt – to taste
black peppercorns – optional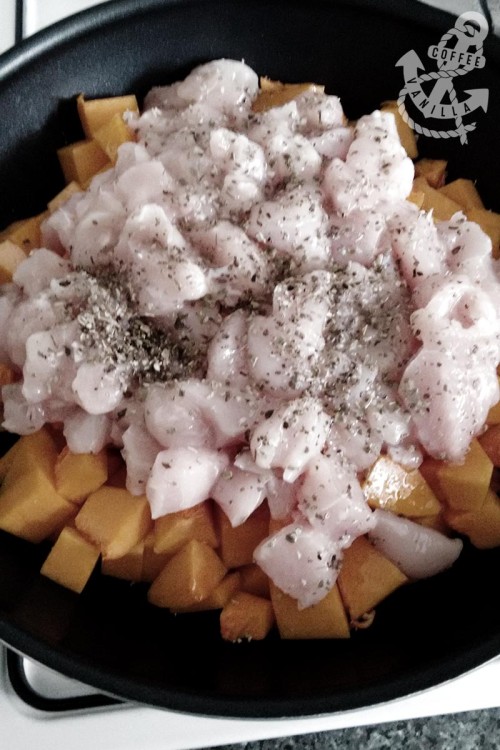 METHOD
In a large, covered pot cook rice with water. Once ready, leave aside.
In meantime on a large frying pan or in a wok fry butternut squash, chicken and garlic (if using) seasoned with sage and some salt. Stir fry until chicken is cooked through and butternut squash is getting browned and falling apart.
Add chicken and butternut squash to the rice.
Add also cheese, more salt to taste and garlic powder (if using), mix well.
Share, optionally sprinkle with some freshly cracked pepper and enjoy.
Serves 5 – 6  people ( or 4 – 5 people plus leftovers for the next day's lunch for 1 – 2 ).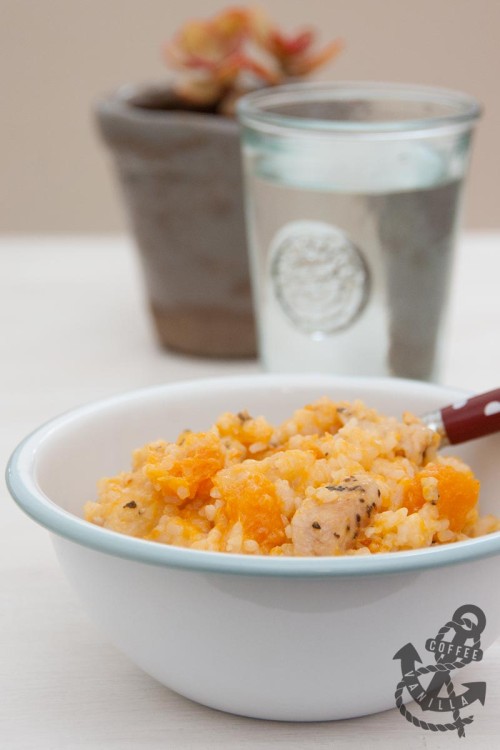 TIPS
Skip the chicken for vegetarian version.
NOTES
Other risottos I previously made: Wild Mushroom Risotto with Dill & Garlic, Mushroom & Leek Risotto with Thyme, Mushroom & Leek Risotto, Pumpkin Risotto, Onion Risotto with Black Olives & Eggs, Egg Curry Risotto, Mushroom Risotto with Black Olives, Creamy Carrot Risotto, Tarragon Chicken Risotto, Carrot, Parsnip & Leek Risotto, Fennel & Celery Risotto and Butternut Squash Risotto.
If you are looking for more risotto recipes then try: Butternut Squash and sage risotto from Knead Whine, Avocodo Risotto from Amuse Your Bouche, Tuna Meatball and Courgette Risotto from Anne's Kitchen, Winter Pearl Barley and Butternut Squash Risotto from Supper in the Suburbs, Moreish Mushroom Risotto from Munchies & Munchkins, Wild mushroom baked risotto from Family Friends Food, Mushroom & Chocolate Risotto from Tin & Thyme, Salmon and Asparagus Risotto from The Petite Cook or Prawn Savoury from Fab Food 4 All.
Some of the tableware used in the photos came from Home Sense and you can read about them in April's Tried & Tested round-up.
I'm submitting this recipe to Camilla's & Helen's Credit Crunch Munch hosted this month by Lucy of Baking Queen 74.