Don't throw away old t-shirts, turn them into beautiful crochet rugs to use all over the house!
MATERIALS
4 – 6 old t-shirts or pyjama tops in as many or as little colours you like, cut into 2.5 cm / 1 inch strips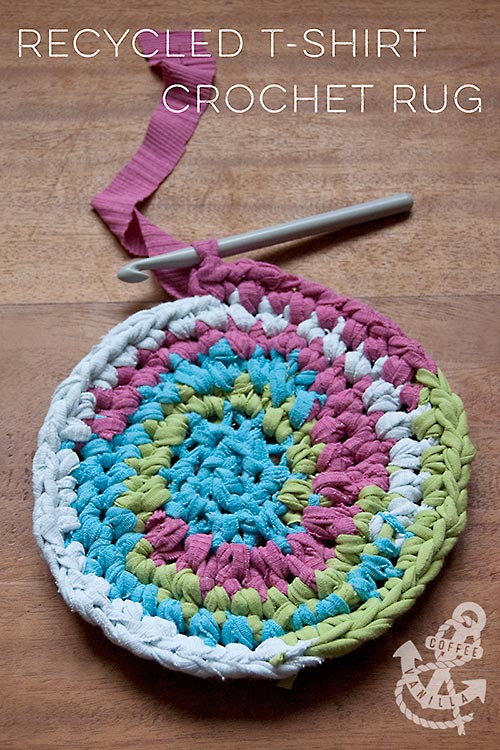 EQUIPMENT
fat crochet hook (I used 9 mm one)
needle and a little bit of thread to secure the last chain on the rug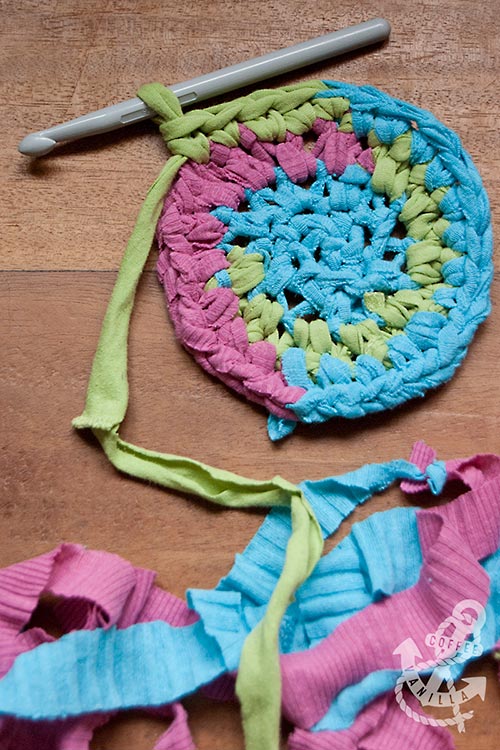 METHOD
stitches used: chain (ch), double crochet (dc), slip stich (ss)

FOUNDATION CHAIN
Start with 7 ch, connect ends of the chain with ss to create a circle.
ROUND 1-3
Work 1 dc 1 ch 1 dc 1 ch etc for the first 3 rounds.
ROUND 4+
Continue working dc but reduce amount of added extra chain stitches in between. You will see if they are needed.
Your rug supposed to be completely flat, if it is turning into hat it means there should be more extra chains added, if it is all wavy it means there should be less chains added if any. Possibly continue only with dc and only add extra ch now and then when some area of the rug bends up.
LAST ROUND
Once you are happy with the size, finish the round with sl stitch and then use needle and tread to secure the ending… and voilà, your rug is ready to use.
CONNECTING THE STRIPS
To connect strips of t-shirt together make cuts at the end of each of them and then tie them together as pictured below.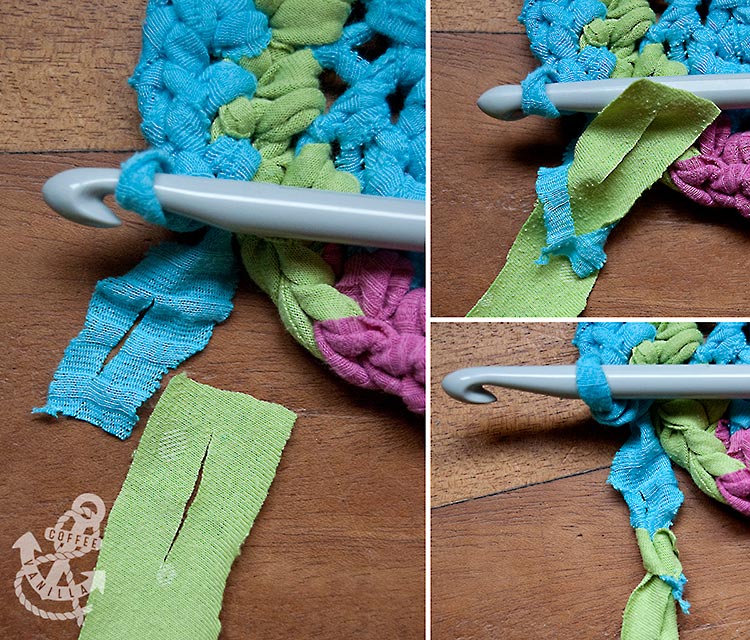 NOTES
Recycled rug like this can be also done from other fabrics such as bed linens or even stockings.
Use thinner strips and smaller crochet gauge to create place mats.
In the first row instead closing the circle make the chain longer and then start going around it to create oval shaped rug.
More upcycling / recycling ideas: DIY Play Stove (from old newspapers, bottle tops & fiber board), Coasters (from old newspapers), Piggy Bank (from old plastic bottle), Crochet Covers for Old Mammut Stools (Ikea Hack), Girl's Room Workspace (made from upcycled cot bed), Miniature Garden in a Fish Bowl (unused fish bowl turned into miniature moss garden), Reading Corner (made from spare bedside table – Ikea Hack), Upcycled Magazine Decoupage (cardboard boxes decorated with old magazines).
DISCLOSURE: This post contains some affiliated links.