This time I'm posting lunch / lunchbox ideas not for kids but for big men.
Below my husband's and my favourites, either while working at home or for his lunchbox when he has to work on location.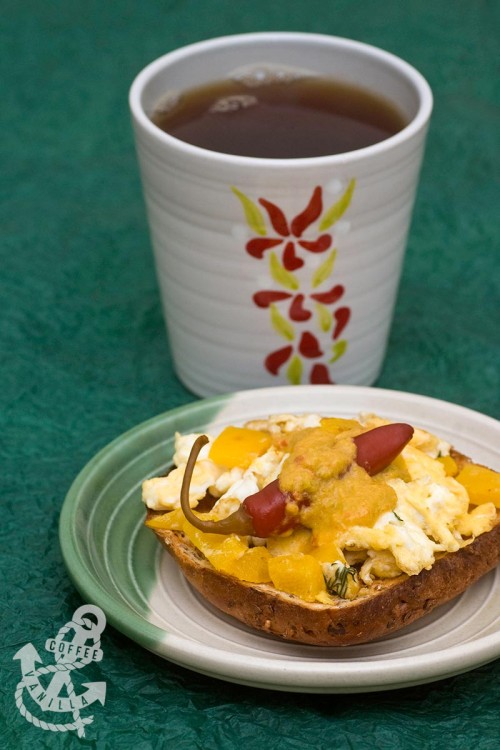 Bread of your choice plus
scrambled eggs on butter, with yellow pepper and fresh or frozen dill, topped with home-made coconut & pepper sauce & hot pickled peppers (pictured above)
cream cheese, turkey ham, avocado, leaves with shredded beetroot or leaves plus some sweet red pepper, cracked rainbow or black pepper
mayo, blue cheese, watercress
cream cheese, onion chutney, leaves, grated carrot  or grated beetroot
mature cheddar, mayo, leaves, leek, sweet red pepper, cracked pepper
brie, cranberry sauce, cracked black pepper
ham, mayo or butter, pickled pink ginger (geri) for sushi, salad leaves
butter, cheddar cheese, onion chutney, salad leaves
brie cheese, basil leaves, mixed lettuce & shredded beetroot or some bell pepper, sweet chilli sauce
ham, avocado, coconut sauce or butter, lettuce or/and bell peppers, pickled hot chilli pepper, cracked pepper or sweet chilli sauce
butter, mature Cheddar cheese, avocado, lettuce, cracked pepper, homemade coconut & pepper sauce
spicy Mexican cheese, butter, thinly sliced celery stalks
mayo or mayo mixed with soured cream or yogurt, ginger paste, mild cheese, lettuce
brie cheese, sliced cucumber, cracked rainbow or black pepper
butter, roasted chicken ham, wasabi or horseradish sauce
herbed cream cheese, rocket leaves or dill, smoked salmon or some homemade gravlax
feta cheese, sundried tomatoes, fresh basil leaves
fresh mozzarella cheese, green pesto, black olives
Camembert cheese, cherry tomatoes, cracked black or rainbow pepper
mascarpone cheese, fresh basil leaves, tomato pickle/chutney
unsalted butter, roasted chicken ham, lettuce and cranberry sauce
Tortilla wraps plus
NOTES
I will be updating this post with new additions to our lunch menu.
And what is your favourite sandwich?