It seems that soon I will be able to let my girls do all the baking for the blog… My daughters made those during the weekend and they are based on Smurfebrry Muffins recipe we made in the past.
I know, they should be called muffins not cupcakes really but the younger one wanted them to be cupcakes so they used teacup shaped muffin cases ;)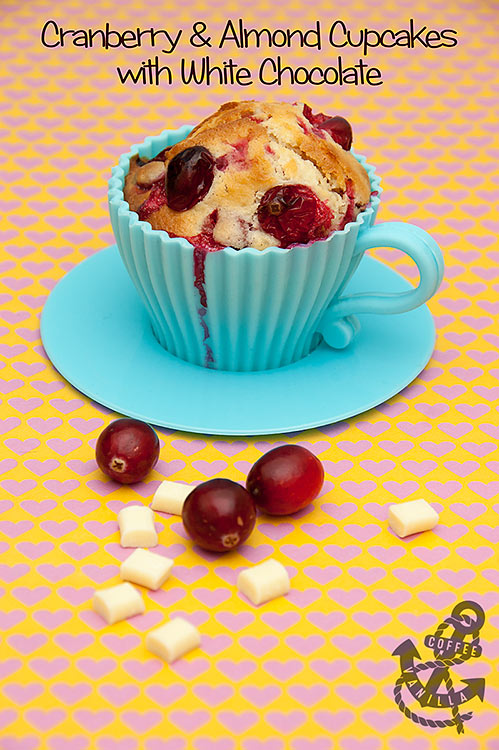 INGREDIENTS
4 cups plain flour
2 tbs baking powder
1 tsp salt
2 cups golden caster sugar
125 g / ½ bar unsalted butter (melted)
2 cups of milk
3 eggs (lightly beaten)
400 g fresh cranberries
200 g almonds (flakes or chopped)
200 g white chocolate chips
EQUIPMENT
small mixing bowl
large mixing bowl
whisk
pastry brush
trays lined with 24 muffin cases or 3 small loaf tins or combination of two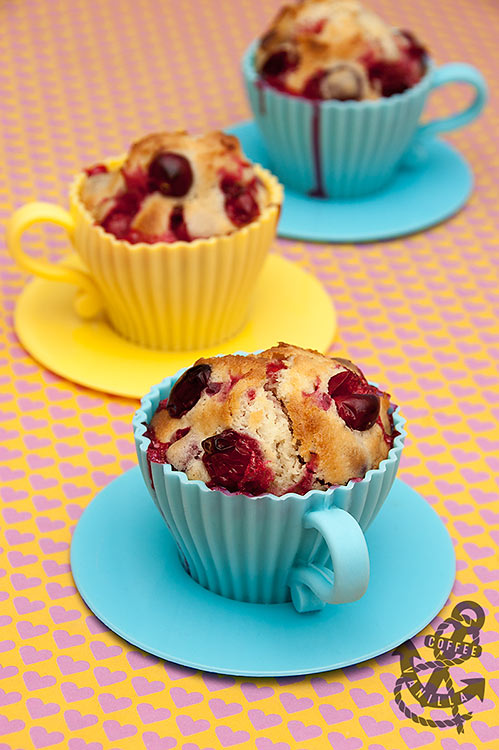 METHOD
Preheat the oven to 210°C (410°F).

Melt the butter and leave aside to cool down a bit. Use a bit of butter and pastry brush to grease baking loaf tins, if using. 

In a large mixing bowl combine all dry ingredients expect for extras: cranberries, chocolate and almonds.
In a small mixing one beat the eggs lightly and combine them with milk.
Gradually add content of the smaller bowl to the bigger one.
Add also butter and stir until well mixed.
Fold in cranberries, chocolate chips and almonds as well.
Share batter into baking tins and bake for about 30 minutes for the cupcakes / muffins and 45 minutes for the loaves.
If you can, allow cakes to cool down completely before enjoying them. They will taste even better.
Makes 24 cupcakes or 3 small loaves.
NOTES
For more cranberry bakes check out Cranberry and Orange Christmas Muffins from Hungry Healthy Happy, Spiced Cranberry & Marzipan Loaf Cake or Cranberry & Cinnamon Swiss Roll from Jen's Food and Pear, Mincemeat and Cranberry Galette from Food to Glow.
If you are looking for other fresh cranberry recipes, take a look at this Cranberry, Banana and Green Tea Smoothie, Spiced Cranberry Sauce, Mom's Cranberry & Pear Sauce or 10 Minute Cranberry & Orange Sauce we previously made.
Those recipes call for dried cranberries: Almond & Cranberry Kaymak Mazurek, Orange Poppy Seed Cake with Cranberries we made or Spiced Easter Biscuits by Bintu.