I'm a bit late posting Halloween cupcakes that we have made but those would be also perfect for any other kids' parties. Simply replace green colouring with different colours and make them as paint splodge cupcakes!
The cake batter recipe is based on our favourite Chocolate & Orange Zebra Cake aka Tiger Cake.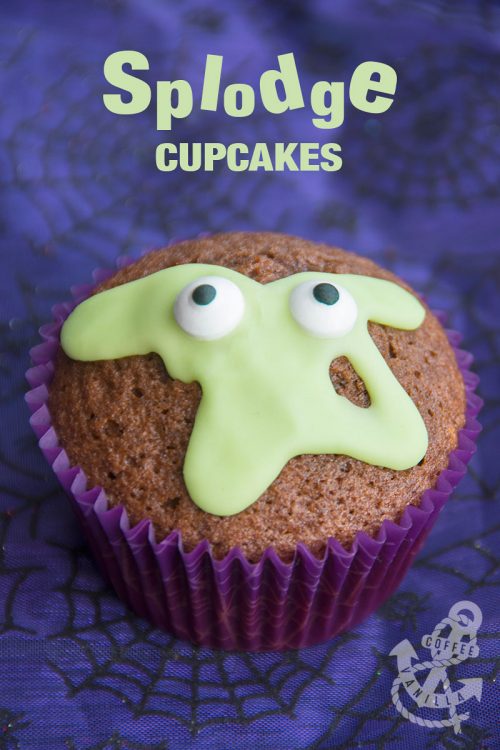 INGREDIENTS
for the cake batter
3 cups plain flour (sifted)
1 bar (250 g) unsalted butter (melted)
½ cup olive oil
½ cup orange juice + a bit more just in case (freshly squeezed would be the best but store bought juice will work as well)
3 cups golden caster sugar
10 eggs (egg whites separated)
2 tsp vanilla extract
2 tsp orange extract
4 tsp baking powder
10 tbs cocoa powder
for the topping
about 250 g box of icing sugar
few drops of vanilla extract
few tbs of boiled water
food colouring
36 pairs of sugar eyes or other round sugar decorations as eyes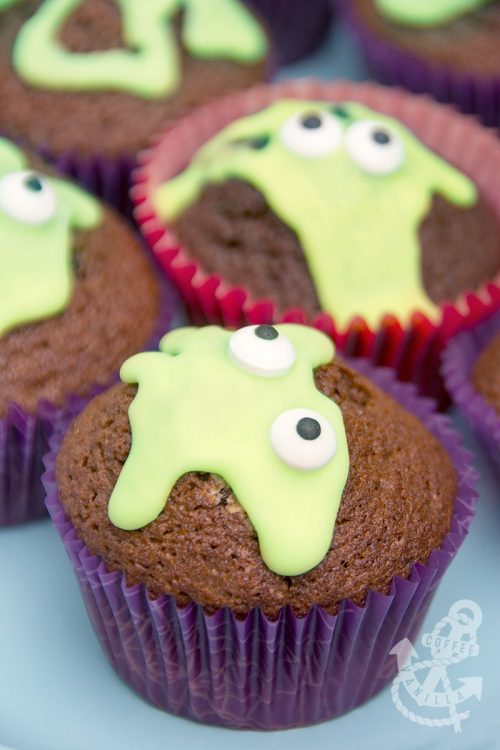 EQUIPMENT
tree 12 – muffin trays lined with paper cupcake cases (if you don't have 3 trays you can also bake the cupcakes in batches)
wooden skewer
sieve to sift the flour
whisk
large mixing bowl
two medium mixing bowls
small mixing bowl for the icing
piping bag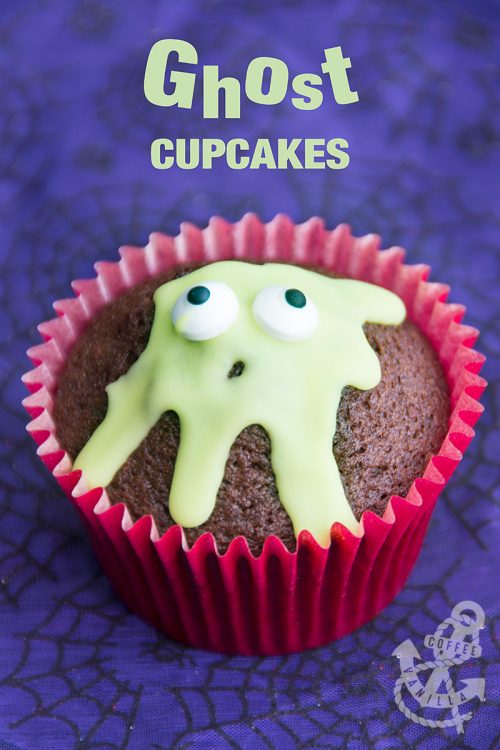 METHOD
Preheat oven to 180°C (356°F).
Line muffin trays with paper cases.
In one of the medium bowls beat the egg whites until stiff and leave aside.
In a bigger bowl place dry ingredients: flour, baking powder, sugar, and cocoa powder.
In another medium mixing bowl mix butter, oil, egg yolks, juice, vanilla extract, and orange extract.
Add them gradually to the bowl with dry ingredients and mix until well combined.
Add also previously whisked egg whites.
Share the batter into the cupcake cases, making sure not to overfill them, a bit more than half a case will be enough.
Bake for about 20 minutes. Check with the skewer if the middle of the cake is ready.
Remove from the oven and place on a cooling rack.
Once all cupcakes are baked and ready for topping, mix icing sugar in a small mixing bowl with vanilla extract, gradually add also water and food colouring until the icing have smooth but not too watery consistency.
Transfer icing to the piping bag and top each cupcake with a bit of icing sticking the eyes at the same time.
Makes about 36 cupcakes.
TIPS
Stick the eyes as soon as you top the cupcake with icing, it dries out fast and won't stick if you wait too long.
NOTES
For more chocolate and orange flavoured recipes take a look at our Chocolate & Orange Yule Log with Fondant Holly or Death by Chocolate – Seriously Chocolatey Orange & Vanilla Cake.