Creating your own tie dye t-shirts is much easier than it seems, they are fun to make and look great, especially in summer.
MATERIALS
plain white or light in colour t-shirt (we have used Fruit of The Loom)
textile dye (I used powdered one)
boiling water
salt (½ cup per 3 l of water or according to the instruction on the dye packaging)
vinegar (about ½ cup per 3 l of water)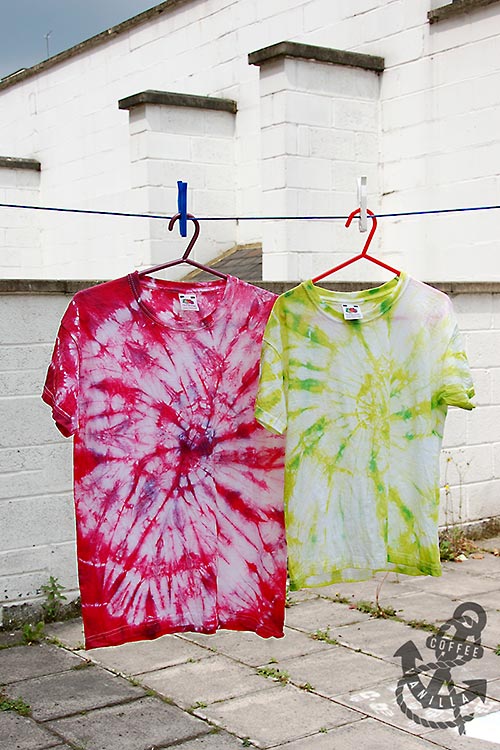 ready tie dye t-shirts drying on the line
EQUIPMENT
rubber bands or strong strings
containers to dissolve dye and vinegar in
optionally bottles with nozzles for more precise application of colours
wooden spoon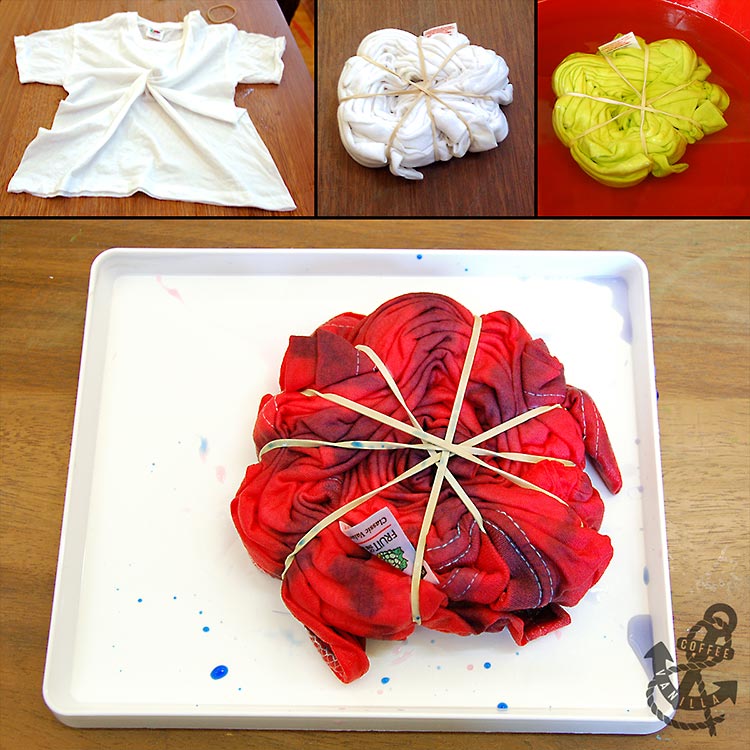 METHOD
Dissolve dye with salt in boiling water.
In meantime wet the t-shirt and hang for a while, it have to be damp but not dripping.
Twist the shirt, there is many methods that will give you different patterns, the one I did is to achieve spiral, snail shell like pattern.
Secure the shirt with rubber bands in a star pattern.
Place in a container with lighter dye (if using two colours).
After about 15-20 minutes remove shirt from the dye and splash with second colour.
Leave aside for about 15-20 minutes again.
Place in a basin with cold water and vinegar for a while to stop the colours running, remove the rubber bands.
Wash by hand in washing liquid to get rid of the vinegar scent, rinse under cold water.
And voilà, your tie dye t-shirt is ready!
red and blue dye & pistachio green with bits of blue dye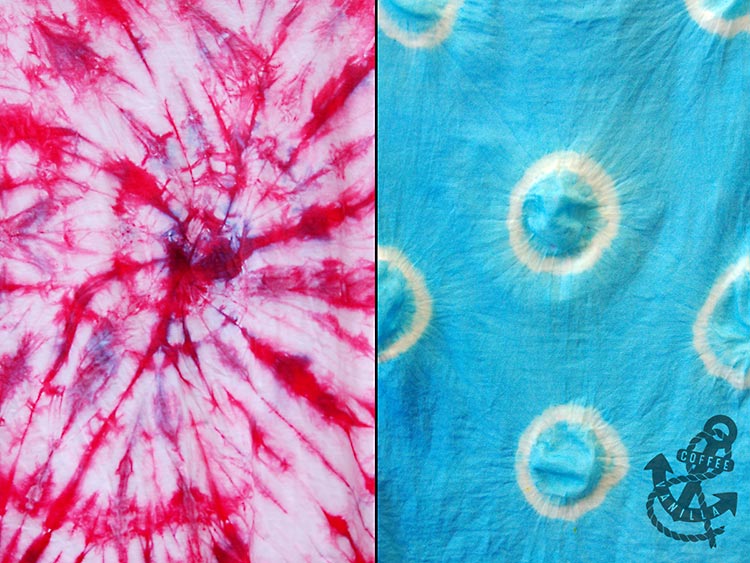 red with bits of blue dye & blue dye with rubber bands tied around marbles
NOTES
Use containers with lids to dissolve dye in to be able to save it for the next couple days and reuse.
When I was a teenager I used to dye my clothes using similar method, but with black tea instead of dye that was giving the clothes nice mocha colour.
If you are looking for more tie dyeing ideas check out this post about tie dye beach towel & matching tunic I made.
For Bohemian style accessories check out wrap bracelet with beads or crochet granny square bags we made.
I made pictured above t-shirts for my girls during textile classes I attend.