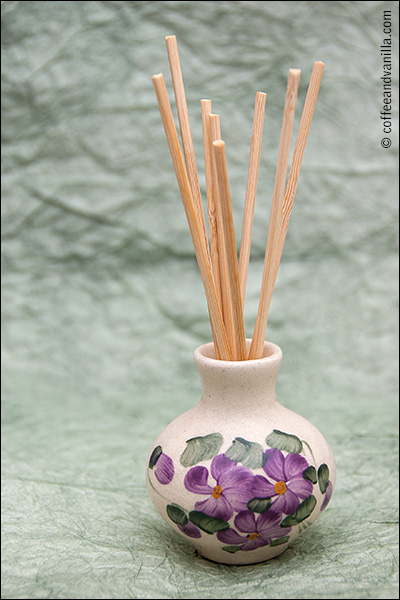 Thanks to my allergy I'm not able to use any commercial air fresheners any more (many aerosol, gel or liquid ones contain methylisothiazolinone) so I made my own oil diffusers using things I already had at home. At least now I know what exactly I'm breathing in…
MATERIALS
bottle or vase with thin neck and not taller than half a length of the reeds
diffuser reeds (or bamboo skewers)
unscented oil (baby oil, sweet almond oil, mineral oil)
white spirit, rubbing alcohol or even vodka
few drops of essential oils such as lavender, cedarwood, lemon verbena or orange just to mention few (aromatherapy oils or fragrance oils for soap making or burners can be used as well)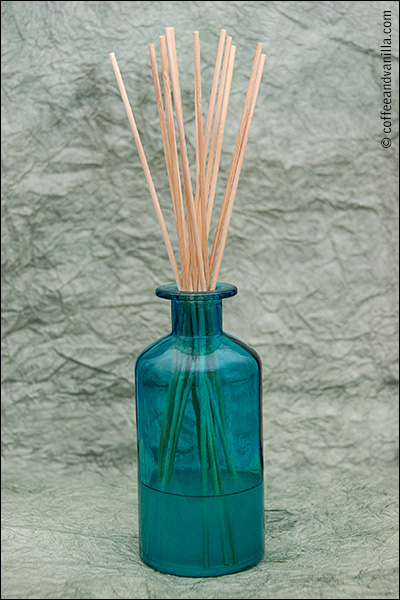 METHOD
Chop of spiky bits of the skewers.
Fill the bottle with oil and alcohol in 2:1 proportions.
Stir in also essential oils of your choice.
Insert the sticks into the bottle and allow them about an hour to take up the oil, then flip them over.
Place your ready reed diffuser in a safe place away from kids and pets.
NOTES
Move sticks around now and then to intensify the scent.
Replace oil/alcohol mixture and add fresh reeds every 2 months or so.
The smaller bottle neck the slower the liquid will evaporate and diffuser will last longer.
Alcohol helps the oils travel up the reed.
Add more essential oils if the scent is too weak.
For more home decor ideas click through to Blue Colour Themes for Home article I wrote a while ago.