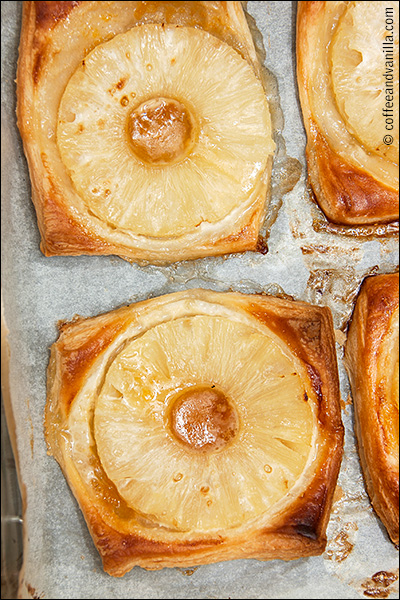 This is very quick and simple recipe, my daughter's invention that she can prepare all by herself…
INGREDIENTS
250 g chilled puff pastry (half a package)
8 flat tsp of apricot jam or conserve
400 g tin of pineapple slices (drained)
EQUIPMENT
large tray lined with baking paper
rolling pin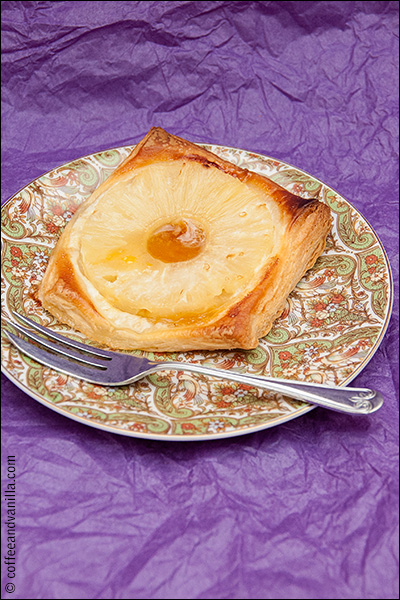 METHOD
If you are opening new puff pasty package divide it in half and put away the other part for later.
Divide remaining piece of puff pastry into 8 even squares (in half lengthwise and then into 4 across).
Roll out each piece until it is big enough to fit slice of pineapple, place on baking tray lined with baking paper.
Top middle of each square with 1 flat teaspoon of apricot jam.
Arrange piece of pineapple on the top of each square, leaving out the edges.
Place the tray in the oven preheated to 200°C (392°F).
Bake until the pastry is golden brown, about 25 minutes.
Makes 8 pastries.
NOTES
Leftover puff pastry can be stored for couple of weeks in the fridge or even longer in the freezer.
Brush edges of the pastry with whisked egg white before putting it in the over for shine… we usually skip this step as my girls prefer pastries without the egg white.
More puff pastry recipes:
Extremely cute plum & almond galettes from Sarah at Maison Cupcake.
Very fragrant peach & lavender pastries I made a while ago.
If you have a bit more time on your hands you may want to try making homemade puff pastry, check out Solange's blog for this.
Quick apple pastries that my 3 year old made, almost on her own…