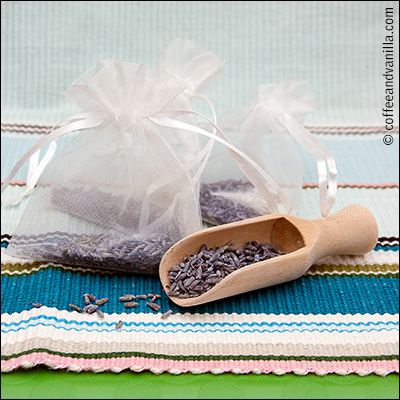 Lavender (Lavendula angustifolia) is a flowering ornamental plant but it is also well know for its medical and aroma-therapeutic properties. Lavender essential oil is often used in all kinds of cosmetics and is said to have calming properties. It can be also used in potpourris or reed diffusers. Surprisingly enough lavender has also culinary use – for instance taste good in salt to rub poultry, on peach & lavender pastries, shortbread cookies or in frosting for cupcakes. Placed in the wardrobe lavender give fresh fragrance to the clothes and helps to deter the moths (!) Having recently had a problem with those little creatures I decided to give it a go… and it worked, they were all gone (from the wardrobe) in less than a week.
MATERIALS
some dried lavender buds
couple of organza pouches /sachets
lavender essential oil – optional
METHOD
Fill each sachet with couple of tbs of lavender buds.
For stronger scent additionally sprinkle with couple of drops of lavender oil.
Close the pouches and hang in the wardrobe.
Refill with fresh buds from time to time to time.
NOTES
Lavender oil is not necessary to get rid of the moths, the scent of flower buds alone should be enough.
When cooking with lavender make sure it is food grade one.