My girls loved it and it didn't even bother them that there were beets inside, at all… We are planning to make another batch this weekend again, on their request.
INGREDIENTS
250 g unsalted butter (melted)
300 g dark chocolate (broken into pieces)
250 g cooked beetroot (drained, grated)
1¼ cup golden caster sugar
1 cup plain flour
1 cup unsweetened dessicated coconut
1 tsp baking powder
3 – 4 eggs (egg whites separated)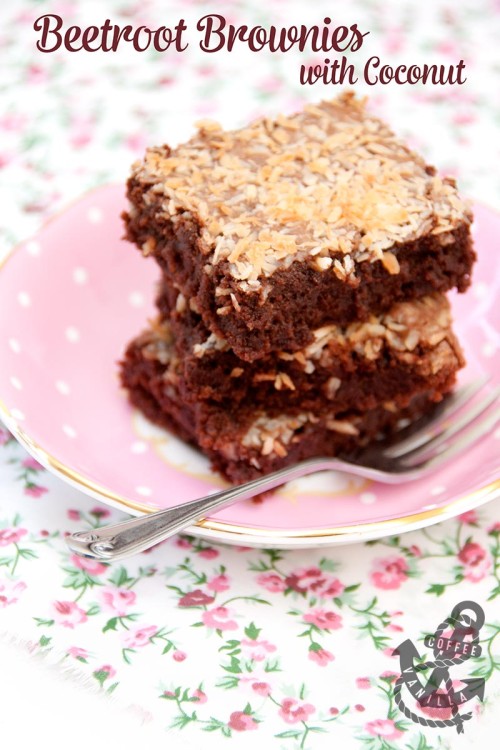 EQUIPMENT
1 large baking tray or 2 smaller (I used two Pyrex dishes but there are special, perfectly rectangular brownie trays), at least 3 cm high
whisk
baking paper
double boiler (small pot for water and metal bowl / curry dish over it)
wooden skewer to test if brownies are ready
aluminium foil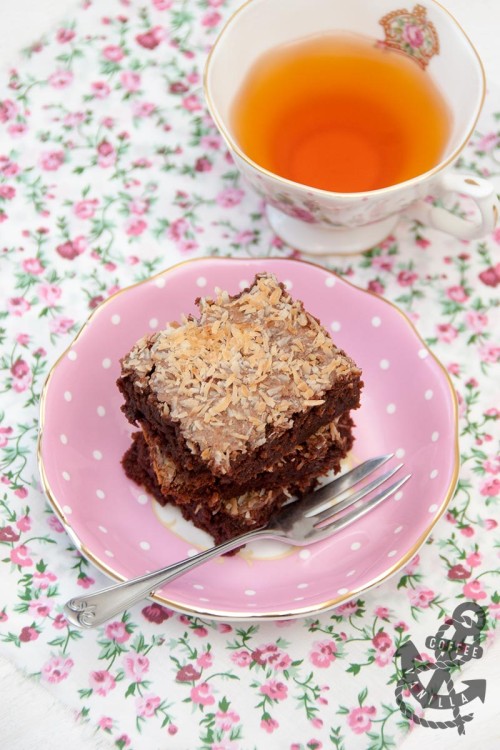 METHOD
Preheat oven to 180°C (356°F).
Melt the butter either in a small saucepan or in microwave.
Using a bit of melted butter and silicone brush grease baking tins and line them with baking paper, grease some more.
In a double boiler melt chocolate, let it cool down a little bit.
Whisk the egg whites.
In a mixer bowl combine flour, sugar, baking powder, egg yolks, half of the coconut and egg whites.
Gradually add also cooled down a bit butter and chocolate and turn on the mixer.
In the last moment fold in also beets and mix a bit longer.
Pour the batter into baking tin(s).
Sprinkle with the rest of coconut.
Bake for about 25 – 30 minutes or until skewer comes out almost clean.
Half way you may need to cover the trays with aluminium foil to prevent coconut topping to burn.
Let it cool down completely before cutting into squares.
Makes about 23 – 25 small portions.
NOTES
If you liked this recipe, you may also like Moist Beetroot Blondies with Almond Flakes aka White Chocolate Brownies we made recently.
Couple recipe suggestions on how to use leftover cooked beetroot: Pink Beetroot & Green Avocado Picnic Dips, Beetroot Salad with Rocket Leaves, Toasted Pumpkin Seeds and Feta Cheese, Beetroot Smoothie, Buraczki / Beets – Polish Way or different beetroot brownies I made a while ago: Decadent Red Velvet Brownies with Walnuts.
If you are looking for more interesting (not beetroot) brownie recipe ideas, check out: Specunana Chocolate Brownies from Fab Food 4 All, Slow Cooker Cream Cheese Brownies from Baking Queen 74, Tahini Brownies from Rough Measures, The Yummiest Brownie Ever from Of Cloves & Capers, Marmite Caramel Brownies from Tin & Thyme, Caramel Kiss Brownies from Foodie Quine, Ooey Gooey Gluten Free Brownies from Elizabeth's Kitchen Diary, Oreo Brownies from Little Sunny Kitchen, Triple Chocolate Pretzel Brownies from Munchies and Munchkins or Gooey Chocolate Brownies from Coriander Queen.
I'm submitting this recipe to Helen's from Fuss Free Flavours and Michelle's from Utterly Scrummy #ExtraVeg challenge hosted this month by Kate from Veggie Desserts.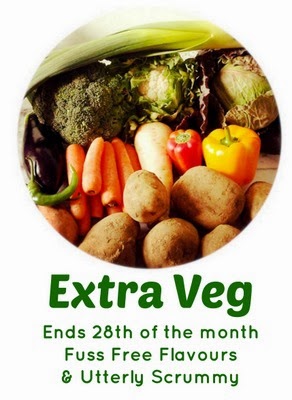 DISCLOSURE: This post contains some affiliated links.