This is traditional way of serving beetroots as a side dish in Poland. As a child I used to hate this dish but with time, when I grew up I started to love it. In fact, I crave buraczki right now…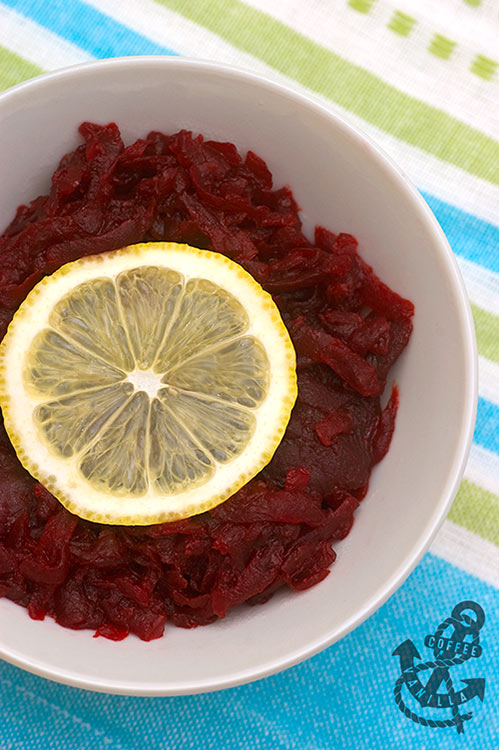 INGREDIENTS
750 g ready cooked and peeled beetroots
juice of 1 lemon
1 tbs sugar
1 tbs unsalted butter
black peppercorns
METHOD
Grate beetroots, transfer them to the saucepan with all juices.
Add lemon, sugar, butter and heat over medium fire until piping hot and there is almost no more liquid left.
Season to taste with freshly cracked pepper.
Serve as a side dish.
Make 4 – 6 servings.
TIP
Instead of using ready cooked beetroots you can cook and peel beetroots on your own, you will need about 1 kg of beetroots for that.
My mother used to use very fine grater for that dish. I used coarse grater only because it was faster, but it did not change taste of the dish.
NOTES
More recipes calling for beets: Polish Cold Yogurt Soup with Beets, Roasted Carrots and Beets in Balsamic Maple Syrup, Sweet & Sour Salad with Beets and Peppers, Celeriac with Beets, Raisins and Walnuts aka Pink Waldorf Salad, Moist Beetroot Blondies with Almond Flakes, Ultimate Beetroot Brownies with Coconut, Polish Red Borscht Soup Made Easy, Beetroot Salad with Rocket Leaves, Toasted Pumpkin Seeds and Feta Cheese or Decadent Red Velvet Brownies with Walnuts.
More Polish recipes.