This is traditional Polish recipe made easy – prepared on base of home-made vegetable stock but with ready-made borscht concentrate rather than beets (from scratch).
As a child I did not really like red borscht but as I grew older I learned to love it. You can even catch me sipping borscht from the mug at my desk, especially on cold autumn and winter days.
INGREDIENTS
about 1½ litres / 6 cups of vegetable stock (best home-made like this stock from cooking veggies for traditional Polish vegetable salad)
concentrated Polish barszcz in bottle / pasteurised concentrated beetroot juice with seasonings such as celery, garlic and marjoram – about half a bottle (150 ml) or to taste
sea salt – to taste
black pepper – to taste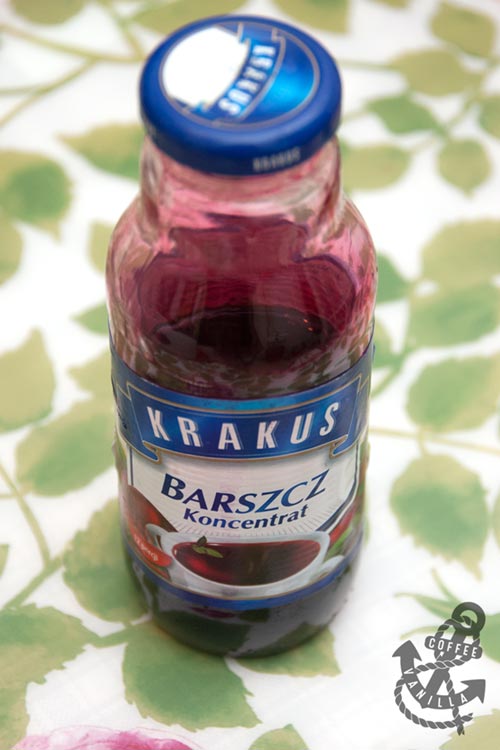 METHOD
Reheat the stock until very hot, turn off the fire.
Stir in borscht concentrate, season to taste with salt and freshly cracked pepper if necessary.
Share to the cups and serve immediately as a starter, side dish or alone to warm up during cold days.
Makes 6 cups.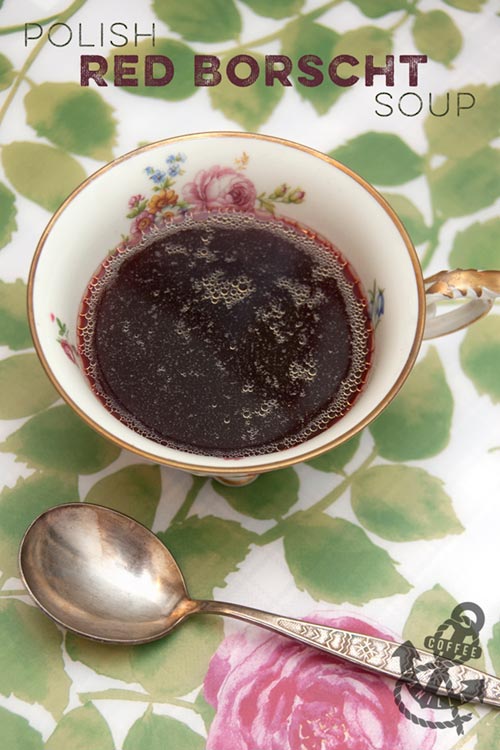 TIPS
Serve as a starter with Polish mushroom tortellini (uszka) or as a side with Krokiety, Mushroom & Sour Cabbage Pierogi or Kulebiak.
NOTES
Red borscht made from concentrated beet juice have much more authentic flavour than one made from the powder, it is also undoubtedly healthier.
Red borscht concentrate is available in many Polish stores but also in some supermarkets across UK.
If you are looking for more beetroot soup recipes, then try this Polish Cold Yoghurt Soup or Kellie's Velvety-Smooth Cumin & Fennel Beetroot Soup.
And if you are after some warming up soup recipes take a look at Michelle's Cauliflower & Potato Soup, Camilla's Cream of Leek, Potato & Carrot Soup or Elizabeth's Carrot & Cumin Soup.
With special thanks to my friend Sylwia Korsak for beautiful vintage teacup props.
I'm submitting this recipe to the Inheritance Recipes link-up that we co-host together with Solange of Pebble Soup. February Inheritance Recipes is hosted by Solange so visit her blog to enter the link-up and share your inherited recipes with us!