This is not very tatitinal sour cabbage and mushroom pierogi recipe, as I did not have wild mushrooms on hand, yet it is still very delicious.
INGREDIENTS
for the filling
500 g white button mushrooms (chopped finely)
900 g jar (500g drained) of sour cabbage / sauerkraut / fermented cabbage (squeezed in hand to remove excess water and chopped)
2 large onions (chopped finely)
3 tbs oil (I used grape seed oil)
ground black pepper
salt
for the dough
5 cups plain flour
2 large or 3 small eggs
2 tsp salt
4 tbs soured cream
½ cup or a little bit more lukewarm water
extras
unsalted butter
breadcrumbs – optional
more flour
EQUIPMENT
rolling pin
round dough cutter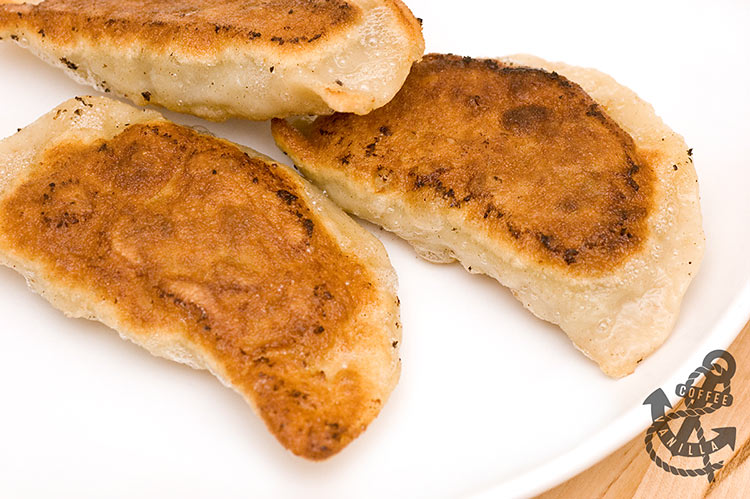 METHOD
To prepare filling fry onions on oil till golden, add mushrooms and cabbage and fry for a while longer till there is no more water from cabbage and mushrooms.
Season with salt and black pepper and leave aside.
To prepare dough combine eggs with soured cream and salt, add flour and water gradually.
Roll out portion of the dough on floured surface with rolling pin to about 2 mm thick, with round 8 cm (about 3 inches) cutter or large glass cut out circles. Each circle roll out a little bit more, place as much of the filling as you can in the middle, fold dough in half so the edges meet, seal using fingers or use pierogi maker if you have one. Make sure you seal it properly so they won't fall apart during cooking.
While you are assembling the rest of pierogi place done ones on floured surface, make sure they are not touching because they will stick.
When you are ready to cook pierogi bring large pot of water to boil, drop pierogi inside, cook for about 3 minutes from the time they started floating on the surface.
Drain.
Serve pierogi refried on butter or topped with melted butter and breadcrumbs. To prepare breadcrumbs in a small saucepan place breadcrumbs and butter – 125 g / ½ bar of butter for ½ cup breadcrumbs, heat on low fire till butter is bubbling, pour over cooked pierogi.
Makes about 55 pierogi (allow 6 – 8 per serving).
TIPS
Cooking pierogi in pot of water is traditional method. I tried to cook them in frying pan with a little bit of butter and lots of water turning once and it worked as well. Frying pan method is better if your pierogi did not seal properly, this way they will not fall apart.
You can also leave raw pierogi to dry for couple of hours and then place them in a plastic bag and freeze till you are ready to eat them.
NOTES
Pierogi are traditional Polish dish served during Christmas Eve with beetroot soup / Barszcz or Wild Mushroom Soup but taste the same good on their own.