This poncho is made on granny square base, instead of starting with small circle inside I started with large, empty square of 20 x 20 (80 all together) chains which turned out a bit too big for my two year old but she is growing so fast it will be just right in no time…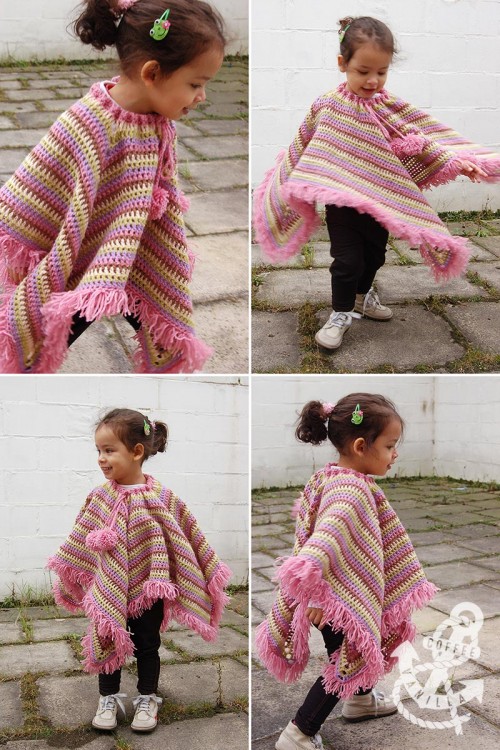 MATERIALS
couple of colours of double knitting yarn (I used 5 colours: beige, kiwi green, lilac, rose pink and chocolate brown) – about 350 g – 400 g all together
EQUIPMENT
crochet hooks (I used 4.00 mm one to crochet and 5.00 mm to make frills)
METHOD
Please note that names of the stitches in UK & US vary, this is UK pattern, click through for crochet stitches conversion chart.
stitches used: chain (ch), double crochet (dc), half double crochet (hdc), triple crochet (tr), slip stitch (ss)
FOUNDATION CHAIN
multiply of 4 ch + 1 ch (I stared with 80 ch + 1 ch base)
connect two ends of the chain with  ss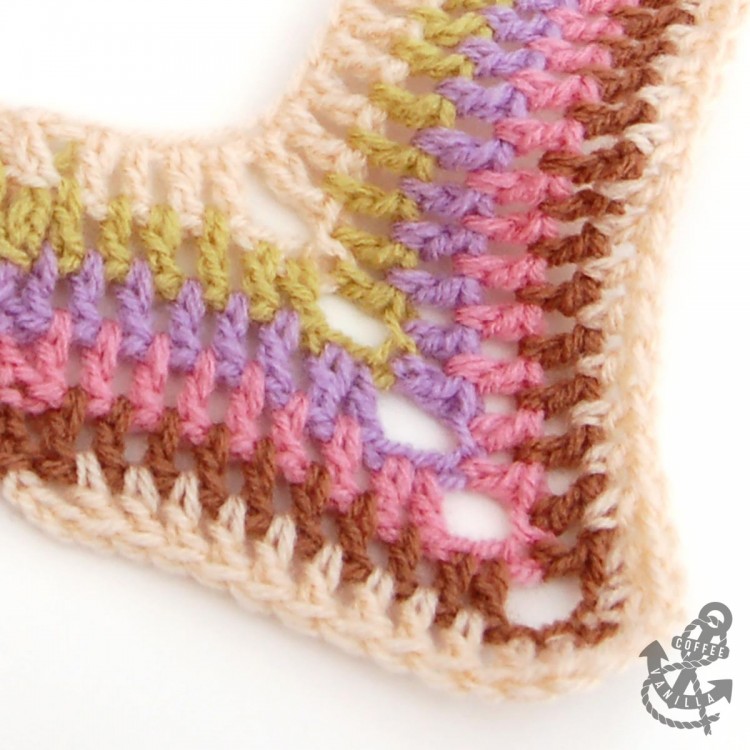 ROUND 1 (FOUNDATION ROUND)
This is the most important part, counting stitches is crucial, otherwise poncho won't be even. The beginning will be place where all rows will be connected, therefore we need to start half way in between corners, not on the edge.
Work 3 ch instead of first tr and then continue with 9 more tr into each chain of the base.
Then work 4 ch to create the corner and 20 tr into each chain of the base.
Again 4 ch for the corner and then 20 tr.
One more 4 ch corner, 20 tr and 4 ch for the last corner.
Work last 10 tr and finish the row with ss into 3rd ch of the first tr.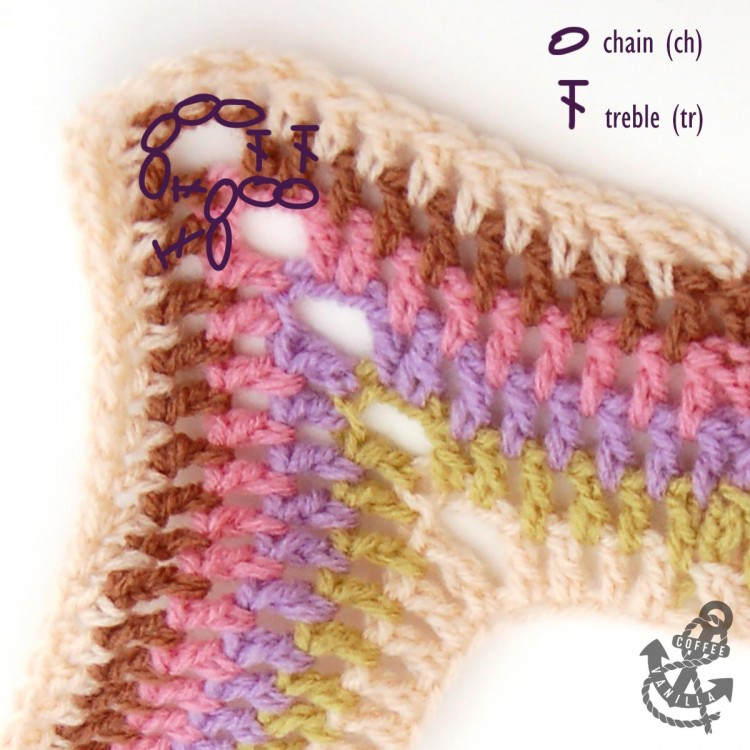 ROUND 2+
Start with a new colour the same way like in the previous row, starting with 3 ch for the first tr and then continue with tr in between stitches from the previous row.
Once you will reach the corner chains work 2 tr into the chains of the base, 4 extra ch to create a new corner and again 2 tr into the chain base.
Continue like this for as many rounds as it is needed to make poncho long enough.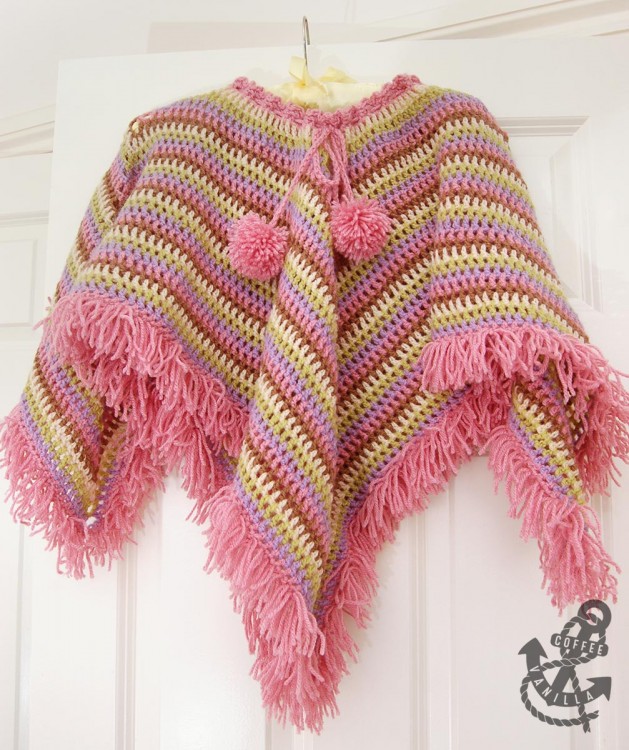 LAST ROUND (the most time consuming)

Start the round with colour you will be using for frills.
Work 2 ch for first htr and then htr all the way around poncho, even the corners.
Cut pieces of the yarn and tie into each dc stitch, I tied 3 pieces of yarn into each of them – use larger crochet hook to pull the yarn through the holes.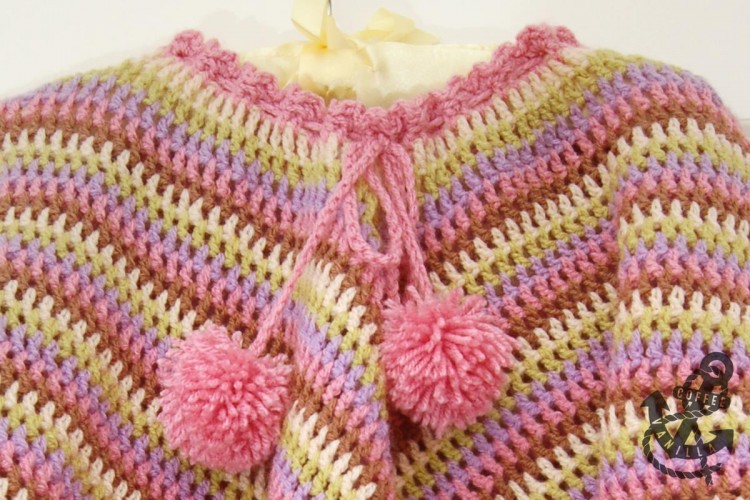 NECK FINISH
Using the same colour as frills I finished the poncho with scallop pattern around the neck and then chain with pom-poms as this is child poncho and I needed possibility of adjusting the size.
First row: work 2 ch and then htr around the neck without creating the corners again.
Second row: work 1 dc 2 htr 1 dc into every second stitch to create the scallops.
Make chain long enough to be tied into bow, thread it into the scalloped neck finish.
Create two pom-poms and attach them to the ends of the chain.
NOTES
If you are making poncho from one colour you can decorate it with some flowers or other little embellishments.
It is much easier to use two or three colours only, then you don't have to cut and tie yarn all the time. I started working on second, two tone poncho for my older daughter… I will add more photos once it is finished.
More crochet poncho patterns.
With thanks to my husband who was helping me to tie the frills… it took us 3 evenings :)
DISCLOSURE: This post contains some affiliated links.