I'm not a wine expert but everyone knows that cheese & wine is pairing very well. There is plenty of varieties of cheese and wine so choosing the right pair can be a little tricky…
Generally soft white cheeses go well with white wine when hard and pungent ones go much better with red wine.  Also the more flavoursome cheese the more sweet the wine should be, for instance mature blue cheeses pare very nicely with port wine. It is also good idea to match cheese and wine that is coming from the same region.
But except the wine it is good to have something more to go with the cheese. Below you can find couple of cheese and food combos I tried and tested myself.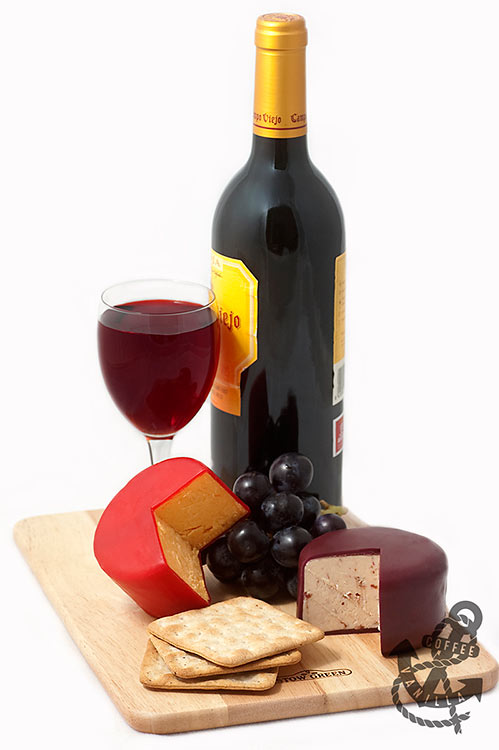 Blue cheese like Gorgonzola, Roquefort, Blue Stilton, Danish Blue just to mention few go best with similarly strong in flavour foods and red wines. It tastes good with mayo, neither itself on the bread, as a dip or in salad, stuffed in green olives, with pears and dark chocolate. Blue cheese taste also delicious in quiche with spinach and nutmeg.
Cheeses with white mould such as Brie or Camambert taste good in all kind of fruit, leaf and nut salads, for instance with watercress & pecans or with almonds & apples. One of my favourite combinations is Brie cheese with mango. Blue Brie taste exceptional with pears and honey. From more traditional combinations Brie or Camambert taste very delicious with cucumber or tomato and freshly cracked pepper.
Feta cheese taste great with watermelon & pinenuts, sundried tomatoes & fresh basil leaves, with pomegranate or roasted peppers. It can be also used with fish, for instance in spinach & fish bake or in fruity pastries such as this one with figs.
Mild yellow cheeses as Emmental, which has piquant but not sharp flavour, duet well with stronger flavours such as the one of soured cucumber or horseradish sauce.
Strong, mature yellow cheese, for instance Cheddar or Red Leicester, taste good with fruits such as apples or grapes. It pare very well also with mustard, with chive in a sauce, grilled with mushrooms, with walnuts, onions, caulifower or curry powder.
Spicy Mexican cheese and celery stalks are very tasty combination, too.
White Stilton or similar white cheeses match well with fruity flavours such as mango & ginger or cranberry sauce.
Soft white cheese can be used in sweet and savoury combinations. For instance Mascarpone works as good with fresh basil leaves and tomato pickle as in deserts like Tiramisu .
Cream cheese blends nicely with chives, avocado and cracked pepper or dill and smoked salmon. But it tastes also good with jams or in cheesecakes.
Similar curd cheese is brilliant mixed into paste with fresh herbs as a sandwich spread, it can be used in cheesecakes or simply eaten with honey.
Fresh mozzarella is great with basil leaves, tomatoes, black olives or even sweet chilli sauce. Mozarella for pizza matches well with cranberry sauce or pears.
Halloumi cheese taste amazingly grilled with tomatoes and peppers.
Parmesan, especially grated one can be used for many dishes, to me it is extremely scrumptious with thyme either as a topping for the fish or in risotto.
And what is your favourite cheese pairing?
Please drink responsibly and don't exceed recommended safe alcohol unit limits.