For a longer while now I'm trying to exercise regularly, eat healthier and generally have a balanced diet for myself and the whole family… As I don't have any expertise in nutrition this is rather a random process and my efforts usually end up on preparing slightly smaller portions with more vegetables, which I realize is not ideal, therefore I decided to give a go couple of recipes from the Cooking For Fitness: Eat Smart, Train Better book that was published recently.
In addition to that, just before winter holidays my husband (who cycles to work) had an accident that left him with a fractured arm. I thought if I cooked meals specially designed for recovery, it would speed up the healing process and who would know better about aiding recovery than James Haskell (rugby superstar) or the top UK sports chef – Omar Meziane.
I was pleased to discover that the Cooking For Fitness cookbook is stuffed with easy to follow, every day healthy recipes for all of us and lots of info about the importance of proper nutrition, explained in a simple language, without unnecessary fitness jargon. This book is something that even our teenage daughter can make use of without being too overwhelmed or bored.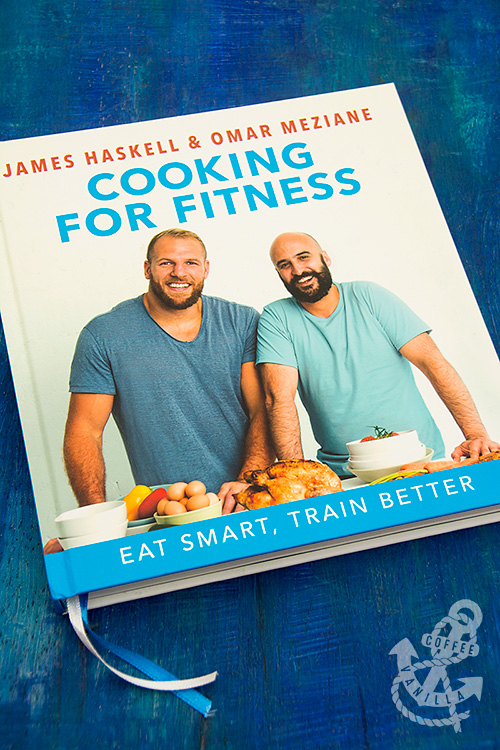 The Cooking for Fitness book is organized into handy 8 sections:
Low-Carb Breakfasts
Hight-Carb Breakfasts
Low-Carb Lunches
High-Carb Lunches
Low-Carb Dinners
Hight-Carb Dinners
Pre-Training Snacks
Post-Training Snacks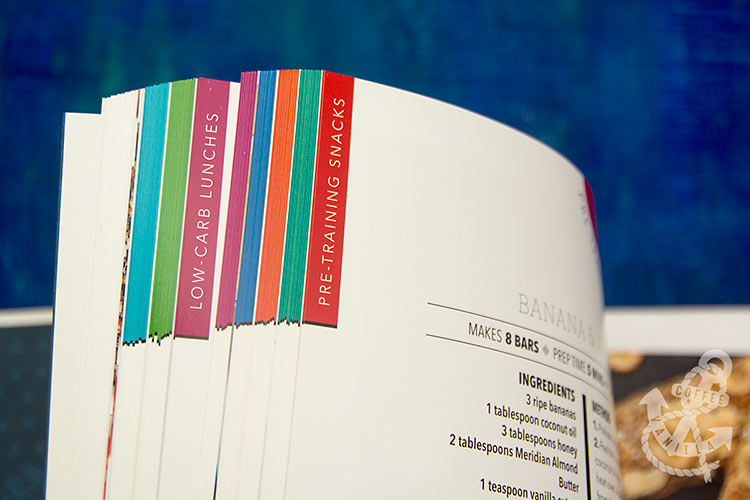 There is also a chapter about ingredients and kitchen equipment, types of knives for instance and other essential bits for those who are new to cooking.
Most of the recipes in the book make 2 or 4 portions, which makes a lot of sense to me personally because even with the family of 5 I would be probably making them only for two of us and prepare something slightly different for the kids and my mum.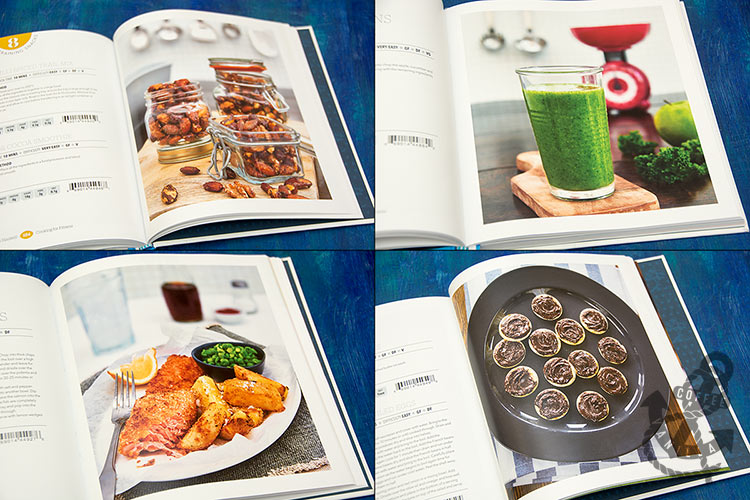 Format-wise – I really like the medium squarish size of this hardcover. The book is very practical, it does not have an additional paper sleeve, instead it has rubbery in touch cover that is not only pleasant to hold but also easy to wipe clean in case of getting dirty in the kitchen. And the handy two bookmarks are perfect to mark two meals to make during the day. Not all of the recipes have images but the book is stuffed with tempting, beautifully styled full-size photographs of a majority of the recipes.
To make things better all of the recipes have useful barcodes that you can simply scan to add calories to the MyFitnessPal app rather having had to input them manually. I don't use the app at the moment but I did before and I remember how annoying adding the calories one by one was…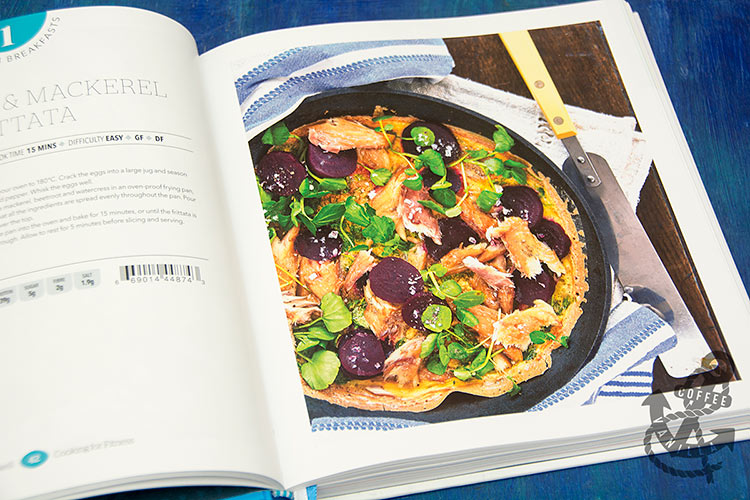 Cooking For Fitness: Eat Smart, Train Better
AUTHOR: James Haskell & Omar Meziane
PUBLISHER: Haskell Publishing
FORMAT: Hardcover
SIZE: 205 x 23 x 223 mm
PAGES: 212
LANGUAGE: English
ISBN: 978-0995544642
PUBLISHED: 27th December 2018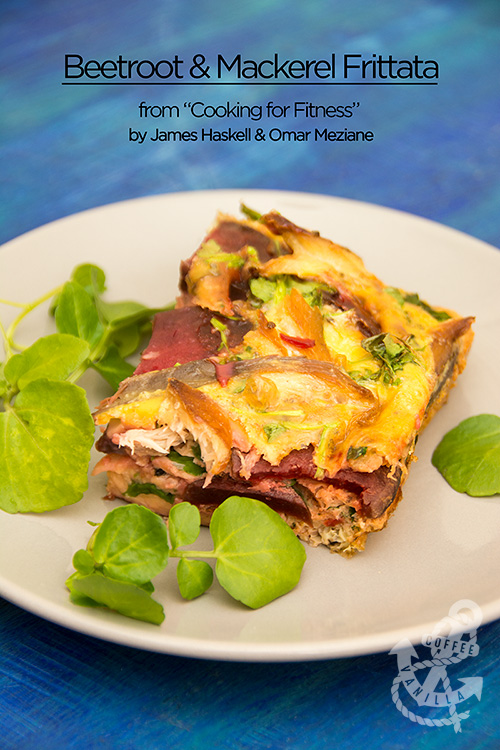 The recipe I have decided to try first was the Beetroot & Mackerel Frittata from the Low-Carb Breakfasts section. We love smoked mackerel, also eggs and cooked beetroot are quite common ingredients in our dishes… but we have never tried combing them together. I knew beets go very well with fish but never thought of adding them (or mackerel for that matter) to the eggs. As it turned out they are made for each other. The breakfast was spot on and made us full for the whole morning.
INGREDIENTS
6 large eggs
1 filled smoked mackerel, finely sliced
4 small cooked beetroots, sliced
1 small bunch watercress, roughly chopped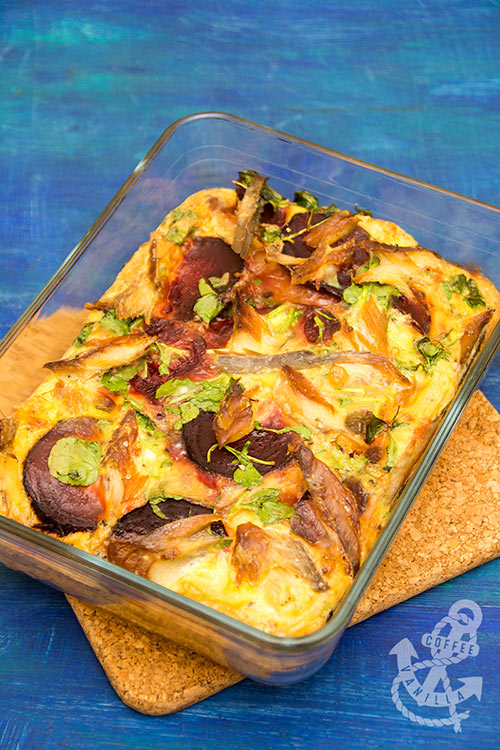 METHOD
Preheat your oven to 180°C (356°F). Crack the eggs into a large jug and season with salt and pepper. Whisk the eggs well.
Place the mackerel, beetroot and watercress in an oven-proof frying pan, ensuring that all the ingredients are spread evenly throughout the pan. Pour the eggs over the top.
Place the pan into the oven and bake for 15 minutes, or until the frittata is cooked through. Allow to rest for 5 minutes before slicing and serving.
Serves 2.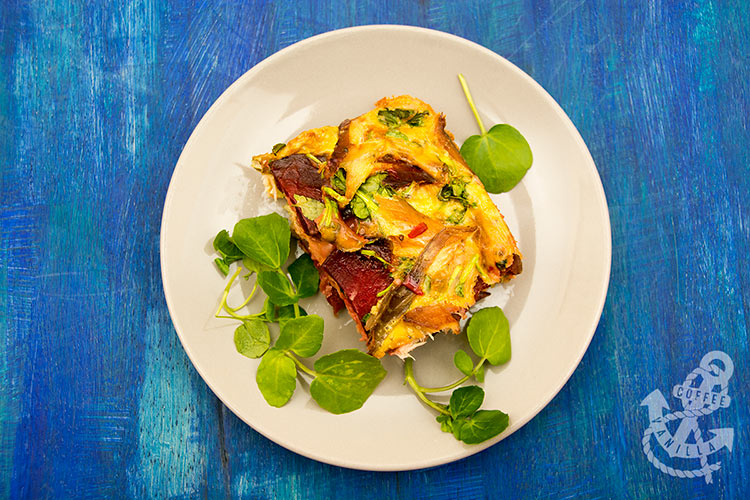 TIPS
If you don't have oven-proof frying pan you can use any other oven dish, I have used a rectangular Pyrex dish.
We like our food spicy so I have swapped plain smoked mackerel for the smoked piri-piri one (I had it in the fridge anyway). Black pepper mackerel fillets would work here well, too.
NOTES
For more healthy cooking recipes take a look at our low-calorie recipes here.
DISCLOSURE: We have received a complimentary copy of Cooking for Fitness for review purposes. All opinions expressed here are our own and we retained full editorial control. This post contains some affiliate links.