It has been very busy couple of months, it is hard to believe that 4 months has passed since the last Inheritance Recipes round-up.
In a meantime we were working on our EuroCaribbean Family Tree (that is still under constructions), reactivated with Sylwia – BIGOS UK (The Association of Polish Bloggers Living Abroad) and helped our daughters to start their own website with crafts at MarissElla
Every month you can submit any recipe (old or new) as long as it is inherited: through family member, friend or ancestral culture. Entries can be traditional recipes or preparation methods, national recipes from all over the globe, dishes that you often prepare with your children (starting a new tradition), recipes inspired by childhood memories or dishes inherited from a family member or a friend.
There is also no geographical restrictions for the entries, recipes from all over the world are more than welcome, we love diversity!
We share all of the entries via social media channels and included them in full round-up (with images) on one of our blogs at the end of the month.
December – March entries can be seen below. Follow the number links under the collage to check them out and don't forget to subscribe to Inheritance Recipes Pinterest board (that has now 3,837 followers) and Inheritance Recipes list on Twitter which we use to retweet recipes from IR participants (past or present) every morning.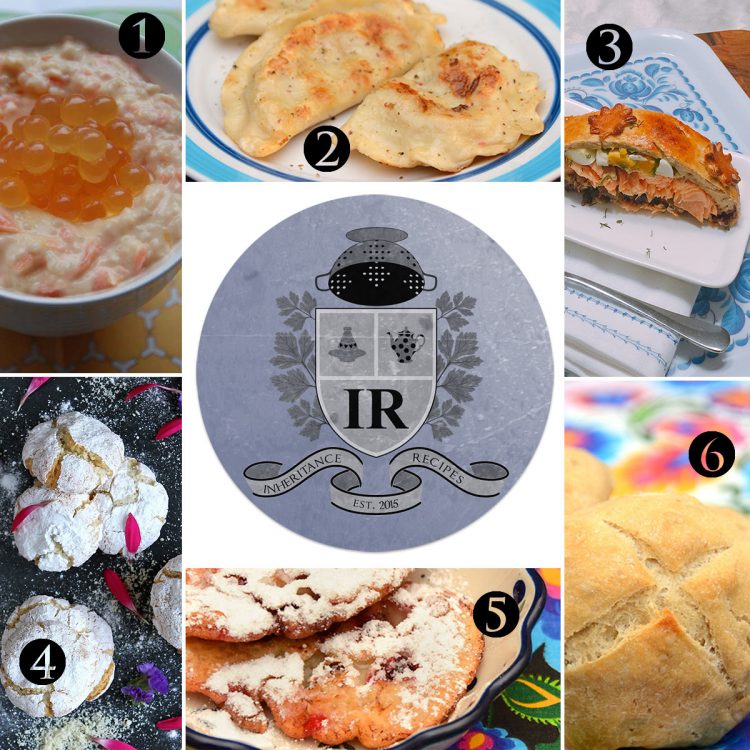 Sweet Potato Rice Pudding with Mango Pearls by Shaheen from A2K A Seasonal Veg Table
From now on you can submit your IR entries on one of our pages, Solange's or mine and once we have enough recipe links to share, we will post the round-up. The new, open link-up is here.
We can't wait to see your #InheritanceRecipes !!!