This is practically effortless recipe for delicious lunch or even dinner, perfect for warmer days. All you have to do is to pop potatoes in the oven, in meantime mix all of the filling ingredients (from the tins and jars) and voilà, your meal is ready! :)
INGREDIENTS
6 – 8 large baking potatoes / about 2½ kg
for the filling
2 x 200 g tin of tuna in brine (drained)
400 g tin of sweet corn (drained)
400 g tin of red kidney beans (drained)
sweet red pointed pepper (chopped)
half large bunch of parsley or some fresh or frozen dill (finely chopped)
3 tbs  crème fraiche or to taste
3 tbs mayonnaise or to taste
sea salt to taste
hot sauce (I used Encona's Creole Sauce) to taste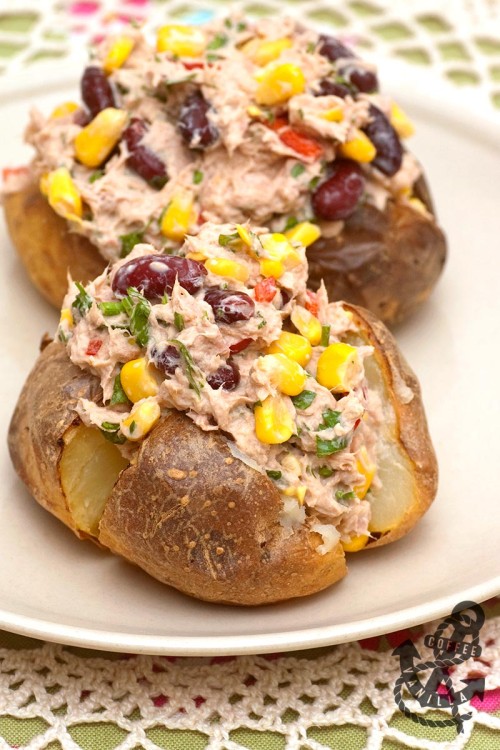 EQUIPMENT
baking tray
metal skewer
mixing bowl
METHOD
With a skewer pierce skin of each potato, place them in the oven preheated to 200°C (392°F)  and bake for about an hour or longer, until very soft inside (check with the skewer).
Combine all ingredients for the filling in a mixing bowl and leave aside.
Once potatoes are ready cross cut them while still hot and top them with the filling.
Enjoy with some green salad on a side.
Serves about 6 people.
NOTES
This filling is also great as a sandwich filler or topping for pasta.