This is very versatile crochet pattern that will suit almost any baby doll or teddy bear…
MATERIALS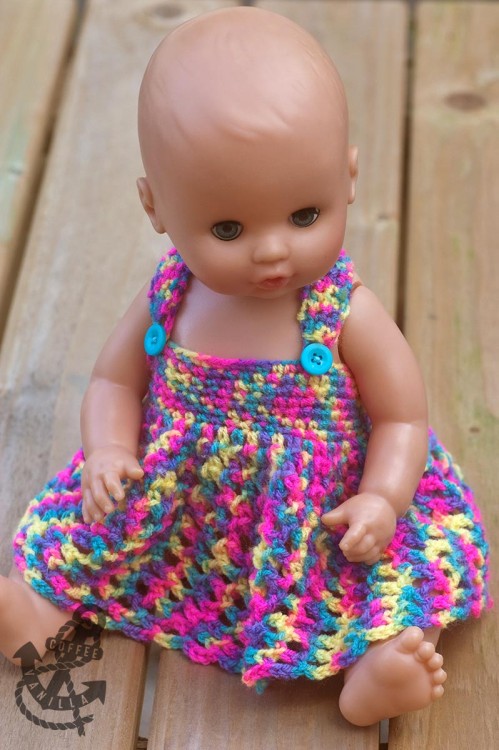 EQUIPMENT
needle – to sew on the buttons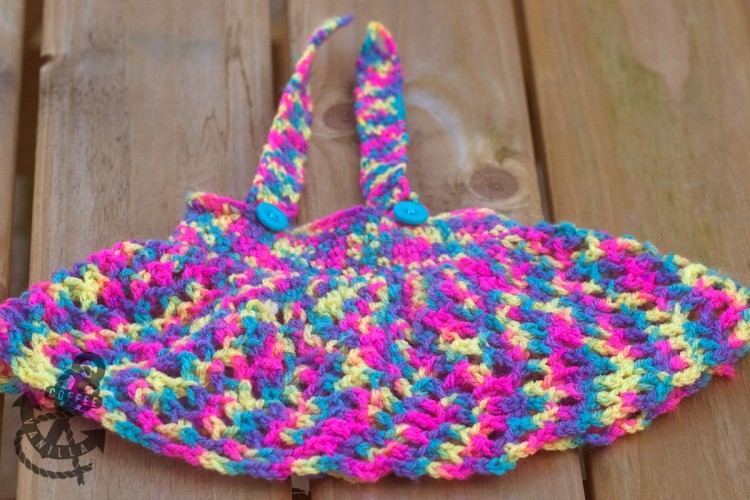 METHOD
Please note that names of the stitches in UK & US vary, this is UK pattern, click through for crochet stitches conversion chart.
stitches used: chain (ch), slip stitch (ss) & double crochet (dc)
FOUNDATION CHAIN
Start with a ch, long enough to go around doll's chest. Make sure the chain is not twisted and connect it with a ss.
ROUND 1 (FOUNDATION ROUND)
Work dc until the end of the round, then continue with dc for about 7 more rounds.
ROUND 9+
Start a mesh pattern: work 5 ch, skip 1 stitch in the foundation, make ss into the next chain, repeat until the end of the round.
In the next round make 5 ch, skip 3 stitches in the foundation, make ss into the middle of the mesh chain, repeat until the end of the round.
Repeat this mesh pattern for as many rounds as required to make the dress long enough. I made 12 mesh rounds.
STRAPS
Sew on two buttons on the front of the dress.
In the same position as the buttons, but on the back of the dress, add the straps. Make each of them 3 – 5 dc wide, turn and repeat until the straps are long enough to go across the doll's back to the front where the buttons are.
Finish each strap with a chain loop for the buttons.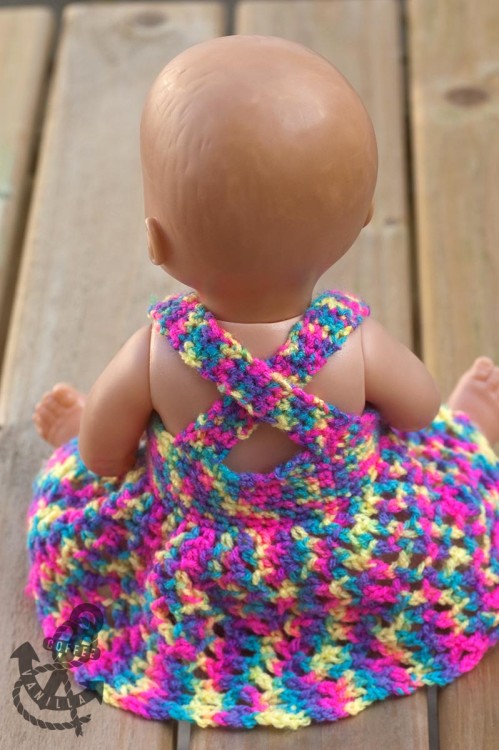 NOTES
This is my first attempt to write down crochet pattern so please forgive me and don't hesitate to correct me if there are any mistakes.
Above pattern would work also for smaller dolls such as Barbie and other smaller creatures if thinner yarn or crochet cotton thread is used instead of DK yarn and 2 mm crochet hook rather than 3 mm one.
Other crochet patterns and yarn projects.
More crafts and other DIY ideas.
Recipes and craft activities for kids.
DISCLOSURE: This post contains some affiliated links.