Our younger one loves brioche rolls but she can hardly ever eat ready ones from the stores due to her peanut allergy. Nowadays more and more products inducing chocolate is being marked by producers as not safe for peanut allergy sufferers therefore I decided to come up with home made brioche rolls recipe she would like.
This recipe is based on traditional Polish yeast butter rolls, so if you skip the chocolate you will get plain bułki (or bułeczki) maślane / brioche rolls.
In the first batch we have used plain milk Galaxy chocolate as it was the only one in our local store that would not contain traces of peanuts. In the second batch – plain cooking chocolate but you can use any chocolate here: milk, plain, dark. The rolls will taste delicious anyway.
I hope you will enjoy them as much as my daughters, both of them… even the one who is not a fan of store bought brioche rolls!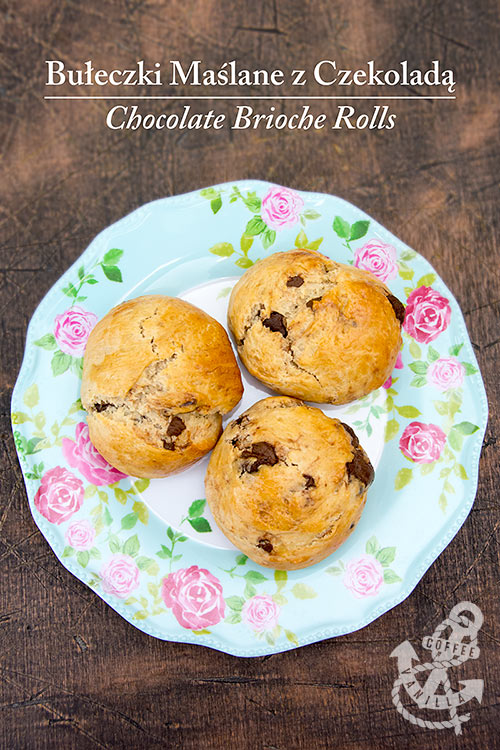 INGREDIENTS
about 3½ cups / 500 g plain flour (sifted)
100 g unsalted butter (softened)
20 g fresh yeast or 1½ tbs yeast granules
1 cup / 250 ml lukewarm milk
½ tsp sea salt
6 tbs golden caster sugar
150 g bar of chocolate (chopped) or chocolate chips
1 egg (lightly whisked with 1 tsp of water)
EQUIPMENT
large mixing bowl
Pyrex jug or other container for warming up milk and dissolving yeast
two baking trays lined with baking paper
whisk or fork
pastry brush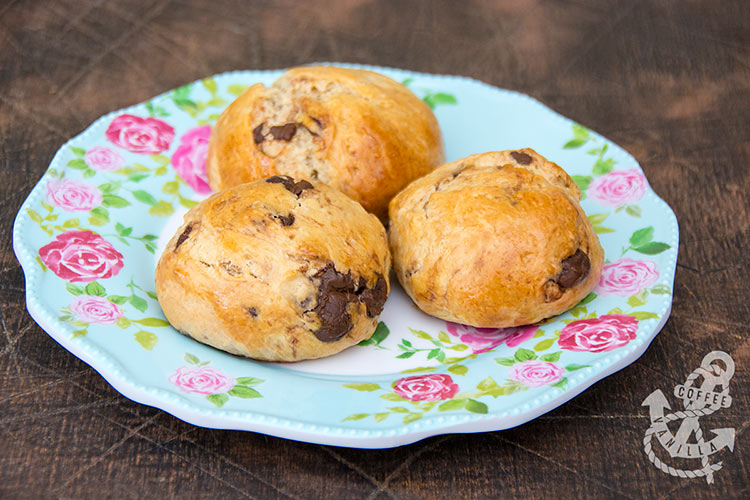 METHOD
In a jug combine lukewarm milk with salt, some of the sugar and yeast. Stir and leave aside for a couple of minutes until all yeast is dissolved and all frothy.
In a mixing bowl combine flour, butter and rest of the sugar.
Add milk with yeast as well and mix using hands until well combined.
Fold in the chocolate, cover with kitchen towel and leave until the dough will double size. It may take longer on cold days, but usually, around 30 minutes is enough.
Once the dough has grown, divide it into about 16 even chunks, shape into balls or oval shapes and place on the baking trays.
Brush with whisked egg.
Bake in the oven preheated to 170°C (338°F) for about 25 minutes or until golden brown.
Makes 16 brioche rolls. 
TIPS
Skip the chocolate pieces for plain brioche rolls.
Add raisins or cranberries instead of chocolate for lunch box friendly rolls.
The easiest way to share the dough is to break it by hands in half, then again in half and again… until there is 16 pieces.
NOTES
More Polish recipes.
I'm submitting this recipe to the Inheritance Recipes link-up that we co-host with Solange of Pebble Soup.