Placki Ziemniaczane is a dish from Poland and other European countries such as Sweden (rårakor), Austria (Kartoffelpuffer), Switzerland (rösti), Chech (bramborák), Slovakia (zemiakové placky), Latvia (pankūkas), Ukraine (deruny), Belarus (draniki) as well. They are generally potato pancakes – grated potatoes mixed with eggs and flour and then fried on oil, better than French fries (!)
Jewish Latkes (or Latkas) are also popular in America, especially during Hanukkah celebrations.
INGREDIENTS
4 – 5  baking potatoes (about 1 kg)
2 – 3 eggs
2 tbs soured cream (optional)
4 tbs plain flour
oil for frying (I used rapeseed oil)
¼ tsp sea salt
EQUIPMENT
grater (I like to make it sometimes on coarse grater for more crunchy texture, like on the first picture)
paper towels
two frying pans to make the whole process faster
50 ml spoon
wooden spoon or spatula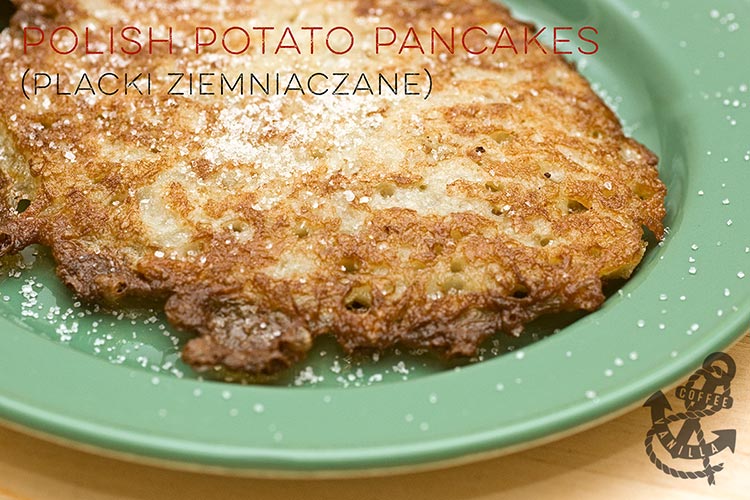 METHOD
Wash and grate potatoes, add eggs, cream, flour, salt and mix well.
Pour some oil on each frying pan, make sure is very hot before placing potato mixture.
Use 50 ml spoon to place portion of the mixture on frying pan, with wooden spoon or spatula flatten and shape the pancake.
Fry on both sides till golden brown, then transfer to the plate lined with kitchen towels to remove excess oil.
Serve while still hot: sprinkled with sugar and salt (together), topped with mushroom sauce, topped with soured cream (sugared or salted to taste), topped with horseradish sauce.
Makes about 18 palm size pancakes and serves 4 people.
NOTES
Taste very good served with horseradish sauce, smoked fish such as mackerel and some salad on a side – Thank you Gosia for the idea, this is our favourite way to eat them now. To make horseradish sauce mix: ½ cup soured cream, about 2 tbs puréed horseradish and optionally some chopped chives.
Try it in Sloppy Joe Latkes version topped with smokey paprika and tomato turkey mince sauce.
More Polish recipes.
More Pancake Day ideas.