I love Polish potato pancakes or latkes how they call them in America, my favourite way to enjoy them is with salt & sugar alone… But for my husband meatless dish like this is not a proper man-food so I decided to serve it with turkey mince sauce, it turned out to be a great hit.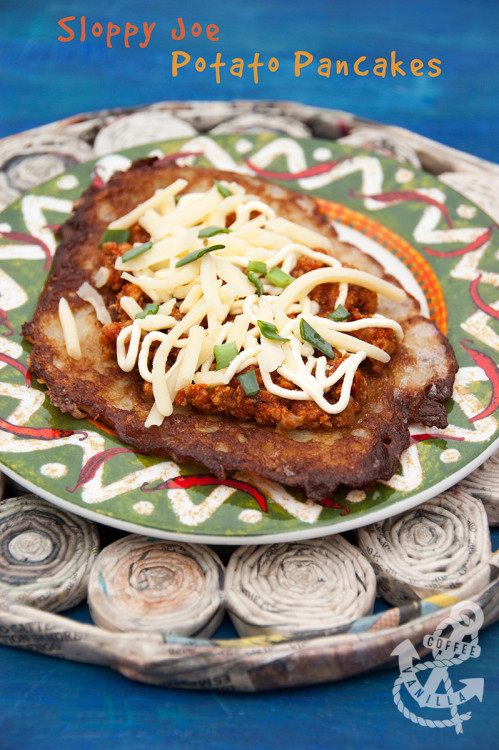 INGREDIENTS
15 – 18 Polish potato pancakes (follow the link for the recipe)
grated cheese – to serve
soured cream – to serve
chive or spring onion greens (chopped) – to serve
for the smokey sloppy Joe sauce
450 – 500 g turkey mince
2 – 3 onions (chopped)
3 tbs oil (I used olive oil)
2 chicken cubes
1½ cups of hot water
1 tbs plain paprika powder
 ½ tsp bitter-sweet smoked paprika powder
1 tsp garlic granules
400 g tin of chopped tomatoes
3 – 4 tbs tomato paste / 140 g tin
sea salt – to taste
or some leftover sauce from making Chilli Con Carne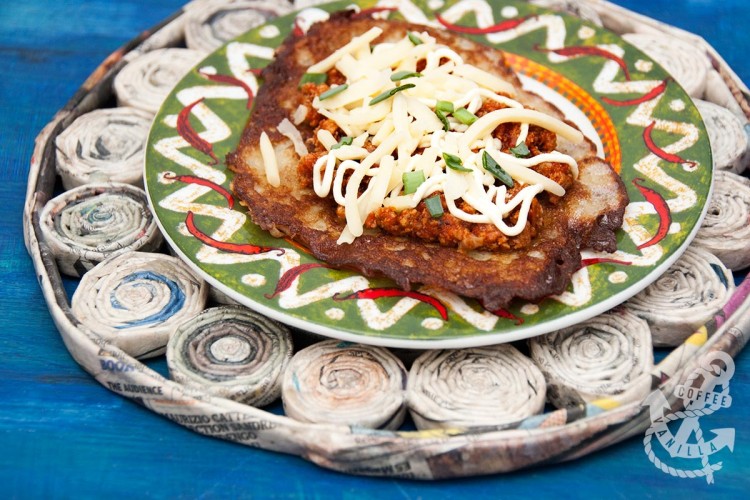 METHOD
On the bottom of the pot fry mince on oil together with onions until golden brown.
Dissolve cubes in water to make stock.
To the pot with mince add stock, tomato, spices, tomato purée, chopped tomatoes and cook covered for at least 30 minutes.
Season to taste with salt, if necessary.
In meantime prepare the mixture for the latkes.
Once the sauce is ready (it can be prepared in advance) start frying the pancakes.
Serve while still hot topped with sloppy Joe sauce, grated cheese, cream and chive.
Enjoy!
Makes 15 – 18 pancakes and serves 4 – 5 people. 
NOTES
If you are looking for more potato pancake recipes, take a look at Crispy Kartoffelpuffer (German Potato Pancakes) from ET Speaks From Home, Oven-fried Delicious Potato Latkes from Family Friends Food or my Polish Potato Pancakes.
If you have any leftover sauce check out this Sloppy Joe Sandwich recipe.
Above smokey sloppy Joe sauce works well with pasta and rice as well or with the marrow boats (minus the smoked paprika).