My girls love almost all veggies but for some reason marrow is not one of their favourites, definitely not in a chopped, soggy version so I decided to make boats out of them to make them more interesting and it worked (!)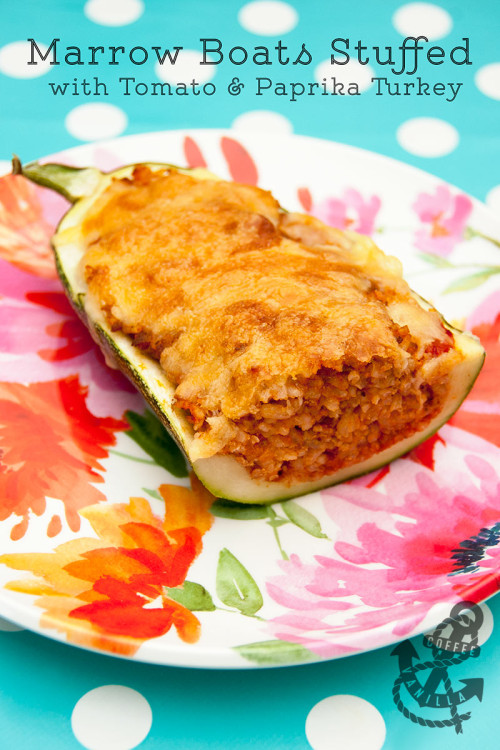 INGREDIENTS
2 medium marrows – about 30 cm / 12 in long (halved lengthwise)
2 cups of rice
4 cups of boiling water to cook rice
olive oil
grated cheese
black peppercorns – optional
for the turkey tomato & paprika sauce
450 – 500 g turkey mince
2 – 3 onions (chopped)
3 tbs oil (I used olive oil)
2 chicken cubes
1½ cups of hot water
 1 tbs paprika powder
1 tsp garlic granules
400 g tin of chopped tomatoes
3 – 4 tbs tomato paste / 140 g tin
sea salt – to taste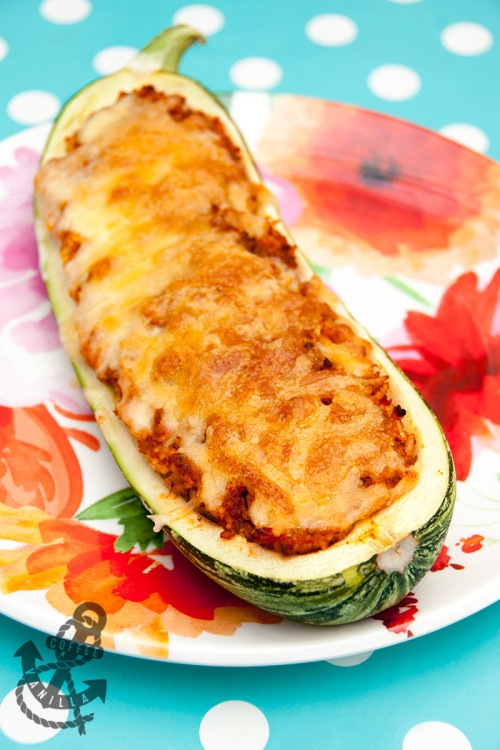 METHOD
Prepare the rice and leave aside.
Using a melon baller scoop out half of the marrow into freezer bag and save for later.
Brush them with oil and bake in the oven at 200°C (392°F) until soft and browned.
In meantime prepare also the turkey sauce: on the bottom of the pot fry mince on oil together with onions until golden brown
Dissolve cubes in water to make stock.
To the pot with mince add stock, tomato, spices, tomato purée, chopped tomatoes and cook covered for at least 30 minutes.
Once the sauce is ready, season  to taste with salt, if necessary and combine with cooked rice.
Stuff the marrows, top with grated cheese and place back in the oven.
Bake for about 15 minutes or until cheese is all melted and golden brown.
Optionally sprinkle with some freshly cracked pepper, serve and enjoy.
Serves 4 – 6 people (allow ½ – 1 boat per serving).
NOTES
The marrow that has been scooped out can be placed in the freezer and used later in some soup or vegetable sauce.
The sauce used here is almost the same (minus the smoked paprika) as smokey sloppy Joe sauce I use over potato pancakes (or pasta sometimes) so it can be prepared in advance. I often make double the sauce and save half for the marrows and then add smoked paprika to the rest.
If you are looking for more stuffed veggie ideas, check out this Stuffed Marrow with Cheese Sauce from Supper in the Suburbs, Couscous And Pancetta Stuffed Peppers With Sweet Potato Wedges from Nose Bag NI, Stuffed Potato Skins or Roasted Aubergines Stuffed with Tomatoes I made while ago.