[adapted from Morissons magazine]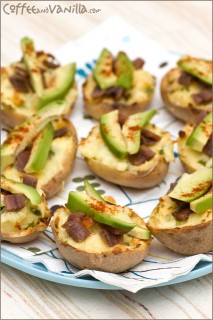 INGREDIENTS
12-13 medium potatoes (about 1.5kg)
¾ cup soured cream
large bunch of chives or green part of 2 bunches of spring onions (chopped)
sea salt
black peppercorns
300g smoked fish (flaked) or 100g tin of anchovies (drained and chopped)
paprika or Cayenne pepper for dusting
2 small avocados (ripe but not too soft)
METHOD
Place potatoes on the baking tray and bake in the oven preheated to 180°C (356°F) for about 40-60 minutes or until soft. Remove them from the oven and let them cool down a little bit. Cut each potato in half, lengthwise. Scoop out insides to the mixing bowl and place skins back on the roasting tray. To prepare stuffing combine potato insides with soured cream and chives, season to taste with salt and freshly ground pepper. Fill potato skins with this mixture and bake for another 20 minutes or until top start turning golden brown.
Top potatoes with fish and avocado and serve, still warm or cooled down in the fridge.
Make about 24 potato skins.