If you celebrate Valentine's Day there are many ways you can do it: go to the movies or theater, recreate first date, visit place you have met, go out for dinner, do some classes together: pottery, cooking masterclass, chocolate making, go for romantic short break together, even if it is a night in a hotel in your city or have a romantic evening at home.
Whatever you do there is one thing you absolutely must remember, especially if your partner is a woman, make sure to make it a memorable day as Valentine's Day is a big deal… for most of us.
In case you are staying at home like us, or will continue evening at home, Valentine's may be a good excuse to try new drink instead of plain pint of lager or glass of wine.  We will be having this strawberry daiquiri that we found on thebar website.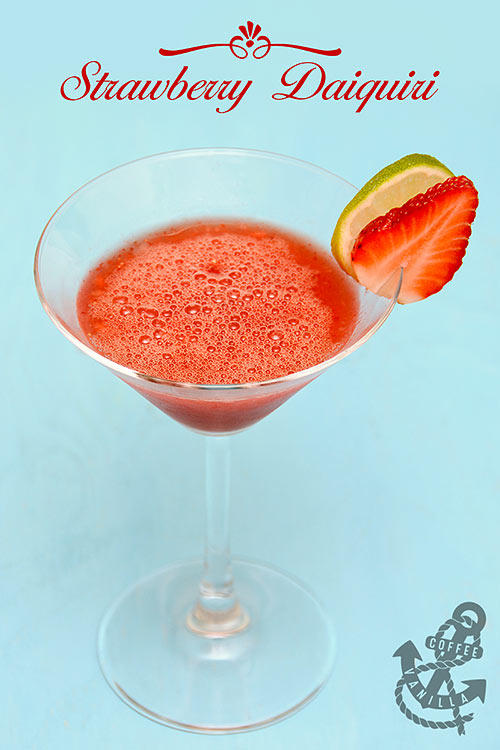 The reason for this is the fact that my husband and I we met (working) on a cruise ship in the Caribbean. Strawberry daiquiri was one of the most popular drinks among passengers on board but to be honest I don't think we ever tried it despite the fact that we tested almost any possible spiced rum concoction during our ship days.
When I think of the Caribbean and rum, pineapple or coconut come to my mind first, not strawberries but you would be surprised how well those two go together and thanks to the beautiful red colour and fragrant strawberries, daiquiri makes perfect Valentine's Day drink.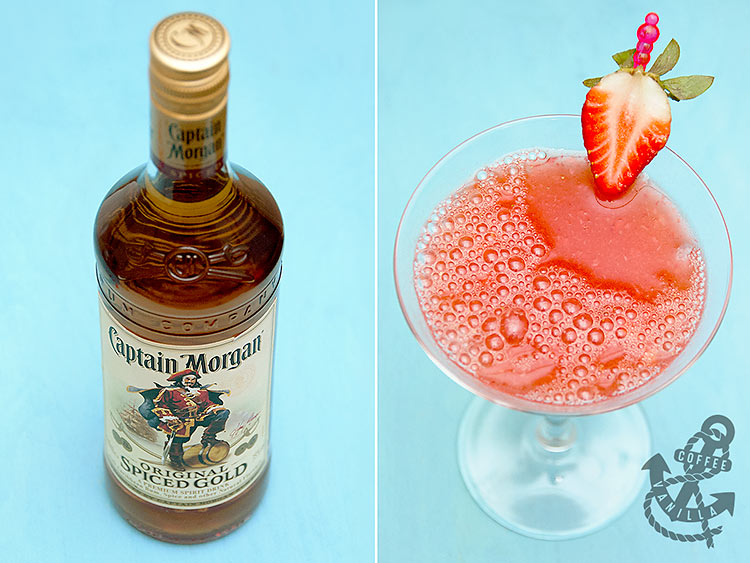 The Strawberry Daiquiri recipe has been adapted from thebar where you can find handy calculator showing the exact amount of ingredients depending on how many drinks you are making.
INGREDIENTS
100 ml spiced rum (we used Captain Morgan Original Spiced Gold)
50 ml fresh squeezed lime juice
50 ml sugar syrup
6 strawberries (chopped)
ice cubes
for garnish
extra strawberries
lime slices or wedges
cocktail picks
EQUIPMENT
2 martini glasses
cocktail shaker with strainer or blender
jigger or other measuring tool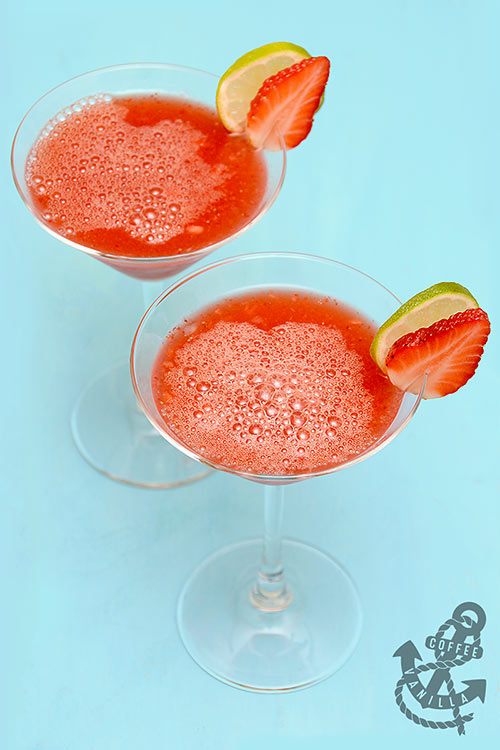 METHOD
cocktail shaker method
Fill your shaker ¾ full with ice cubes.
Add half of the rum, half of the sugar syrup, half of the lime juice and 3 chopped strawberries.
Shake vigorously for 10 seconds until cold.
Strain into a martini glass and garnish.
Refill shaker with ice cubes and add rest of the ingredients and repeat to make second drink.
blender method
Place all of the ingredients for both drinks in the blender.
Add also about 12 cubes / whole standard tray.
Blend, share to the glasses, garnish and enjoy.
Makes 2 drinks.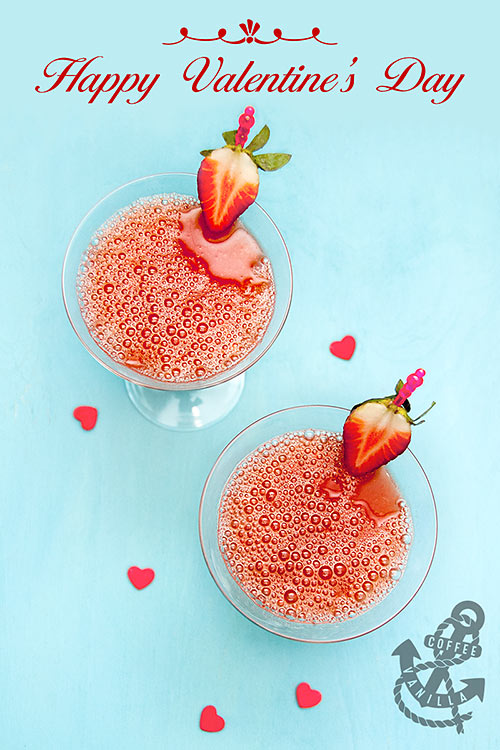 TIPS
To make sugar syrup dissolve in boiling water as much sugar (we used demerara) as possible until crystals are not melting any more, leave aside to cool down.
Classic strawberry daiquiri is a drink served in martini glass while frozen strawberry daiquiri is served in hurricane glass where much more ice is added and the whole thing is crushed in the blender.
Spiced rum can be replaced with white rum.
NOTES
If you are still looking for more Valentine's drink ideas, take a look at Camilla's Non Alcoholic Mojito, Lucy's The Clover Leaf, Roz's Cinnamon White Russian, Lisa's Slow Cooker Baileys Hot Chocolate, Emily's Orchard Martini Mocktail, Jo's Pimms Mojito, Kate's English Garden Cocktail or Spiced Mojito we made previously.
DISCLOSURE: This is commissioned post for thebar.com. All opinions expressed here are our own and we retained full editorial control.
Please drink responsibly and don't exceed recommended safe alcohol unit limits.