My mirror always gets scratched from being carried in a cosmetic bag full of sharp objects so I thought I need one of those to solve this problem. This is very quick and easy DIY case for classic, round mirror (like this one from Kimmidoll) – made on the bus during school run yesterday… It took me less than an hour to make the whole thing and today I made another one for my mum and for the step by step photos for you at the same time ;)
MATERIALS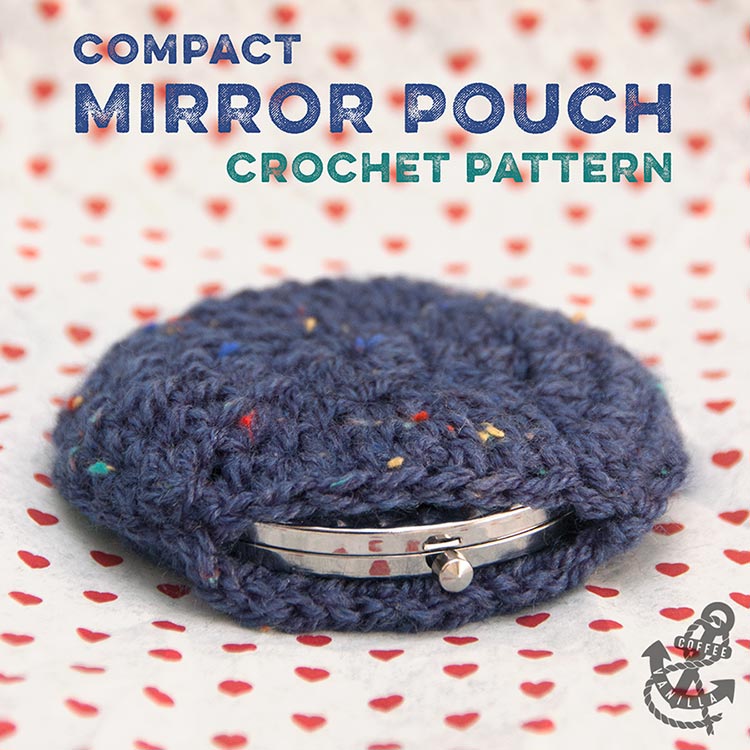 EQUIPMENT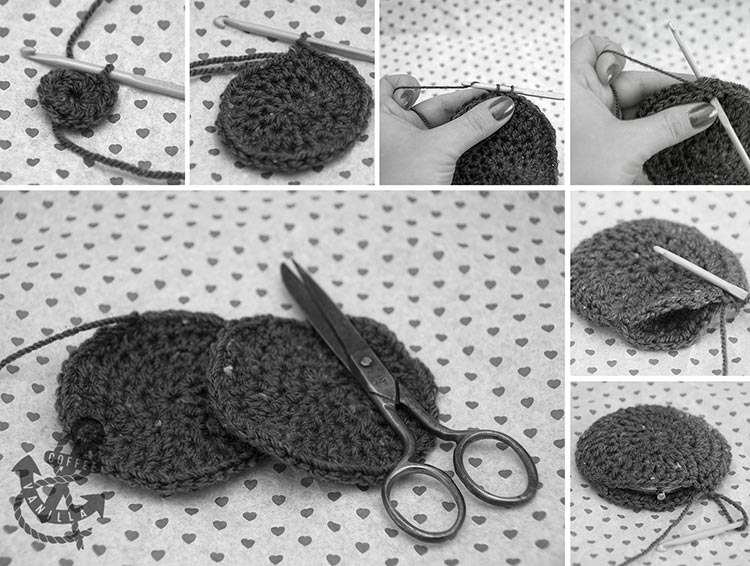 METHOD
Please note that names of the stitches in UK & US vary, this is UK pattern, click through for crochet stitches conversion chart.
stitches used: chain (ch), double crochet (dc), slip stitch (ss)
FOUNDATION CHAIN
Start with 3 ch, close the chain with ss to create a circle.
ROUND 1 (FOUNDATION ROUND)
Work 1 ch and then about 10 dc into the middle of the circle.
Without closing the round just move to the second round and work 2 dc into each stitch of the previous round.
ROUND 2+
Move to the second round straight away, without closing the first one.
Work dc around and around in snail shell like pattern adding stitches: first work 2 dc into each stitch, then 2 dc 1 dc and finally working only 1 dc per stitch of the base. The circle have to stay flat so if it is wrapping up there is not enough stitches – increase amount of added dc. If the circle become wavy it means there is too many stitches – reduce amount of added dc stitches.
Once the circle is big enough (size of your compact mirror) finish the round by working about 4 ss.
Finish it off and cut of the yarn.
SECOND CIRCLE
Repeat all of the steps to create second circle, but do not cut of the yarn.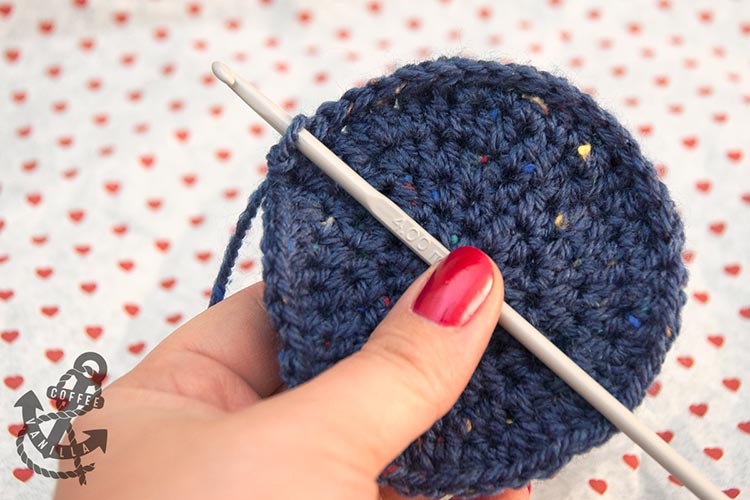 CONNECTING THE HALVES
Use the same piece of year that is still connected to one of the circles to connect two halves together.
Connect them working ss stitches around the circles until the hole is only big enough to slide the mirror in, in my case I left the whole big as about ¼ of the circle.
Finish and cut off the yarn.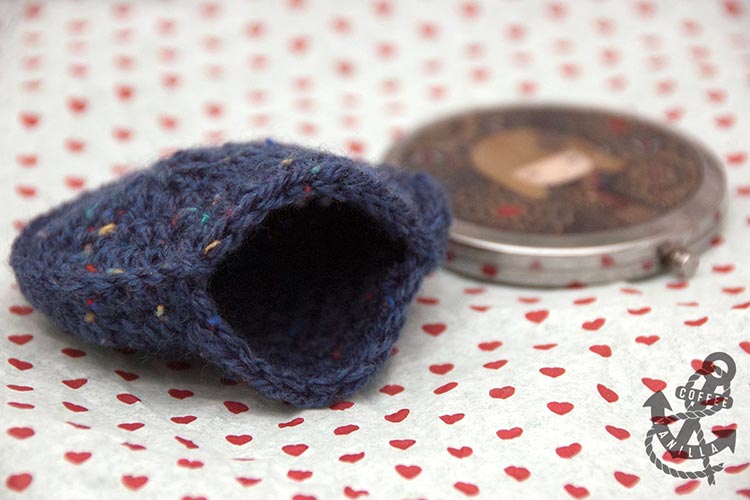 If you have a while you can also make other matching cases like this case I made for my perfume atomiser (like this one from Travalo).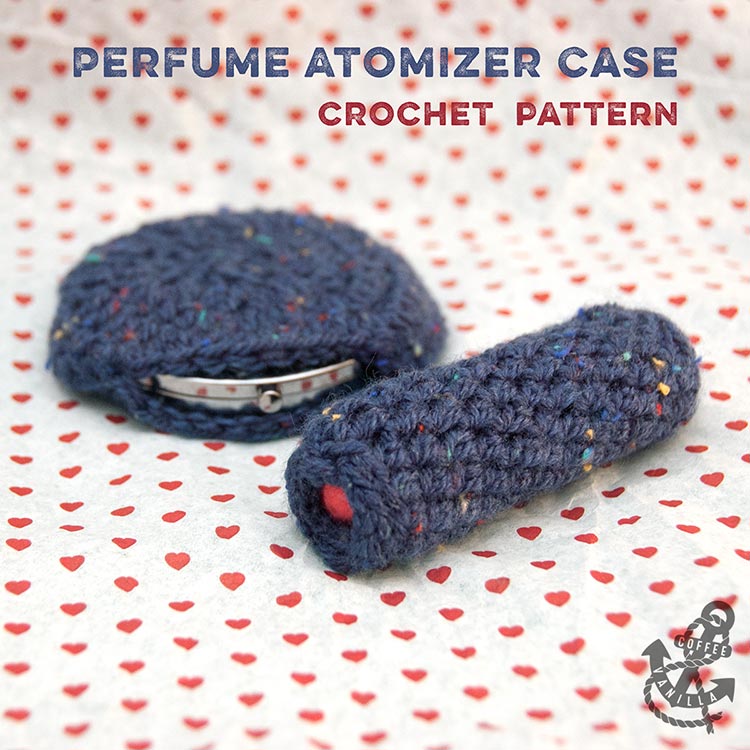 PERFUME ATOMIZER CASE
Start the same like the mirror pouch but do not add extra dc stiches, just continue going round and round.
The pouch will start bending up, turn it inside out and continue working dc until the case is long enough.
Finish with 3 – 4 rounds of ss to make the closing tighter.
NOTES
More free crochet patterns.
Tutorial for the card below can be found here.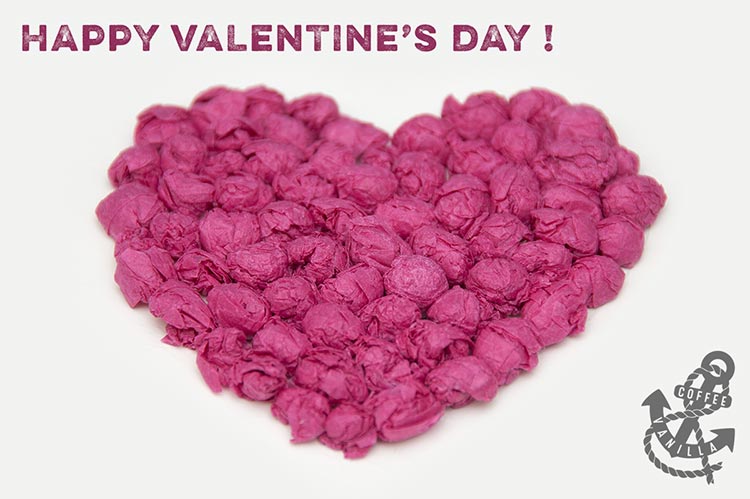 DISCLOSURE: This post contains some affiliated links.