If you wonder who are the people behind this blog and why we named it Coffee & Vanilla please read on…
We are husband / wife team: Margot (the "vanilla") – born in Warsaw, Poland and Michael (the "coffee") – from Roseau on the beautiful island of Dominica in the Caribbean. Currently together with our daughters: Ella (9) & Marissa (14) we live in the diverse city of Brighton, UK after almost 10 years spent in London's Islington and previously working on the cruise ships where we have met back in 1998.
We have stared Coffee & Vanilla in 2007 and it's dedicated to European & Caribbean cuisine, crafts, home decor, DIY, travel, photography, multiracial hair products, natural cosmetics, healthy lifestyle, lunchboxes  and other aspect of our family life. Most of the pictures on the website are actual dishes / crafts that were made by us, taken with Nikon D7100 and our good old D50 as well, except for quick mobile phone shots which are most probably taken with either HTC Desire or more recently with Motorola Moto G. The WordPress theme of this blog has been done from scratch by us (Michael actually) as well.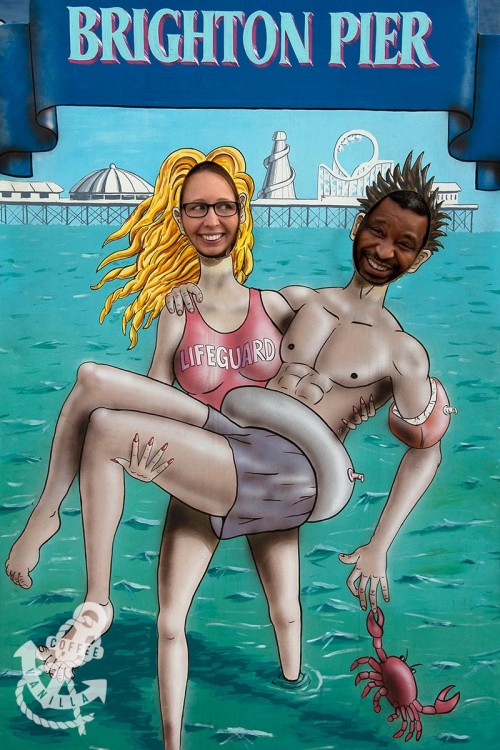 photo by Sylwia Korsak 
When we are not blogging, we work as freelance photo retouchers and web designers at our virtual 416 Studios. We sell also our artworks on Redbubble or Zazzle and crafts via Etsy.
Feel free to connect with us via Facebook, Twitter & Instagram. If you are interested in working with us you can learn more about our skills and experience from our LinkedIn profiles: Margot / Michael.
We hope you enjoy your stay on  Coffee & Vanilla!
Margot & Michael
p.s. Please forgive us for not replying to all your comments and emails. We do read all of them and do our best to reply to most of the messages but sometimes our day does not have enough hours, so please don't take our lack of time for ignorance.
Disclaimer
From time to time we write also reviews, commissioned articles, include affiliated links or promote give-aways that we were asked to blog about, but it does not mean that we were told what do write… all materials on C&V are our unbiased impressions of the products or services. All sponsored in any way articles are disclosed. If you wonder how come mostly positive reviews are published in Tried & Tested series – it is simply because we don't mention products that are not worth it.
Copyrights
All content of this website is copyright of M Dolewska Dyer or M Dyer © gocha.co.uk © 416studios.com or © coffeeandnanilla.com All Rights Reserved – unless stated otherwise. Please contact us before featuring anything from this website to discuss terms or to purchase a license for use of the images, be it in digital or print versions.
Note to PR Companies
Please read about all editorial options on our advertising page, request a media kit or rate card with a full list of services and pricing.