The best yarn for this project is machine washable soft cotton that will be nice to touch to the baby and will easily absorb all the liquids.
MATERIALS
2 colours of soft cotton yarn for 4 mm hook (I used Sidar Calico)
black (or other dark colour) craft thread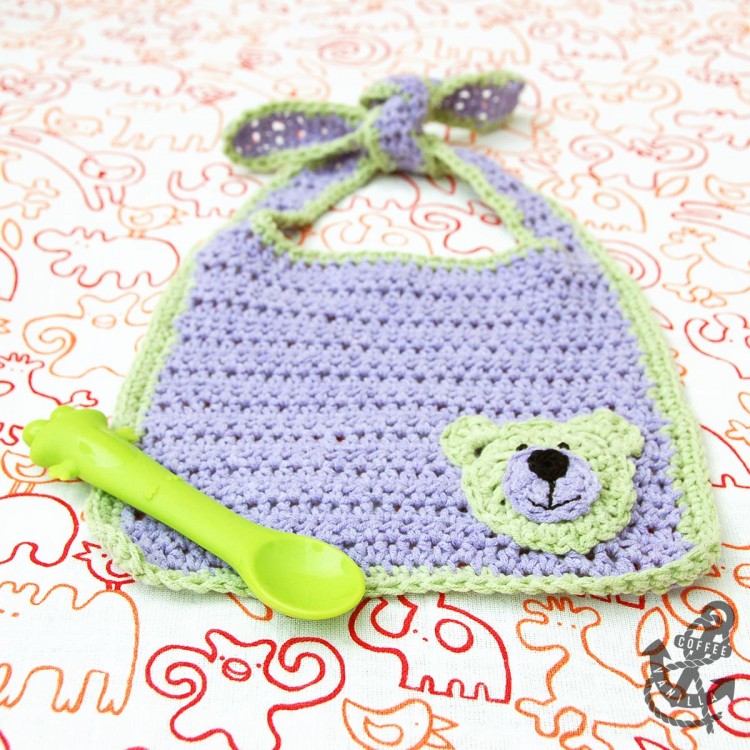 EQUIPMENT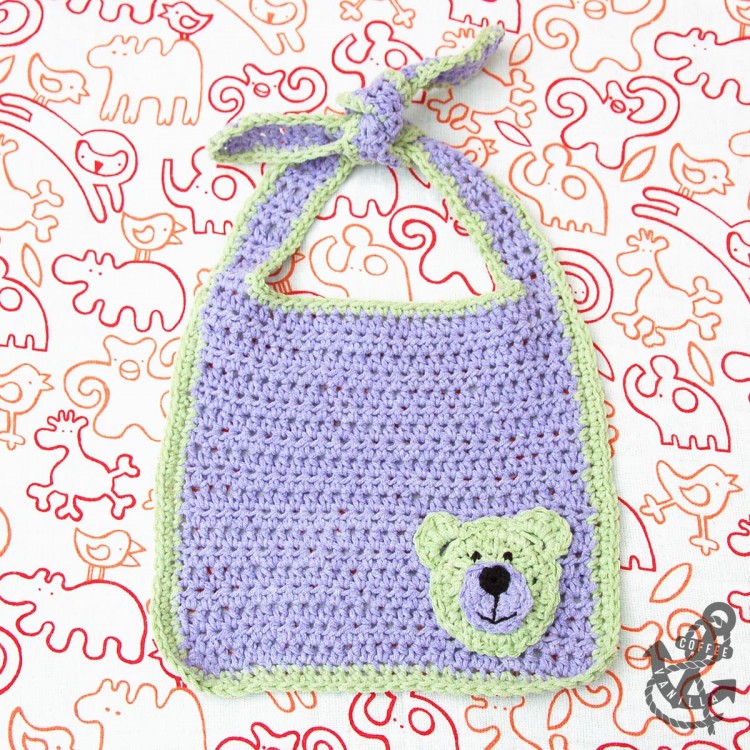 METHOD
Please note that names of the stitches in UK & US vary, this is UK pattern, click through for crochet stitches conversion chart.
stitches used: chain (ch), single crochet (dc), half treble crochet (htr), slip stitch (ss)
FOUNDATION CHAIN
Start with 25 ch + 2 extra ch, turn over.
ROW 1
Starting from 3 stitch in the base work 25 htr until the end of the row, 2 extra ch and turn over.
ROW 2 – 20
Work 25 htr, 2 ch and turn over. Repeat like this until you have 20 rows or bib is long enough.
STRAPS
Work 3 htr + 2 ch and turn over. Work the same pattern for about 25 rows, finish with ss. Then make another strap on the other side of the bib.
OUTLINE
Using alternative colour work dc along the edge of the bib, starting on the outer side, at point where the strap is connected to the bib itself. Once you reach the end of the round close with ss.
Go again around the edge but only of the bib itself not along the straps. Start with 3 ss and then work dc to almost the end of the row finishing again with 3 ss, fasten the yarn.
TEDDY BEAR MOTIF
To make the teddy motive make 3 circles, smallest one for the nose, medium for the mouth and large for the head.
To make a circle create 5 ch, close it wit ss to close the loop. Work around dc adding additional ch now and then to keep the circle flat.
When making the biggest circle before finishing work additional 3 ch skipping 3 stitches in the base, then work 3 ss and again 3 ch skipping 3 stitches in the base, finish with sl to create hoops for the ears. Now work into each of the hoops 1 dc 3 htr 1 dc to create the ears.
Connect 3 circles with similar colour thread.
Using black / dark colour thread sew on the eyes and mouth.
Connect the bear to the bib with same colour yarn.
NOTES
I made this bib for my friends: Rigmor & Jeff and their new baby boy Eyvind. Congratulations!
Silicone baby spoon, like the one on the picture, can be found on Amazon.
More crochet patterns.
DISCLOSURE: This post contains some affiliated links.