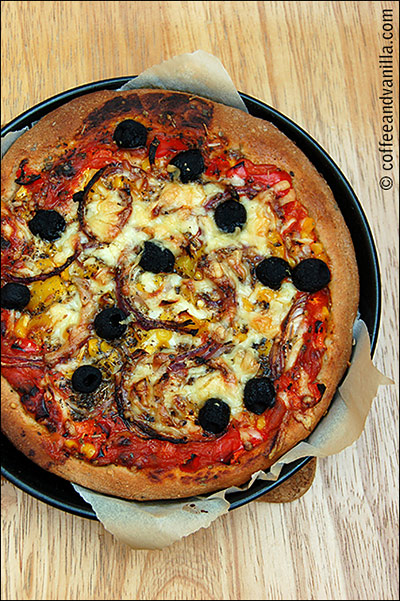 INGREDIENTS
for the half wholemeal pizza dough
500 g strong wholemeal bread flour
500 g plain white flour
200 g coarse semolina flour
15g / about 1½ tbs instant dry yeast
1 tbs golden caster sugar
1 tsp sea salt
650 ml lukewarm water
6 tbs olive oil
some more flour for the working surface
EQUIPMENT
rolling pin (optional)
8 sandwich trays
baking paper
large mixing bowl
cling film
METHOD
Mix all ingredients for the dough and knead until well combined and not sticking to hands any longer.
Leave covered with cling film in warm place to grow for about an hour.
Once the dough has risen share it into 8 pieces.
Roll out each portion or simply shape in your hands and place on lined with paper sandwich trays letting the dough cover the edges of the tins.
Brush with tomato sauce and top with plenty of grated cheese.
Let everyone put their favourite ingredients: onion slices, olives, sausage slices, mushroom slices, diced sweet corn, sweet peppers, cubed pineapple from the tin, ham etc. (We marked our pizzas writing initials on the baking paper.)
Bake in the oven preheated to  175°C (350°F) until the dough is golden brown and cheese nicely melted and browned.
Sprinkle with freshly chopped herbs and cracked pepper, slice and serve immediately.
Make 8 quite large portions.