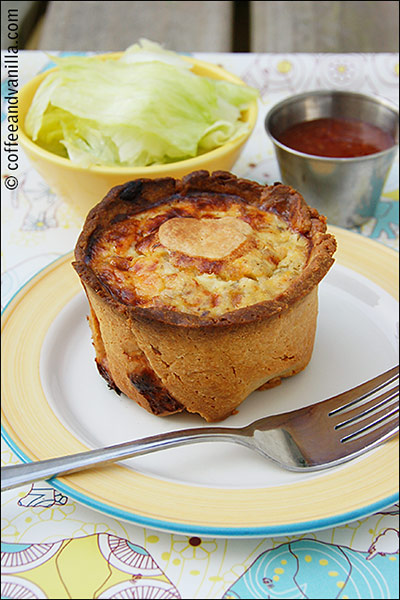 INGREDIENTS
for the short crust pastry dough
3 cups plain flour
180g unsalted butter  (omit the salt if using salted one)
1 tsp salt
3 egg yolks (save egg whites for the quiche filling)
3 tbs or a bit more of soured cream or creame fraiche
for the filling
350-400 g turkey mince
1 large onion (chopped)
some butter or oil to fry
2 large carrots (diced)
250 g potatoes (diced)
1 tsp garlic powder
1 tsp oregano
freshly ground peppercorns
sea salt
1 cup milk or even better single cream
3 whole eggs plus the saved egg whites or 5 whole eggs
150 g grated cheese (I used extra mature Cheddar)
1 tsp ground nutmeg (less if very fresh)
1 small leek (sliced)
other ingredients
sweet chilli sauce – to serve
green salad – to serve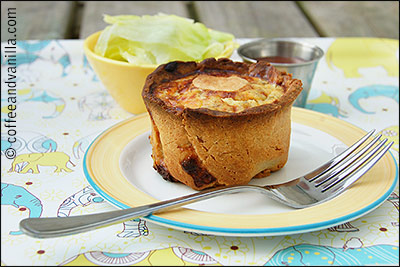 EQUIPMENT
1 large oven proof dish or couple smaller ones (I used 1 large rectangular Pyrex plus couple individual ramekin dishes for kids)
whisk
potato masher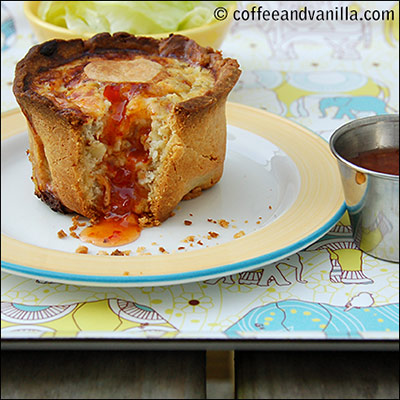 METHOD
To prepare the pastry combine flour with softened butter, salt and yolks and combine until well mixed and crumbly.
Add cream and knead the dough until it is all stuck together, place in the fridge for at least an hour.
In meantime fry turkey mince with onion on oil or butter, add also carrots and potatoes and stir fry until they are all cooked but not to soft.
Mash a bit for potato masher.
Season to taste with garlic, oregano, pepper and salt.
When the filling is cooking, remove dough from the fridge, slice and use it to line baking trays, pierce dough on the bottom of the tray with fork.
Place in the oven preheated to 175°C (350°F) for about 15 minutes, bake until the dough is only starting to turn golden.
In a mixing bowl whisk egg whites until fluffy, add also yolks, cheese, nutmeg and milk, mix well.
Stir in cooled down a bit turkey mixture and pour it into baking dishes.
Top with sliced leek and leftover pastry pieces (optional).
Place back in the oven and bake for about 30 minutes until all set and golden brown.
Share and serve with some sweet chilli sauce and green salad on a side.
Makes 6-8 portions.
NOTES
Double the dough ingredients and make some more for next time, it can be placed in the fridge or even frozen for couple of months.
Quiches are perfect for parties, lunch boxes and picnics as they can be served warm, in room temperature or even cooled down.
More quiche recipes:
Michelle made irresistible Cheshire cheese and leek quiche and served with with plenty of green salad.
Jeanne made wholewheat crust quiche with my favourite chanterelle mushrooms.
My first quiche I made back in 2007 with spinach & roquefort cheese.