If you can crochet, the baskets are something that will take you maximum couple of minutes each,  as long as crocheting about 12 or 24 (for the bigger one) double crochet stitches.
They are far too small for the egg hunt (unless you are a gnome) but would make great Easter table decoration and can fit about 1 – 3 miniature sugar covered chocolate eggs that are sold in every supermarket those days.
Tutorial for the chicks and bunnies can be found here.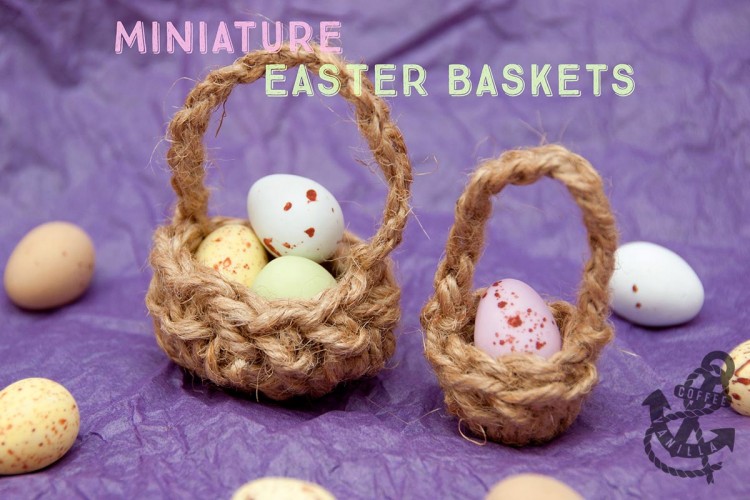 MATERIALS
EQUIPMENT
crochet hook ( I used a bit too small 3 mm one to make the basket as tight as possible)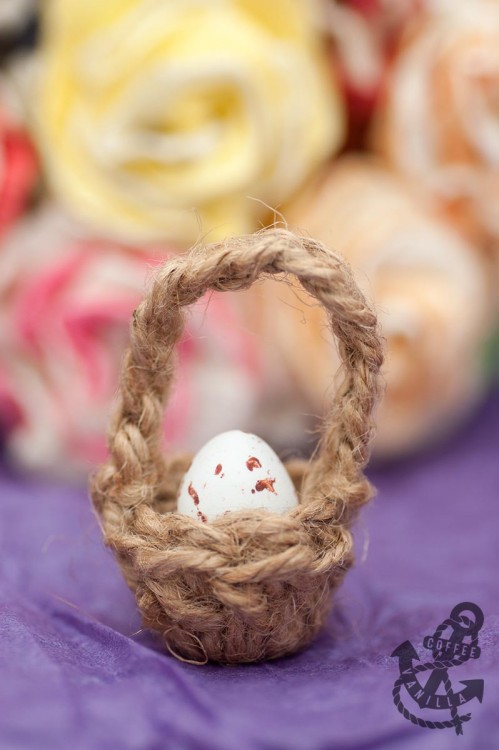 METHOD
Please note that names of the stitches in UK & US vary, this is UK pattern, click through for crochet stitches conversion chart.
stitches used: chain (ch), double crochet (dc), slip stitch (ss)
FOUNDATION CHAIN
Start with 5 – 6 ch, close the chain with ss to create a circle.
ROUND 1 (FOUNDATION ROUND)
Work about 12 dc into the middle of the circle.
Close the round with ss.
ROUND 2 (only for the bigger basket)
Move to the second round and work 1 dc into each stitch of the previous round, close with ss.
HANDLE
Once the basket is done, 1 round for the smaller one / 2 rounds for the bigger one, do not cut the thread but start working ch (as many as you like) for the handle.
Connect on the opposite site with the ss.
Finish it off, cut the yarn and voilà, the basket is ready (!)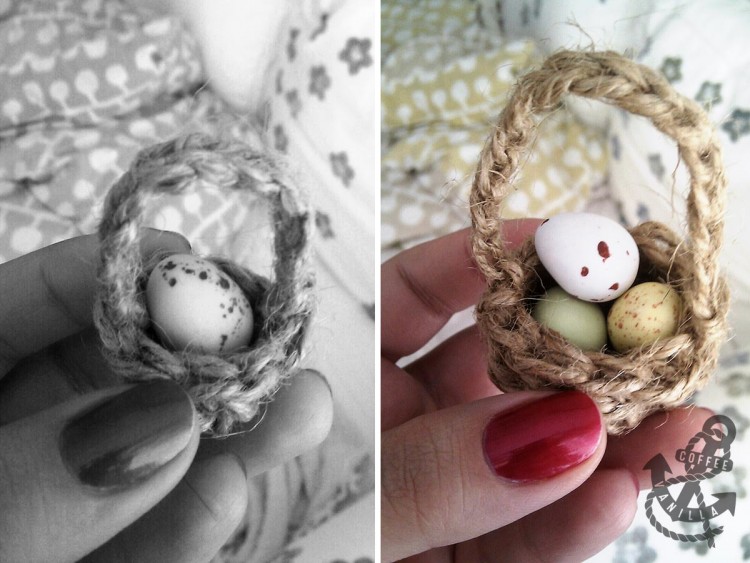 Quick mobile phone photos to show actual size of the baskets…
NOTES
Garden twine is quite hard and easy to shape, no need for wire.
If you don't have any twine on hand you can make the baskets from brown yarn, like we did for the pom pom chicks (image coming soon).
To make wider basket work 2 dc in between stitches of the foundation every now and then instead of 1 dc to add some stitches to the round. I have added 1 extra dc every third stitch for the yarn baskets and worked them for 3 not 2 rounds (like the jute baskets) before making the handle.
DISCLOSURE: This post contain some affiliated links.