[adapted from Baking Mad recipe developed with Allinson flour for the Dough Tree campaign]
Tiger bread also known as giraffe bread, crackle top bread, Dutch crunch, tijgerbrood or Dutch crust. It may be relatively new to UK but in Holland it has been sold since early seventies.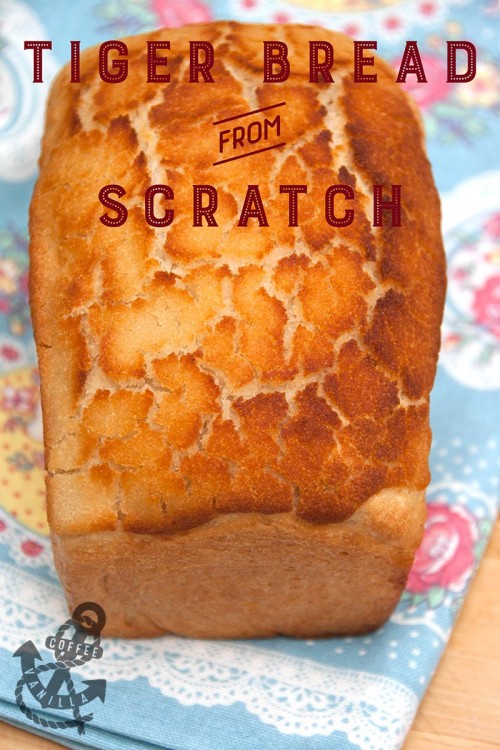 Have you ever wondered how tiger bread is made?
The unique cracked crust is made by spreading rice paste on the top of tiger loaf bread prior to baking – easy peasy.
Until yesterday I haven't even dream about making my own tiger loaf and this is favourite bread of my girls. If I knew it was so simple I would be baking tiger bread and tiger bread rolls every weekend (!)
INGREDIENTS
for the dough
1000 g strong white bread flour (I used Allinson)
2 easy bake yeast sachet / 7 g each (I used Allinson)
1 tbs unrefined golden caster sugar
1 tbs sea salt
2 tbs butter (softened)
600 ml lukewarm water
for the topping (tiger bread paste)
1 easy bake yeast sachet / 7 g (I used Allinson)
1 tbs unrefined golden caster sugar
1 tbs oil (any oil will work here but for the authentic tiger bread taste use sesame seed oil)
½ tsp sea salt
150 g / about a cup of ground rice
12 tbs / 180 ml of lukewarm water
extras
a bit more oil (again, sesame oil would be the best) for greasing the bowl, baking and baking tins
a bit more flour for the working surface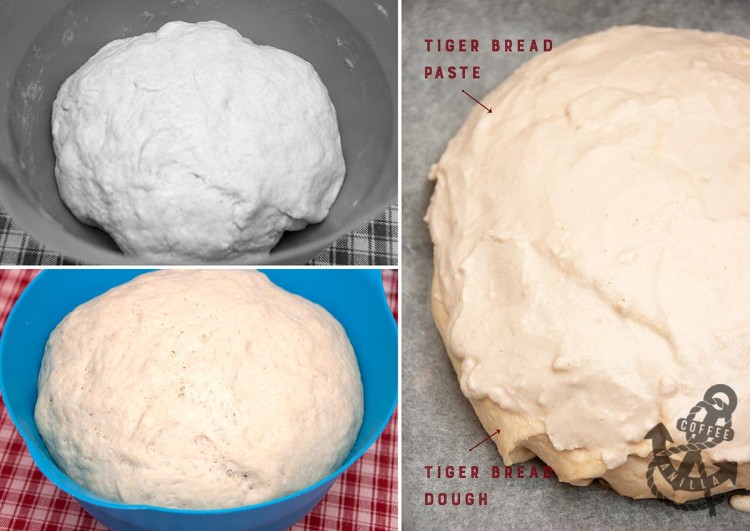 EQUIPMENT
large mixing bowl
small mixing bowl
measuring jug
manual whisk
clean kitchen towels (to cover the dough)
2 baking trays for free form loaves (optionally lined with baking paper) or loaf tins (2 large ones or 4 smaller ones)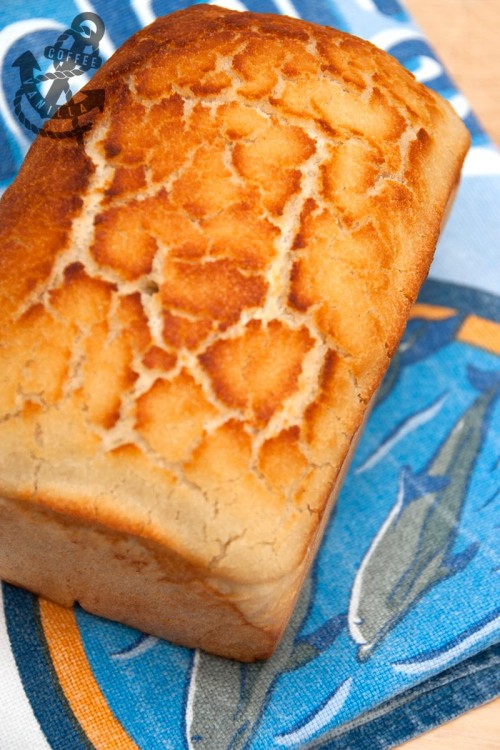 METHOD
In a mixing bowl, using your fingers, combine all dry ingredients and softened butter.
Add also water and stir with a spoon.
Knead the dough for about 10 minutes until the dough is well mixed and springy.
Grease the mixing bowl a bit and place the dough back inside and leave to rise, covered with kitchen towel.
Once the dough has doubled the size (after about 30 minutes) knock it back gently kneading just 5 times to get the air out.
Shape the loaves and leave on greased or lined with baking paper baking trays.  Cover with kitchen towels again and leave to prove until they have doubled the size.
Preheat oven to 200°C (392°F).
In a small mixing bowl whisk until smooth all of the ingredients for the topping.
Use back of the soon to spread the paste on the top of risen loaves.
Place them in the oven and bake for about 35 minutes until golden brown.
Cool down on a wire rack.
Makes 2 large or 4 smaller bread loaves.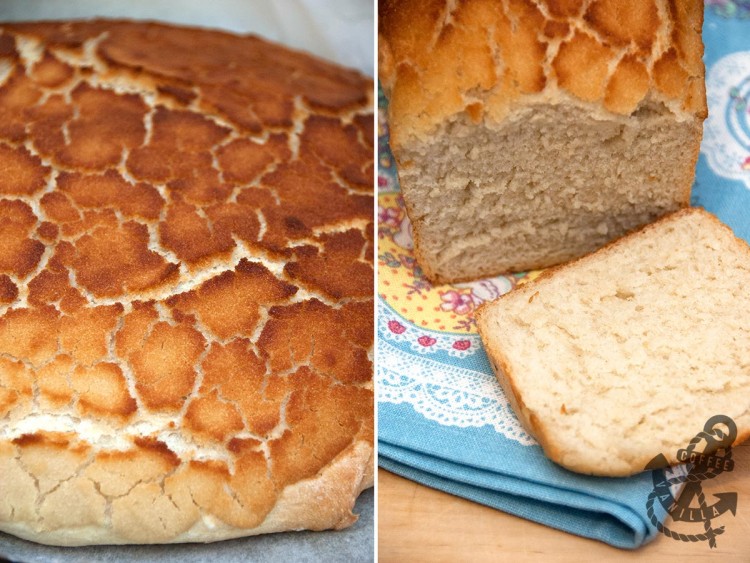 NOTES
Add ½ tsp of Marmite, Vegemite or any other brand of yeast extract to the topping mixture for the flavour more resembling tiger bread from UK supermarkets.
Tiger bread bread rolls are made exactly the same way, just divide dough into lots of smaller pieces and place on a baking tray.
If you like you can use food processor, instead of hands, to knead the dough.
Tiger bread is also great to bake with kids – my daughters were very excited to see how the crust was cracking in the oven.
If you are looking for more bread recipes try: Spicy & Smoky 8 Strand Plaited Loaf from Jen's Food, Coconut Muesli Bread from Recipes from A Pantry, How To Make Cobnut Bread (Hazelnut) from Kavey Eats or Spelt & Wholemeal No-knead Loaf from Fab Food 4 All.
DISCLOSURE: I have been sent by Baking Mad hamper containing Allinson flours, yeast, baking tin and other goodies for the purpose of recipe testing. All opinions expressed here are my own and I retrained full editorial control.