This is very simple to make, creamy sauce with lots of crunchy kale leaves that can be prepared within minutes while pasta or rice are cooking.
INGREDIENTS
3 tbs butter
3 tbs plain flour
500 ml boiling water
1 large (10 g) vegetable cube
3 tbs thick cream
2 – 3 garlic cloves or 1 tsp garlic powder
lots of curly kale leaves (chopped) – I used about 200 g
sea salt (to taste)
black pepper (to taste)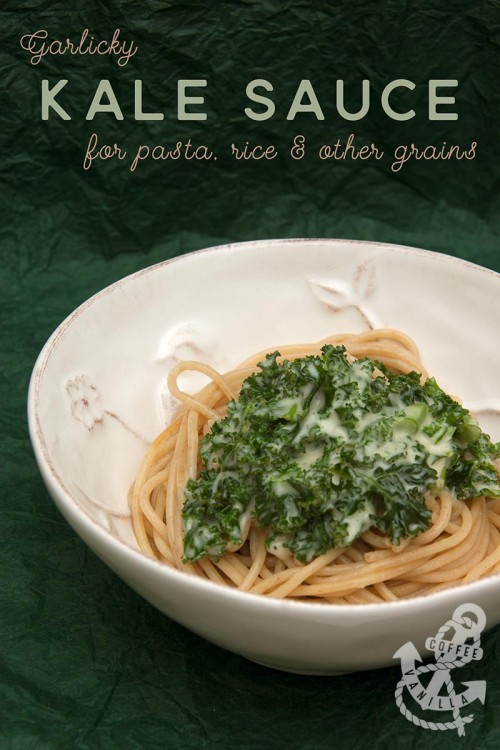 EQUIPMENT
measuring jug
large saucepan or wok
colander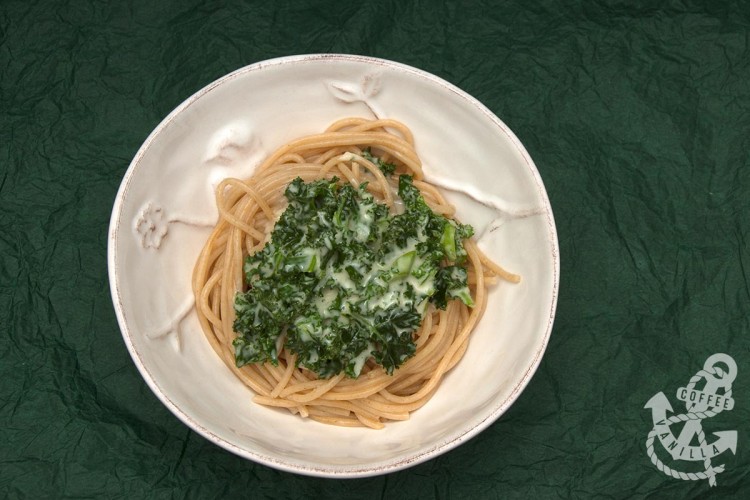 METHOD
Wash and chop the kale, leave aside.
In a measuring jug dissolve cube in boiling water to make vegetable stock. Add also garlic powder if you are using it rather than fresh garlic.
In a wok melt butter, add chopped garlic, if using fresh one, and fry for a while until golden brown.
Add flour, stir and heat for a while longer.
Gradually add also vegetable stock, stir constantly until the sauce have smooth consistence.
Then add cream as well.
Season the sauce to taste with salt and pepper.
In the last moment add kale and simmer in a sauce for about a minute, just until kale is witted a bit.
Share to the plates over previously cooked pasta, rice or some other grains.
Makes enough sauce for 500 g packet of spaghetti and serves 4 – 5 people.
NOTES
When preparing the sauce in advance you may need to add a bit more water when reheating it.
You can use this sauce to refresh any leftover pasta and turn it into completely new dish.
If you are looking for more ideas on how to cook with kale check out those recipes: Baked Kale Crisps from Recipes From A Pantry, Guac-Kale-Mole  from Hungry Healthy Happy, Kale, Brown Rice & Red Quinoa Salad from Elizabeth's Kitchen Diary, Kale and Avocado Burritos from Amuse Your Bouche, Pan-fried Salmon on Kale, Sweet Potato and Pomegranate from Cook Sister, Kale & Cheddar Bubble & Squeak from Tinned Tomatoes, Kale Pesto from My Custard Pie or Warm Butternut Squash Salad with Dukkah Crunch from Fuss Free Flavours.