My younger (3 year old) daughter Ella suddenly just got up, went to the kitchen, took couple apples from the fruit bowl an said "apple pie" so I had no other choice but to make one with her.
Luckily day earlier I bought some puff pastry for my husband who had urge to make cheese twists…  we had also apricot conserve on hand and Ella's apple pies turned out to be very quick and yummy (!)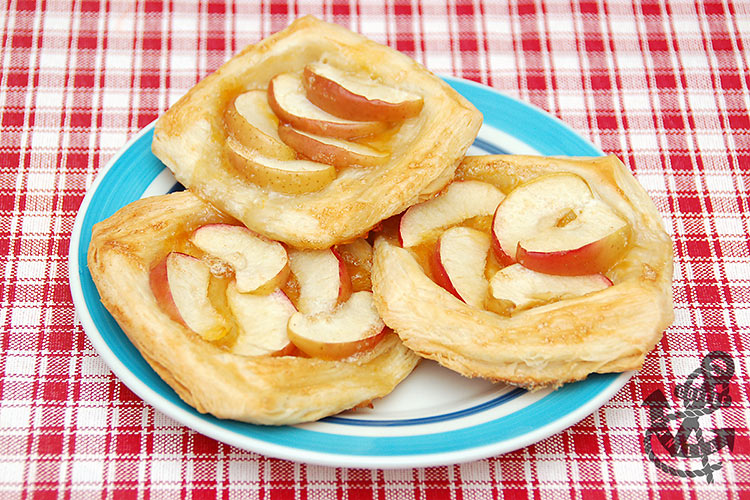 INGREDIENTS
500 g chilled puff pastry
9 heaped tsp of apricot jam or conserve
2 apples (cored and sliced)
egg white (lightly whisked) – optional
EQUIPMENT
baking paper
whisk
brush
rolling pin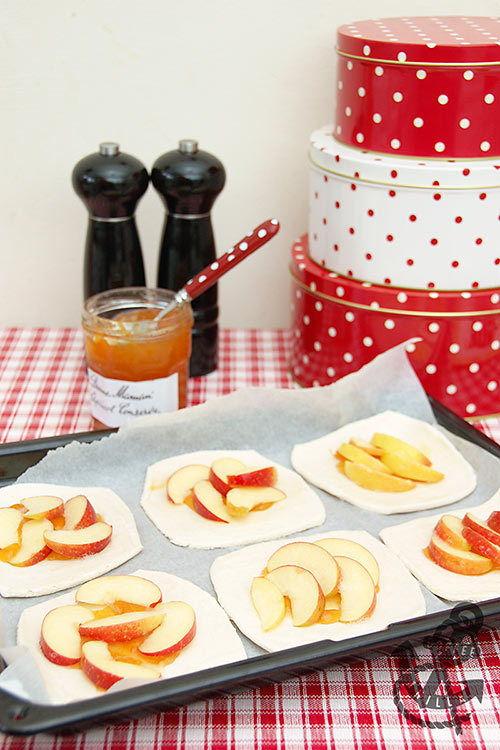 METHOD
Divide puff pastry into 9 even squares.
Roll out each piece until about ½ cm thick, place on baking tray lined with baking paper.
Top middle of each square with 1 heaped teaspoon of jam.
Arrange apple slices on the top of the squares, leaving out the edges.
Optionally brush everything, especially the edges, with egg white.
Place the tray in the oven preheated to 200°C (392°F).
Bake until the pastry is golden brown, about 25 minutes.
Makes 9 pies (pastries really).
TIPS
Apricot jam can be easily substituted with any other jam you like. We have tried with raspberry conserve recently and our pies turned out delicious.
NOTES
If you are looking for more apple dessert recipes, try our Szarlotka – Traditional Polish Apple Pie, Blackcurrant & Apple Pie, Apple, Rhubarb & Ginger Crumble or Dark Chocolate and Apple Muffins.
More desserts.
More kids' recipes (and also some craft ideas).