INGREDIENTS
for the filling
1½ kg apples, crunchy and not too sweet ones such as Bramley apples would be the best (peeled, cored, cubed)
½ – 1 lemon juice (depends how sour apples are)
2 tbs vanilla sugar
for sweet short crust pastry
2½ cup plain white flour
200 g unsalted butter (cold, chopped)
½ cup golden caster sugar
2 – 3 egg yolks (I used 3 small yolks)
3 tbs natural yogurt or soured cream
icing sugar to sprinkle – optional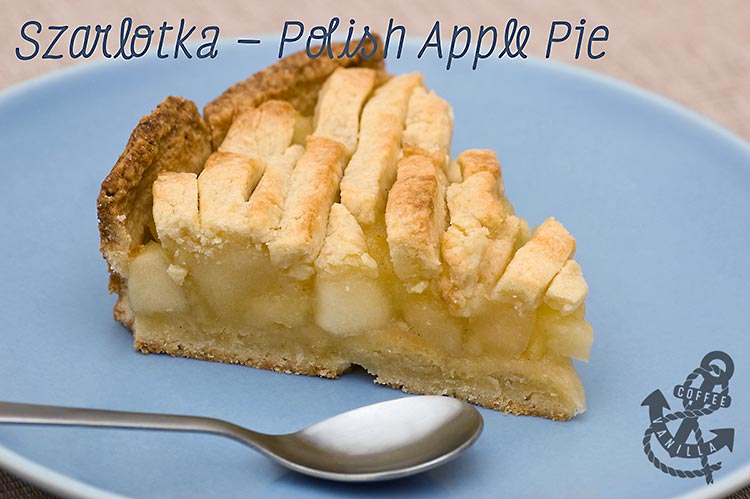 EQUIPMENT
9" (22,8 cm) round non stick cake tin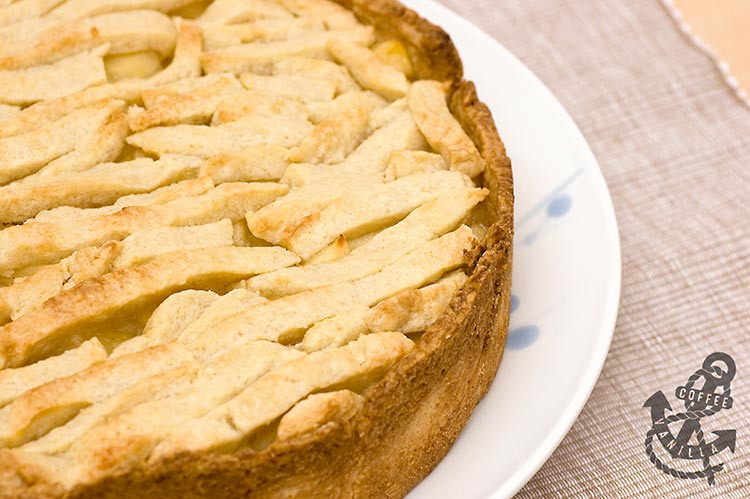 METHOD
To prepare short crust pastry in a mixing bowl combine flour, butter, sugar yolks and some of the yogurt.
Knead the dough with your hands till it creates smooth dough and is not falling apart any more. Add rest of the yogurt if necessary.
Place in the fridge for about an hour.
In meantime peel apples, core and cube them. Place in container with squeezed lemon juice, stir so apples are covered in lemon juice and won't turn brown.
Fry them in deep frying pan till there is no more water and apples are starting to get soft but they are still almost raw. Remove from fire, add vanilla sugar and leave aside.
Take out pastry from the fridge, cut off ⅔ and remaining ⅓ put back in the fridge.Cut dough into slices with knife, cover bottom and sides (about 3 cm tall) of the tin with the dough. With your fingers flatten the dough to cover all possible spaces in between pastry slices. Prick bottom with fork and place it in preheated oven to 180°C (356°F) for about 15 – 20 minutes until dry and lightly golden.
Place apples on the top of the pie base. Remove remaining dough from the fridge and cut it into stripes, cover top of the cake with them. The dough does not have to cover completely the apples, some spaces in between strips are ok.
Put back to the oven for 25 – 30 minutes, top of the pie should be golden brown.
Remove from the tin and optionally dust with icing sugar.
Serve at room temperature, warmed up or even chilled.
Makes 6 – 8 servings.
NOTES
If you make this apple pie plus Spinach & Feta Tart or Spinach & Roquefort Quiche you have enough left over egg whites to make: Brudas – My Mother's Poppy Seed Cake or Poppy Seed Muffins.
Taste good on it's own, chilled with a cup of coffee or warmed up with vanilla ice cream on a side.