To me pączki wiedeńskie are integral part of Andrzejki / Eve of St. Andrew's Day celebrations that are night of parties with elements of magic and fortune-telling. I remember as a child we used to have evening discos in our primary school filled with traditional activities (such as predicting future husband's or wife's profession by pouring melted wax through a keyhole) and the most important – the Vienna doughnuts stall!
INGREDIENTS
160 g vegetable shortening (I used Kasia)
2 cups plain flour
2 cups of boiling water
2½ tsp baking powder
½ cup potato flour
2 pinches of salt
1 tbs of golden caster sugar
8 whole eggs
1½ l oil for frying (I used rapeseed oil)
for topping
alternatively
icing sugar and lemon or orange juice (only enough to dissolve the sugar) to make the icing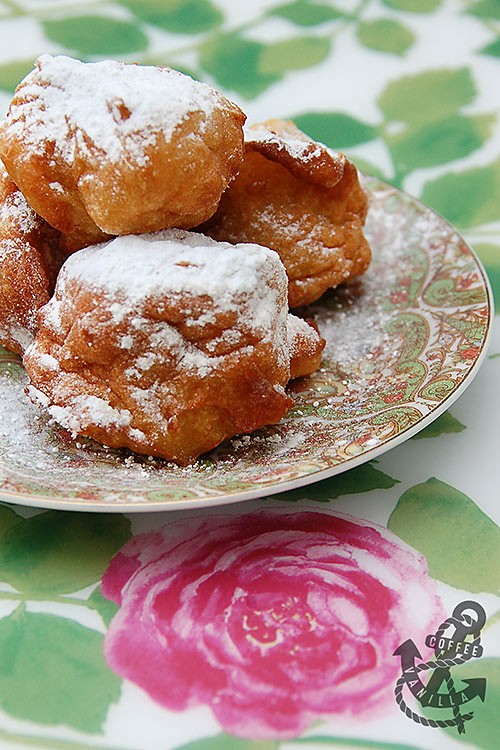 EQUIPMENT
wooden spoon
medium pot (to cook the dough)
mixing bowl
large / wide pot (for frying)
piping bag without or with large nozzle
small square pieces of baking paper
pastry brush if using icing
hand mixer or potato masher
tongs
paper kitchen towels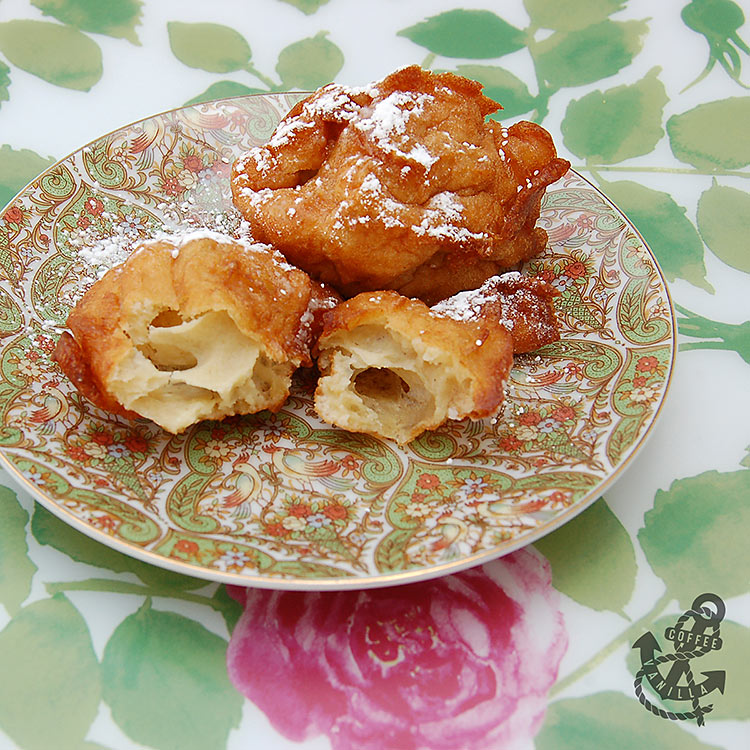 METHOD
Heat water in a medium pot together with vegetable shortening, until all melted.
In meantime combine flours, sugar, baking powder and salt.
Quickly stir flours into the pot with water, heat and mix with wooden spoon to create springy ball of dough.
Remove from fire, transfer dough to the mixing bowl.
Using hand mixer (or potato masher) combine dough with eggs adding them gradually.
Continue mixing until the dough is very smooth.
Fill piping bag with it to create circles on baking paper pieces.
In a large pot heat the oil.
One by one slide dough circles (together with paper) into the oil.
Fry on both sides peeling off the paper with tongs.
Drain on a plate lined with paper towels.
Sprinkle with icing sugar or brush with icing while still hot.
Leave aside to cool down.
Makes about 20 medium doughnuts or many more small ones .
Happy National Doughnut Day to all readers in US & Canada!
TIPS
Vienna doughnuts should be round with holes in the middle but I forgot to get piping bags so I scooped them into oil with table spoon, hence the free style shape.
NOTES
Pączki wiedeńskie are also called "oponki" (tires) or "gniazdka" (nests) because of their shape.
National Doughnut Day is celebrated on the first Friday of June that will take place on June 7th this year.
More doughnut recipes: Pączki Oponki or Baked Not Fried Doughnuts with Vanilla Glaze.
I'm submitting this recipe to the Inheritance Recipes link-up that we co-host together with Solange of Pebble Soup. November Inheritance Recipes is hosted by Solange, please come and join us, share your inherited recipes!