My daughters just love their Ikea Mammuts despite the fact that the stools are very old and all covered in scratches…  we have them since the older one was a baby and she is almost 8 years old now.
Having some spare yarn from making granny square bags I decided to crochet couple of covers for the stools to make them look nice again (!)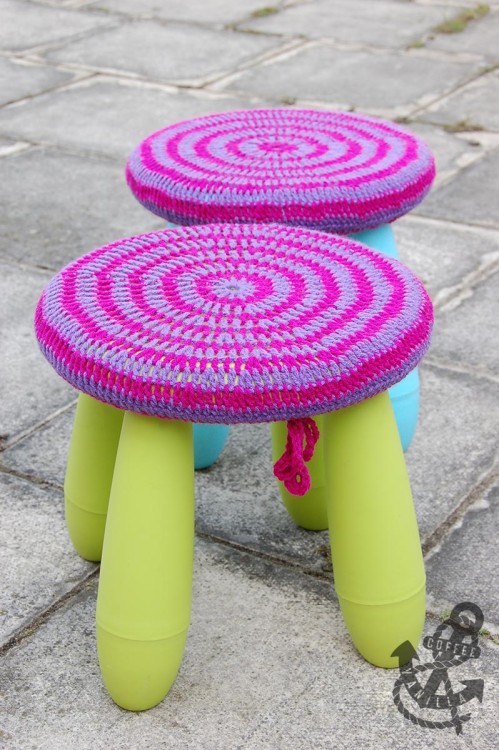 MATERIALS
two colours of yarn for 4 mm crochet hook
EQUIPMENT
METHOD
Please note that names of the stitches in UK & US vary, this is UK pattern, click through for crochet stitches conversion chart.
stitches used: chain (ch), slip stitch (ss), treble / triple crochet (tr), half treble (htr)
FOUNDATION CHAIN
Start with 5 ch, close the chain with ss to create a circle.
ROUND 1 (FOUNDATION ROUND)
To start the new round work 3 ch as first tr and then 11 more tr stitches, close round with ss.
ROUND 2
Start another colour without cutting of the first one. Work 3 ch for first tr, work 2 tr into each space between tr from previous rounds.
ROUND 3 – 12
Change the colour of the yarn, work 3 ch and then tr into spaces between tr from previous round, now and then add additional tr into the same stitch to keep the circle flat.
Work as many rounds as needed to make the circle almost as big as the top of the stool (it took me 12 tr rounds), first add additional tr quite often every 3 – 4 stitches to reduce it in final rounds to every 7 – 8 stitch.
ROUND 13 – 16
To start a new round work 2 ch for first htr and then htr in between each stitch from the previous round.
Continue with the same colour for 2 rows, then change colour and work again 2 rounds of htr, finish with ss and fasten off.
STRING WITH RINGS
Use the same colour of yarn as the last row of the cover.
To make a string start with 5 ch, close the circle with ss, work 2 ch for first htr and then work 9 more htr into the circle to create the ring, close with ss.
Straight from the ring work 150 ch, close with ss stitch, leave enough yarn to create another circle and cut of the yarn.
Thread the string around the edge of the cover, then repeat the steps to create another ring on the other end of the string… this way the string is secure in the cover without possibility that the kids will pull it out.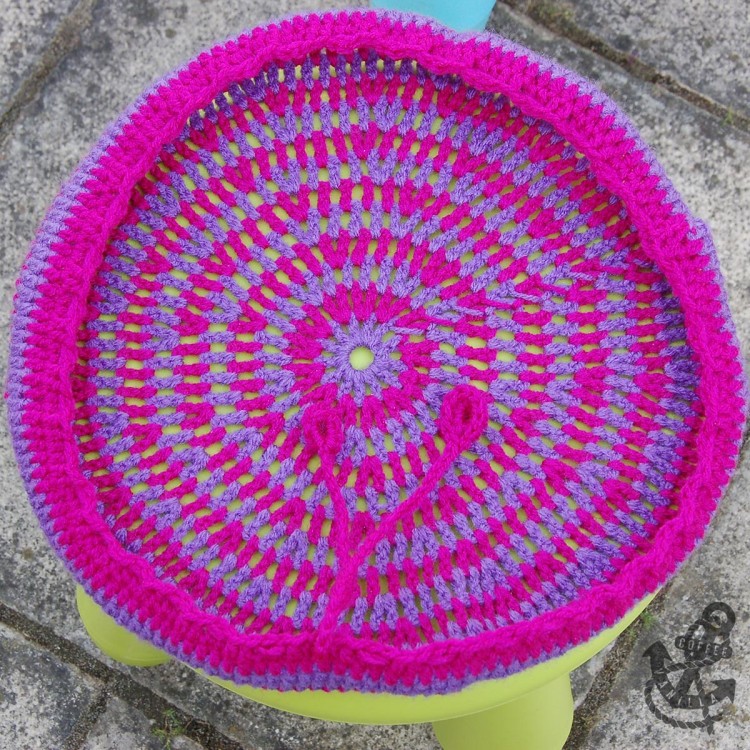 NOTES
More home decor ideas can be found in Blue Colour Themes for The House article I wrote.
More upcycling / recycling ideas: DIY Play Stove (from old newspapers, bottle tops & fiber board), Coasters (from old newspapers), Piggy Bank (from old plastic bottle), Girl's Room Workspace (made from upcycled cot bed), Miniature Garden in a Fish Bowl (unused fish bowl turned into miniature moss garden), Reading Corner (made from spare bedside table – Ikea Hack), Upcycled Magazine Decoupage (cardboard boxes decorated with old magazines) and Recycled T-Shirt Rug (crochet rug made out of old shirts).