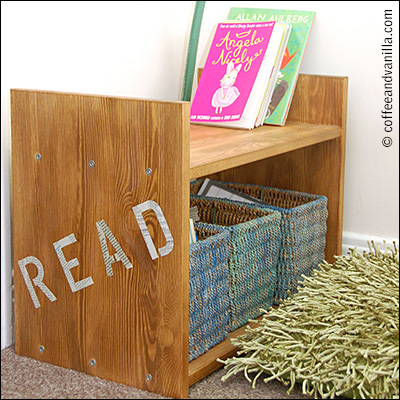 RAST bedside table (£9) has been turned upside down, stained with Ronseal Colron Wood Dye in Burmese Teak.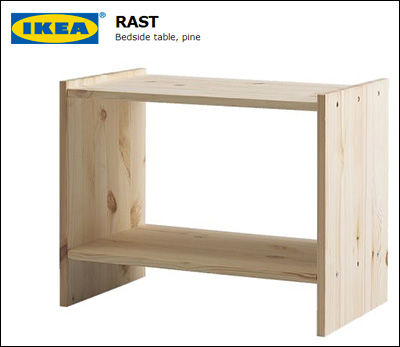 I have stuck onto it READ letters cut out from the newspaper with help of 75 mm stencils.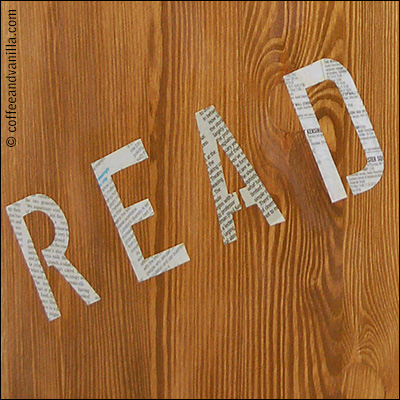 Then I covered everything with water based indoor wood varnish that I always have at home as I use it for all kind of crafts…
The baskets are old rattan ones which I painted with acrylic paint mixing green, blue and grey randomly.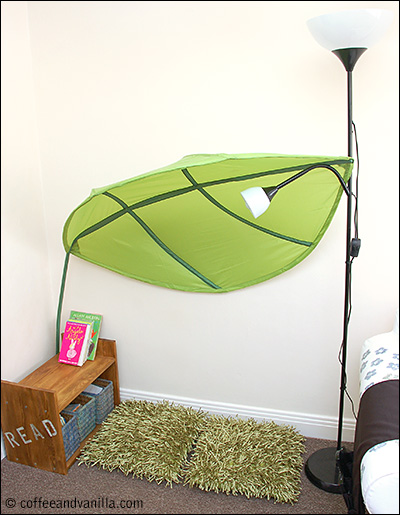 The light source is from NOT – our living room floor lamp from Ikea (£11), the leaf is LÖVA bed canopy also from Ikea (£10) and grassy cushions came from Asda (£9 each).
NOTES
To read more about home decor click through to Blue Colour Themes for Home article I wrote a while ago.
Take a look at some more upcycling / recycling ideas from the archives: DIY Play Stove (from old newspapers, bottle tops & fiber board), Coasters (from old newspapers), Piggy Bank (from old plastic bottle), Crochet Covers for Old Mammut Stools (Ikea Hack), Girl's Room Workspace (made from upcycled cot bed), Miniature Garden in a Fish Bowl (unused fish bowl turned into miniature moss garden), Upcycled Magazine Decoupage (cardboard boxes decorated with old magazines) or Recycled T-Shirt Rug (crochet rug made out of old shirts).