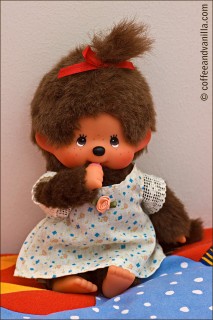 Monchhichi dolls (also called Kiki, Monchichi or Chicaboo in different countries) originate from Japanese animated series "Futago no Monchihichi" ("Monchhichi Twins) in the '80 by Koichi Sekiguchi.
We have two standard size 8″ (20 cm) Monchhichis (dreadlock boy and girl in a rain coat) and two 6" (14 cm)  Bebichhichis (a boy and a girl in baby hats). They are very cute and remind me of my childhood when they were very hard to get (only in Pewex, shop where you could buy goods using US Dollars). My sister had one of them and for many years we were playing with it, making clothes for her, she had even handmade kimono and fake crocodile leather backpack made by our mom ;) So now when my daughter asked me to make some clothes for them I could not refuse… This is first / test outfit so it is not perfect… more to come soon.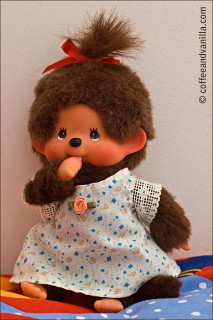 To make this cute dress all you need is a little bit of fabric and two hours of your time (or less if you have experience in sewing or have sewing machine).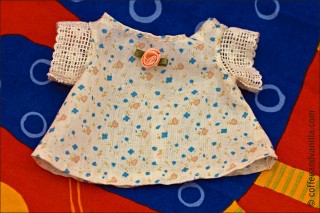 MATERIALS
A4 piece of fabric
2 x 6 cm of lace for sleeves – optional
thread and needle
1 cm piece of hook & loop iron on tape (Velcro)
pencil
scissors
2 mini buttons (5mm each)
ribbon rose or one more button – optional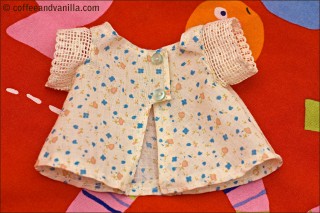 METHOD
Fold to the back edge of the fabric and sew on the front, do that will all sides of the fabric except stripy sides (that is where you have to sew parts together) and bottom of the dress. Then connect all three parts together, at the end sew the bottom line and connect sleeves. To connect sleeves sew lace on inside of the dress.
Now iron on hook & loop tape on the back of the dress, on the top of it sew in one or two mini buttons just for decoration. On the front attach ribbon rose or one more button for decoration.
You can download here printable A4 pattern which you can use as a stencil to cut out shapes in the fabric.
Please note that I don't have any experience in sewing so I'm sure there is a lot of things that could be done better ;)
Iron on hook & loop tape I bought is not very good for thin fabric like the one I used, so make sure that you have double layer of fabric in a place where you will be ironing on the tape.
I have lots of new fabrics we bought with my daughter, so expect more Monchhichi outfits soon… next project – trousers for boy Monchhichi.