Napoleonka (Napoleonki in plural) also called Kremówka is Polish custard cream pie made out of two layers of pastry filled with custard cream and often decorated with layer of icing sugar.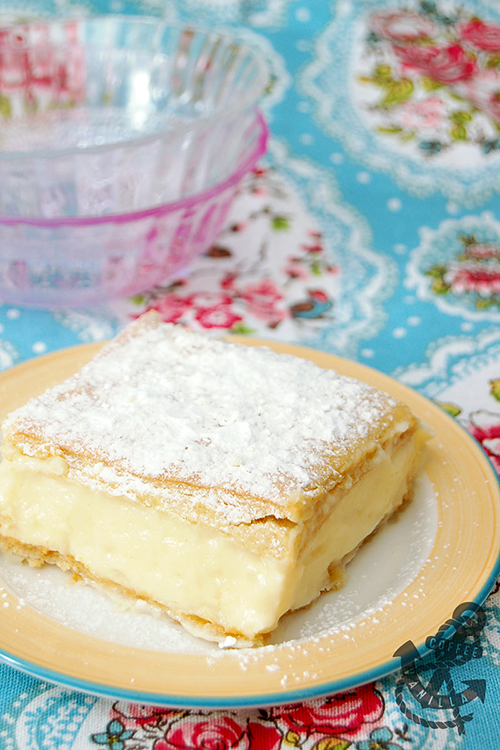 INGREDIENTS
for the pastry
250 g of unsalted butter
300 g soured cream / thick 18% cream
2½ cups of plain flour
2 pinches of salt
icing sugar – to decorate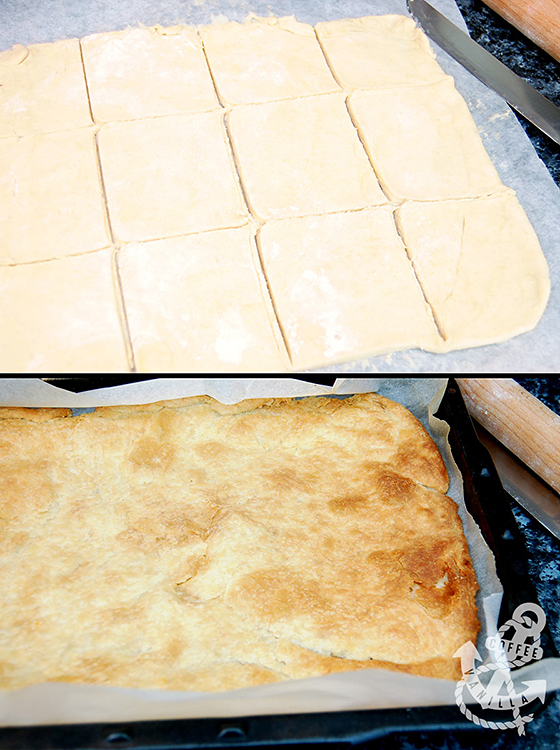 for the cream
6 cups / 1½ litre of whole milk
125 g / ½ bar of unsalted butter
1½ cup caster sugar
5 packets of vanilla sugar (5 g each)
4 – 6 whole eggs (4 large, 6 if small)
4 – 6 egg yolks
8 tbs plain flour
8 tbs potato flour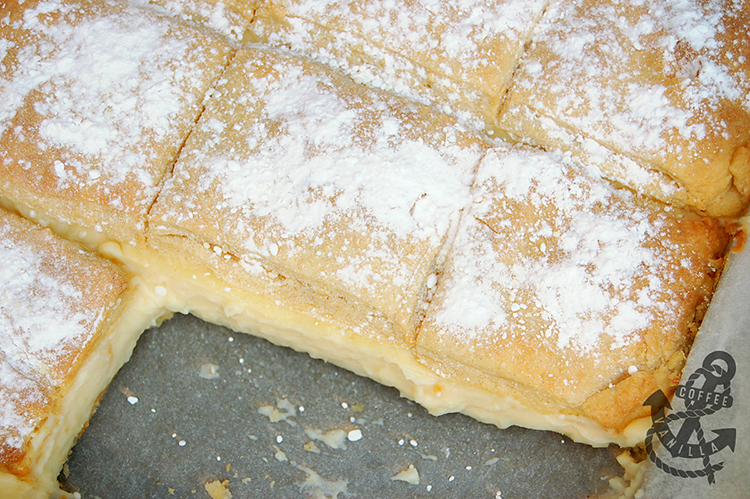 EQUIPMENT
2 large baking trays
2 sheets of baking paper
large mixing bowl
manual whisk
large jug
large pot to prepare cream
spatula
rolling pin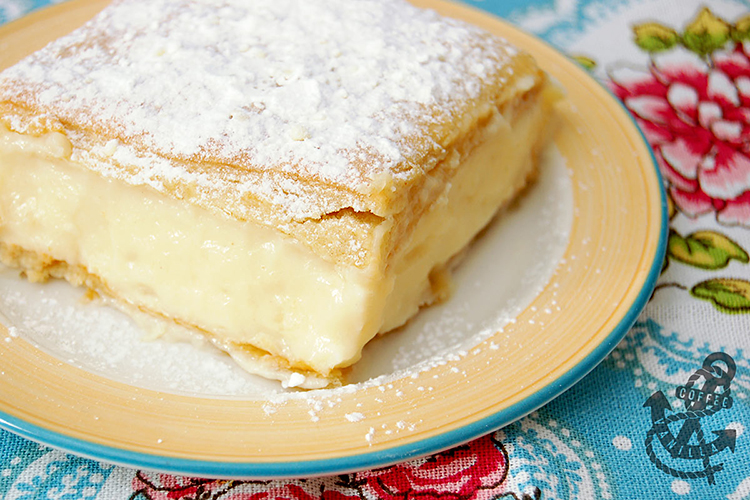 METHOD
To prepare the dough mix quickly while still cold cream, flour, salt and chopped butter.
Knead only until well combined, dived into two balls and place in the fridge for at least 1 hour or even better overnight.
Preheat the oven to 190°C (374°F).
Remove both pieces of the dough from the fridge, roll out on baking papers as much as you can trying to keep the shape of the tray.
Share one of the doughs into even rectangular shapes, you should be able to divide it into 12 or 16 slices, leave the other one (for the base) uncut.
Bake both of them for about 20 minutes.
In meantime prepare the cream boiling 4 cups of the milk with vanilla & caster sugars and butter.
In a jug combine eggs, egg yolks, flour and left over 2 cups of milk whisking everything until well combined.
Gradually fold in egg mixture into pot with milk, continue boiling and stirring with a whisk until cream is smooth and starting to get thick.
Leave aside and let it cool down.
Remove the dough from the oven and let them cool down.
Spoon out cooled down cream onto the base layer (the one that is not cut) of the pie, top with precut pieces, sprinkle with icing sugar and place in the fridge for couple of hours.
Slice with a very sharp knife following the cuts on the top layer of the pie.
Serve with some unsweetened tea or coffee on a side.
Makes 12 generous or 16 smaller portions.
NOTES
If you don't have time to prepare the dough it can be replaced with not too salty crackers.
Napoleonka has origin in French Mille-feuille, vanilla custard slice also called Napoleon pastry.
I'm adding this recipe the Inheritance Recipes challenge that we co-host with Solange of Pebble Soup. June Inheritance Recipes is hosted by Solange, please come and join us, share your inherited recipes!