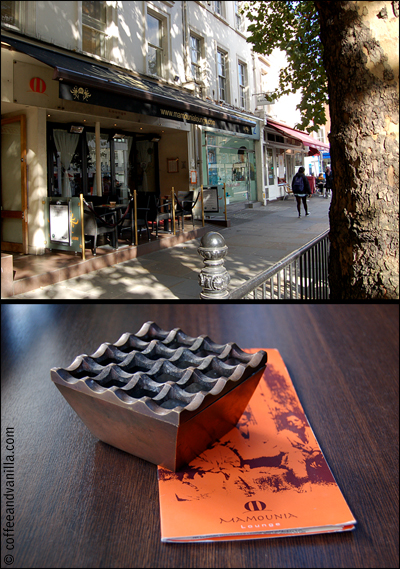 It was a strange Saturday afternoon, sun shone, rain drizzled and it was chilly… Heading from Knightsbridge station I passed Harrods, most famous department store, destination of many tourist, which by the way I still haven't visited yet (living more than 8 years in London). The Mamounia Lounge is just a little bit further, on opposite site of Brampton Road. The venue looks quite moderate from outside but this is impression is gone as soon as you enter welcoming, warm interiors full of pretty designs, interesting fabrics and textures dominated but red & gold. If not the music playing in the background you would think you are in centre of Morocco or other Arabic country.
Inside I met with Michelle of Greedy Gourmet and Sarah of Maison Cupcake, Jeanne of Cooksister joined us shortly too.
Mamounia Lounge offers Middle Eastern cuisine, cocktails, shisha and belly dancers (in the evenings). It's open from 11.00 am untill midnight. I haven't been in any Lebanese or Moroccan restaurant before so I was a little confused with the menu choices… Therefore I was pleased to find out that the Drink Menu have  a lot of international classics. I went for Mojito (with Middle Eastern twist) because I knew I couldn't go wrong with it. I loved addition of passion fruit, it was truly amazing: Mamounia Mojito (top right) – raspberry, strawberry, pineapple or passion fruit (£10.00).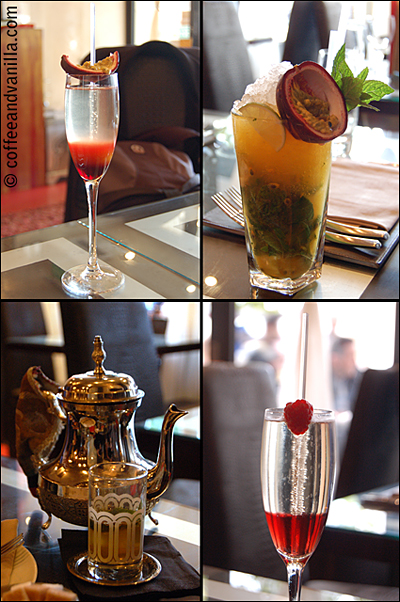 Sarah and Michelle were enjoying Passion Champagne (top left) – topped with passion fruit (£12.00) and Jeanne her Chamberry (bottm right) – beautiful, layered drink decorated with raspberry (£11.00).
From Hot Drinks after dinner we were served Moroccan Tea (bottom left) – green tea with added mint leaves (£3.00 per person) that was real thirst quencher.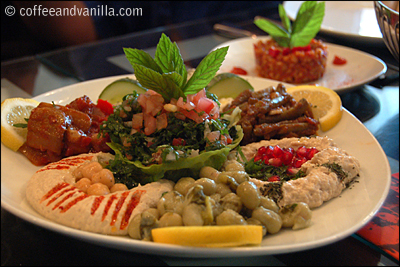 Hot or Cold Mezze (£6.00-7.00 each) are generally starters… Even if you are not familiar with Middle Eastern cusine you will probably know some of the names already as they are widely sold ready made in the stores. Mezze are available each one separate but to try as many different things as possible we ordered the whole Lebanese Mezze Platter (£12.50) containing: Hommus, Moutabel – pureed and smoked aubergines, Labneh – kind of Lebanese yogurt, Loubieh – French beans with tomato, Foul Mkala – broad beans with coriander and garlic, Tabbulah –  that was dominated by the herbs rather than the bulgur wheat and Moussakaa – egg plant, chick peas, tomato and spices. All of them were yummy and served with freshly baked Lebanese pita bread.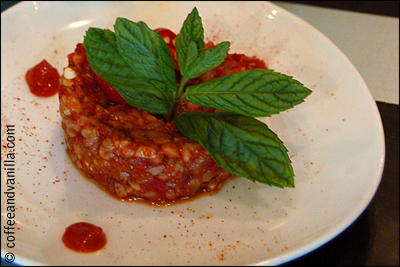 But Mohammara – mixture of roasted nuts, chillies and peppers (£7.00) was my favourite Cold Mezze…. divine combination of sweetness and spicyness with nice, crunchy texture.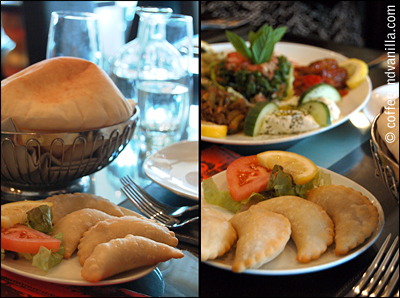 From Hot Mezze menu we got a chance to try Sambousek Cheese – pastry stuffed with halloumi cheese, onion and pine nuts (£6.00) & Sambousek Lamb (£6.00). I haven't try the last one but the cheese ones were mouth watering and I would definitely order them again.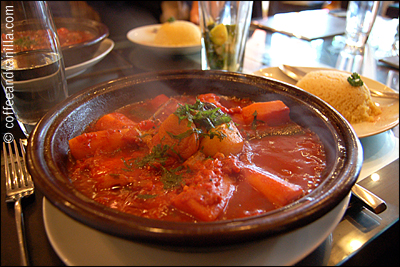 Mamounia Lounge has quite a big selection of main courses including flavoured couscouses, char-grills and fish just to mention some. As we had already Lebanese platter for starter, we all ordered dishes from Moroccan Main Courses. Tempted by presentation and the promise of butternut squash I have chosen Seasonal Vegetable Tagine (pictured above) – chickpeas, carrots, butternut squash, courgette, turnip, parsnip and potatoes, served with dried fruit (£16.00). I really liked the zucchinis, butternut squash, prunes and even apricots in the dish, but not the turnips, carrots or parsnips that seemed to overtake on my plate. Also the tomato flavour was way too overwhelming, I wish I have chosen something else…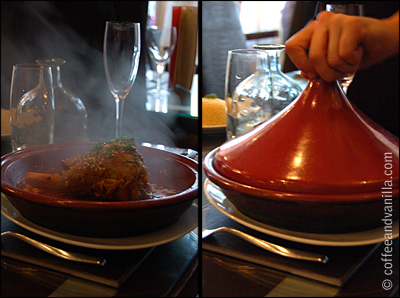 The good news is that tagines at Mamounia Lounge are cooked and served in traditional terracotta dish and available not only in vegetarian version but also with chicken, lamb, sea food or duck. As a Side Dishes Couscous (£3.00) was served.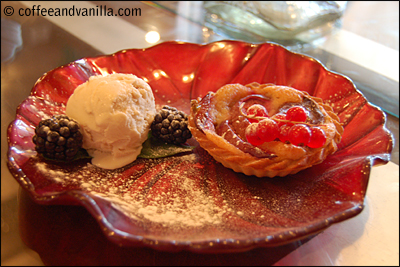 Unfulfilled by the main course I was impatiently awaiting the Desserts… Feeling a little bit more brave now, I guess after the Mojito, I ordered Fig Tart  (£7.50) because of the cinnamon ice cream served on a side. I must admit it was one of the best desserts I had in a very long time. I would certainly order it again and again (!) Jeanne's Selection of Baklava (£7.50) was delicious too, would go extremely well with some strong, black coffee.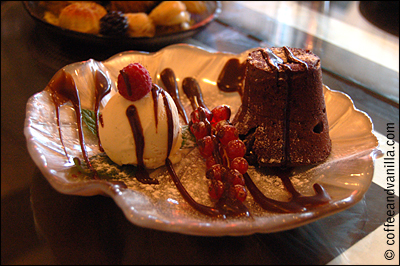 Sarah had Chocolate Fondant with Vanilla Ice Cream (£9.50) and Michelle went for healthier option: Passion Fruit Platter (£16.00) which was impressive, huge and topped with lots berries and mint leaves. It could easily be shared between couple of people. No doubt that the fruit platter like this is a fantastic alternative to sugary desserts.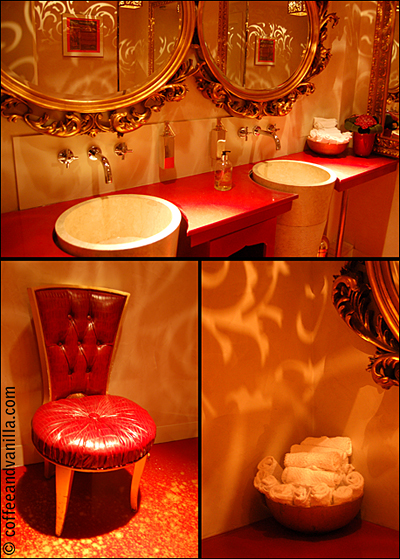 Often beautifully decorated restaurants are let down by the restrooms that do not match the style of the rest of interiors. That is not the case with Mamounia Lounge, their restrooms are amazing, with lighting effects, real towels and other little finishing touches that will make you feel special.
SUMMARY
FOOD: Tasty with room for improvement: 7/10
VENUE: Beautiful interiors, disappointed by unfortunate choice of music: 7/10
SERVICE: Friendly, quick: 8/10
VERDICT: Recommended, either for the whole meal or just couple of drinks: 7/10
Read more reviews from the same day here:
by Jeanne of Cooksister
by Michelle of Greedy Gourmet
by Sarah of Maison Cupcake
MAMOUNIA LOUNGE Knightsbridge

136 Brompton Road
Knightsbridge
LONDON, SW3 1HY
phone: 0207 581 7777
list of all Mamounia Lounge locations
closest station: Knightsbridge

You can find this review between my other reviews on Google Local & Urbanspoon websites.
DISCLOSURE: I enjoyed this complementary meal on 13th of October 2012 as a guest of Mamounia Lounge.  All opinions are my own.