INGREDIENTS
about 12 enchilada wraps
600g chicken breast (cubed)
unsalted butter
400g jar of tomato sauce
1-1½ tbs enchilada seasoning mix
sea salt – to taste
2-3 bell peppers (the more colours the better) – sliced
freshly chopped coriander to serve – optional
200g grated cheese
EQUIPMENT
large, oven proof dish
cheese greater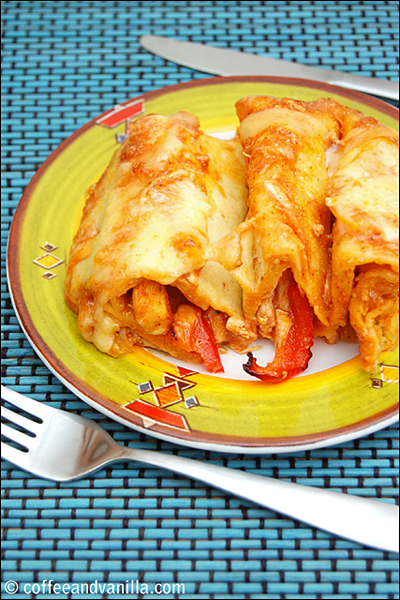 METHOD
Preheat the oven to 200°C (392°F).
Grease the oven proof dish.
Dice the chicken and fry on butter until ready.
Stir in tomato sauce and enchilada seasoning powder, season to taste with sea salt if necessary.
Roll each enchilada wrap with some chicken and pepper, place in the oven proof dish.
Pour over the rest of tomato sauce.
Top the dish with leftover peppers.
Sprinkle over grated cheese.
Pop in the oven for couple of minutes, only until cheese is melted and browned.
Share to the plates, do not worry if you can't separate the enchiladas, just cut the dish like you would cut lasagna.
Optionally sprinkle with some fresh coriander.
Serve with lots of green salad on a side.
Make 12 enchiladas, allow 2-3 per serving.
NOTES
Enchiladas can be made with mince meat instead of diced one.
Optionally add some onions while frying the chicken/meat, I haven't because of my children.
You can also add other ingredients to the enchiladas, such as red kidney beans, sweet corn or anything else you may think of.