Those are probably the first Halloween cookies we have ever made…
Not having any scary cookie cutter shapes we decided to improvise and top them with spiders made out of chocolate candies.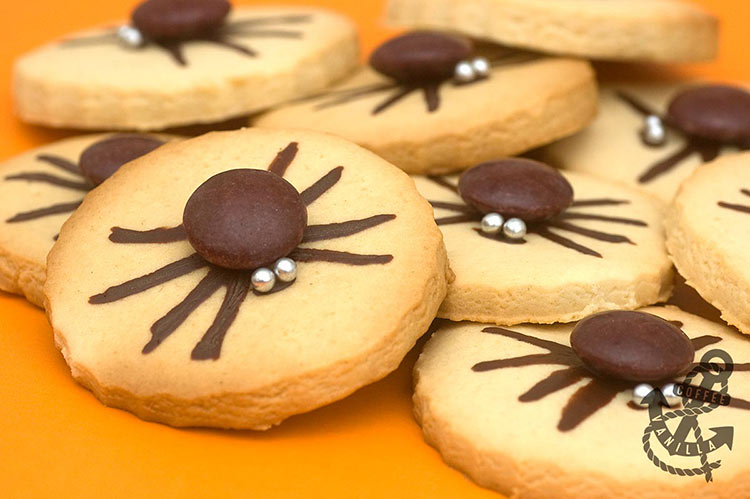 INGREDIENTS
200 g unsalted butter
1 cup golden caster sugar (about 200 g)
2 large eggs
3½ – 4 cups plain flour (about 500 g)
1 tbs vanilla extract
½ dark chocolate bar (melted)
35 chocolate candies
70 silver mini icing balls or other small icing strands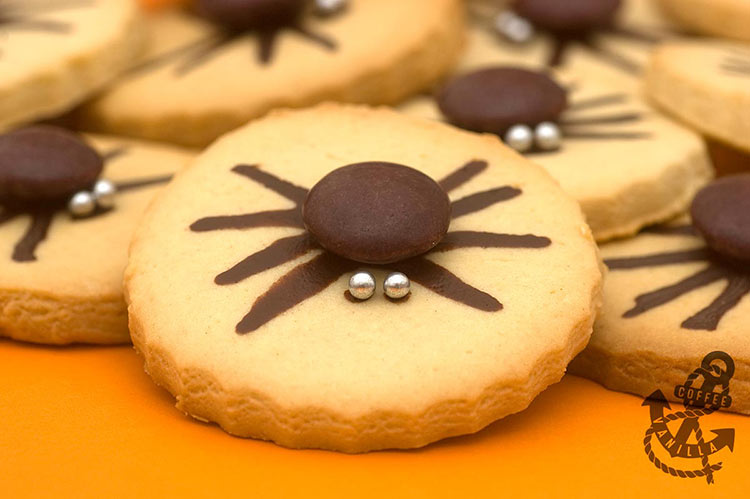 EQUIPMENT
METHOD
Cream eggs, sugar, butter and vanilla extract together.
Stir in flour and create a ball from the dough.
Leave it in the fridge for at least 2 hours.
Then preheat oven to 180°C (356°F).
Take out part of the dough from the fridge and roll it out on lightly floured surface to about ½ cm thick.
Cut out shapes with cookie cutter or glass and place on baking trays lined with Teflon sheet or baking paper.
Repeat the same with the rest of the dough.
Bake cookies for about 15 minutes. Let them cool down before decorating with chocolate.
Melt chocolate in microwave, deep some stick in it and draw spider on the cookie, stick in chocolate candy as a body and silver icing balls as spider eyes.
Repeat the same with the rest of cookies.
This recipe makes about 32 – 35 cookies 6½ cm (2½ inches) wide.
NOTES
If the dough is too soft make ball from it again and place in the fridge for a while.
Instead of making spider design on cookies you can melt more chocolate and using pastry brush cover the whole cookies in chocolate and then sprinkle over icing strands. You can also mix icing sugar with some hot water to create icing, then add food colouring and use it to draw Halloween shapes on cookies.
If you looking for more inspiration take a look at those Halloween ideas.