This is quite time consuming craft idea, perfect to keep kids occupied during rainy days. Except for the Mod Podge or other glue & varnish in one you don't really need anything else. You can start the project without it as you will only need it when the boxes are finished.
For smaller children that get bored easily choose choose smaller boxes that would not take more than 30 minutes to cover with papers… glazing can be done later.
All kind of recycled paper boxes can be used for this purpose and to be honest we prefer scraps of paper, wrappers and old magazines than expensive decoupage paper sets, they are more fun and encourage creativity.
MATERIALS
special papier-mâché / paper mache trinkets, boxes, gift bags, mini chest of drawers, wooden containers or even plain cardboard containers from chocolates, soaps etc. (we had some paper mache bags on hand)
tissue paper, gift wrap, wrappers, old magazines or special decoupage paper if you like
little embellishments, pictures, die-cuts or what ever you can think of
glue stick
water based gloss sealer, glue & finish all-in-one (we used Mod Podge)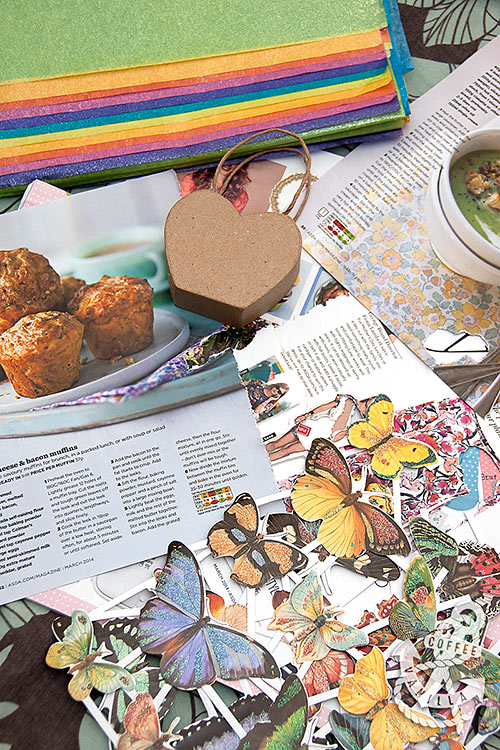 EQUIPMENT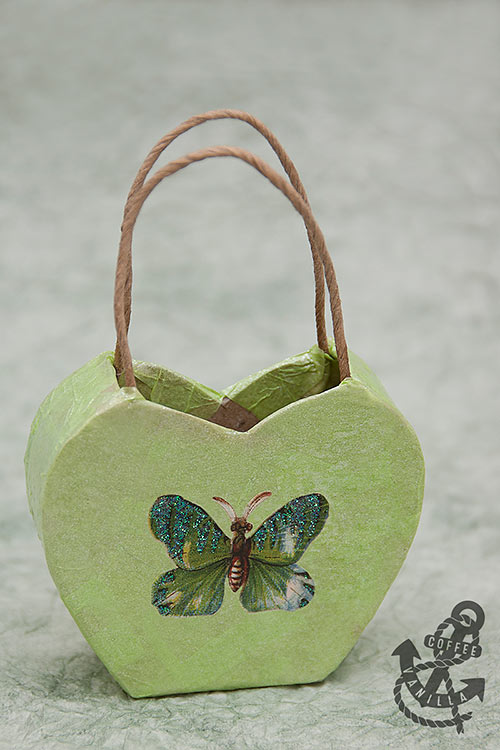 METHOD
Tear out or cut out some interesting patterns from the paper – all flowery patterns, all blue, all monochrome, all seaside themed etc.
Use glue stick to position the pieces making sure to cover all areas.
Then paint with the sealer and allow it to dry for about 24 h.
If you want the item to be more glossy just apply another layer after the first one is dry.
Or even sprinkle with some glitter when the sealer is still wet like I did for this summer treasures box we have made as a homework for my daughter's nursery (to fit little items she collected during the holidays).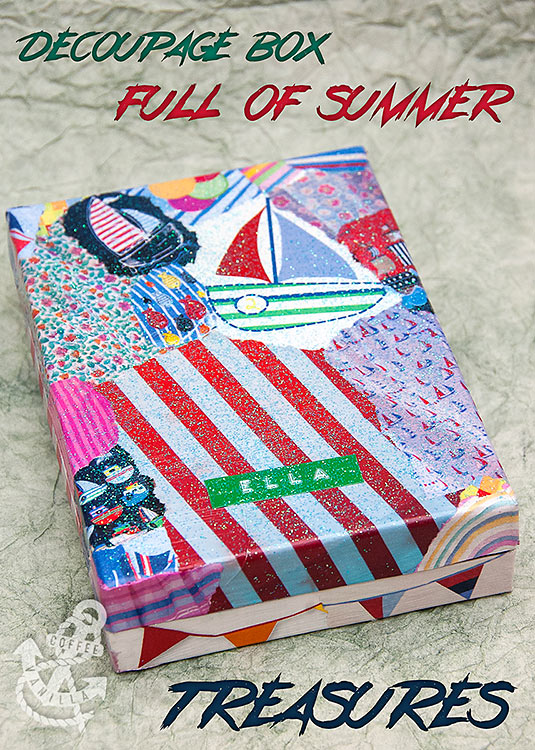 NOTES:
More upcycling / recycling ideas: DIY Play Stove (from old newspapers, bottle tops & fiber board), Coasters (from old newspapers), Piggy Bank (from old plastic bottle), Crochet Covers for Old Mammut Stools (Ikea Hack), Girl's Room Workspace (made from upcycled cot bed), Miniature Garden in a Fish Bowl (unused fish bowl turned into miniature moss garden), Reading Corner (made from spare bedside table – Ikea Hack) or Recycled T-Shirt Rug (crochet rug made out of old shirts).
More gift wrapping ideas.
DISCLOSURE: This post contains some affiliated links.