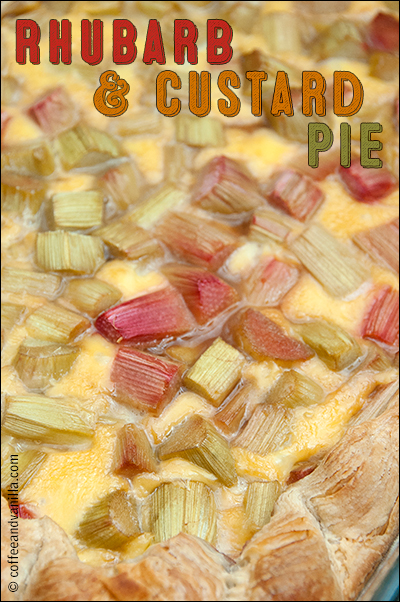 This is very lazy yet tasty (and tangy) summery recipe with fresh rhubarb, ready puff pastry and vanilla custard.
INGREDIENTS
500 g ready chilled puff pastry
about 400 g fresh rhubarb (washed, peeled and cubed)
2 cups of thick vanilla custard
sugar to sprinkle, best demerara
EQUIPMENT
large pie baking dish or Pyrex would be the best
non-stick frying pan
rolling pin
METHOD
First prepare the rhubarb frying it on non stick frying pan for a while to reduce the water.
Once rhubarb is ready roll out puff pastry and line large baking dish with it.
Top with custard, then rhubarb.
Sprinkle generously with sugar.
Bake in the oven preheated to 200°C (392°F) for about 20 minutes or until golden.
Share to the bowls and enjoy while still warm.
Makes 6-8 portions.
NOTES
Sharing the pie was a bit tricky because of the hot custard so next time I will try to make it in couple smaller pie dishes instead of one big one.
More rhubarb recipe ideas:
Rhubarb and Saffron Yogurt Cake from Elisabeth's Kitchen Dairy
Rhubarb & Ginger Cake from Fab Food 4 All
Rhubarb Custard Sandwich Cake from Jo's Kitchen
Wholemeal Rhubarb & Ginger Muffins from Blue Kitchen Bakes
A Spiced Strawberry & Rhubarb Upside-Down Cake from Cooksister