This is easy simple, seasonal dessert made from plain vanilla tea cake topped with fresh rhubarb… simple and delicious.
INGREDIENTS
200 g unsalted butter (softened) + some more for greasing the baking dish
200 g / ¾ cup golden caster sugar
seeds from 1 vanilla pod (do not discard the pod, use it to make some vanilla sugar)
200 g / 2 cups self-rising flour or plain flour + 2 tsp baking powder
2 large / 3 small eggs
about 3 tbs of milk or a bit more
400 g fresh rhubarb (peeled and cubed)
demerara sugar to sprinkle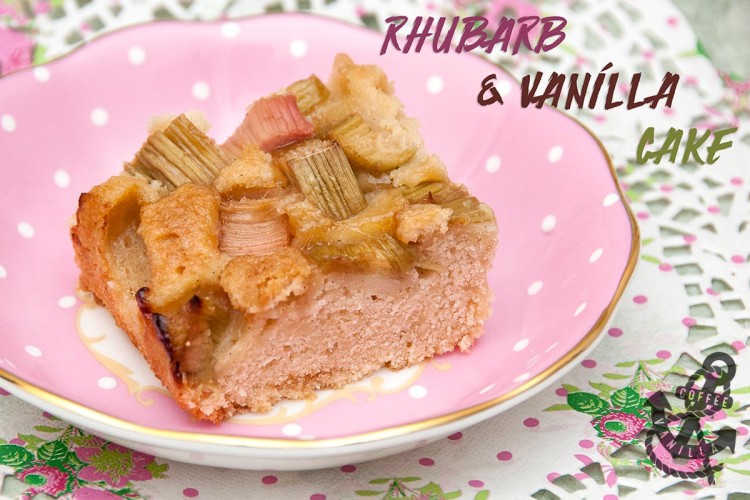 EQUIPMENT
large, rectangular baking dish

wooden skewer

mixer
METHOD
Preheat the oven to 190°C (374°F).
Grease the baking dish with butter.
In meantime mix together softened butter, eggs and sugars.
Gradually fold in also flour. Add 3 tbs of milk or more if the mixture seems to be too dry.
Transfer cake batter to the baking dish.
Top with rhubarb and sprinkle generously with demerara sugar.
Bake for about an hour or until the cake is ready, check with wooden skewer.
Allow to cool down before serving.
Makes 8 – 10 portions.
NOTES
Don't have rhubarb on hand, replace it with other seasonal fruits such as sour cherries (pitted) or plums.
More rhubarb recipe ideas: Roasted Rhubarb, Watercress and Feta Salad from The Botanical Baker, Rhubarb Quark Crumble from Maison Cupcake, Jasmine Rice Pannacotta and Rhubarb Cardamom Compote from Franglais Kitchen, Rhubarb and Custard Cookie Bars from Cakeyboi, Rhubarb & Custard Pie that I've made recently.