[The idea of bottle piggy bank came from recycled art classes I attend.]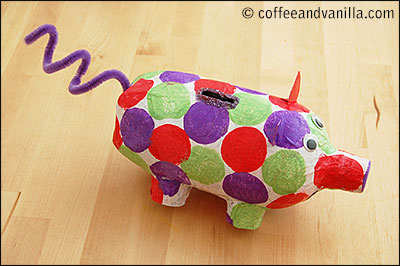 This is quite easy but time consuming recycled craft idea perfect for half term, it will keep kids occupied for couple of days… Collect bottle covers and toilet rolls as we have few more recycled craft ideas to share this week (!)
MATERIALS
large plastic bottle
5 bottle covers
newspapers
sticky tape
googly eyes
cardboard (for ears)
pipe cleaner (for tail)
craft paint (white + couple other colours)
PVA glue
clear all purpose glue or glue gun
clear vanish (I used water based clear gloss varnish for indoor wood from Wilko)
EQUIPMENT
sharp knife / cutter
paint brushes (I used brush for white paint and varnish at the end and sponges to make spotty design)
METHOD
1. Cut bottle in 3 pieces, discard middle part. Deep edge of the bottom part in hot / boiling water and push quickly inside the top part… it should fit now inside. Secure with sticky tape.
2. Use also sticky tape to connect 4 bottle covers as legs.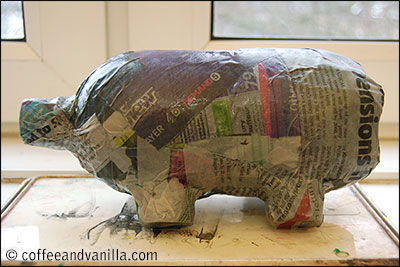 3. Dilute craft glue and use it to stick newspapers onto the bottle.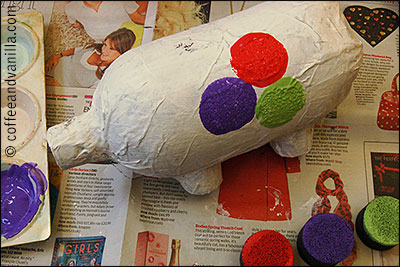 4. Paint first with white colour to cover the newspaper print, then decorate to your liking.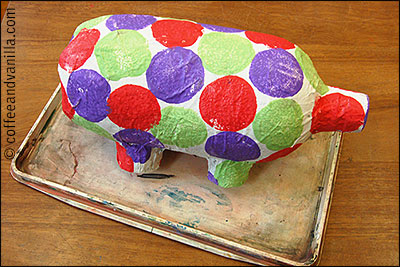 5. Use all purpose glue or glue gun to connect the pipe cleaner tail, eyes and ears (pain them as well).
6. Finish covering the whole piggy bank with clear glossy vanish. I also trimmed the ears as they refused to stay up.
7. Once the piggy bank is completely dry, carefully make a whole for coins with the cutter. I secured edges of the cut with glittery nail polish because I messed it up a bit.
NOTES
Twist pipe cleaner around some oval object, like glue stick, to make it curly.
To reduce waiting time you may stick jewels / beads or stickers instead of painting the piggy bank.
You can also cover it with wrapping paper and then only varnish.
More upcycling / recycling ideas:
DIY Play Stove (from old newspapers, bottle tops & fiber board)
Coasters (from old newspapers)
Crochet Covers for Old Mammut Stools (Ikea Hack)
Girl's Room Workspace (made from upcycled cot bed)
Miniature Garden in a Fish Bowl (unused fish bowl turned into miniature moss garden)
Reading Corner (made from spare bedside table – Ikea Hack)
Upcycled Magazine Decoupage (cardboard boxes decorated with old magazines)
Recycled T-Shirt Rug (crochet rug made out of old shirts)