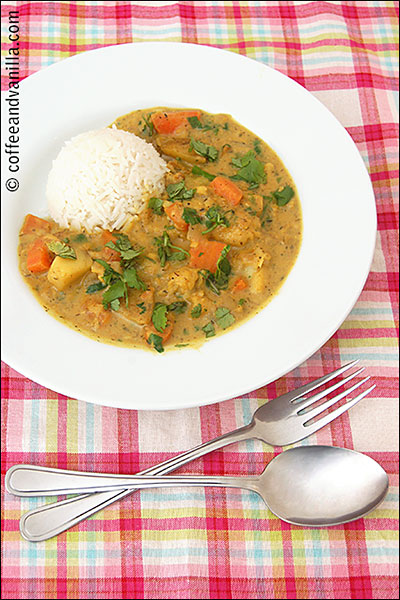 INGREDIENTS
800g frozen white fish (I used pollock fillets)
3 tbs unsalted butter or oil for frying
1 large onion (diced)
3-4 carrots (sliced)
500g potatoes (cubed)
3 vegetable cubes (10g each) dissolved in 1½ cup of boiling water
2 tbs Caribbean medium curry powder
2 tbs dried thyme
1 tbs garlic powder
few pinches of Cayenne pepper
½ cup coconut milk powder
red bell pepper or sweet pointed pepper (diced) – optional
for garnish: couple of spring onions or handful of coriander (chopped) – optional
to serve: 2 cups of dry basmati rice (cooked)
EQUIPMENT
large, wide pot with lid to cook the stew
smaller pot with covered to cook rice
METHOD
On the bottom of the pot fry onions until golden brown.
Add carrots and potatoes, fry a while longer.
In meantime cook the rice and leave aside.
To the pot with vegetables stir in all the ingredients: cubes with water, curry powder, thyme, garlic powder, Cayenne pepper and coconut milk.
Reduce fire and cook covered until vegetables are ready and fish is falling apart.
In the last moment add peppers, cook only for 1 minute longer.
Serve the stew over cooked rice.
Sprinkle with chopped spring onions or coriander.
Make 4-6 portions.
NOTES
Have in mind that some fish fillets are quite salty so you may want to reduce amount of vegetable cubes to 2 instead of 3.