This is baked, healthier version of traditional Polish doughnuts that can be covered in icing sugar (as we did) or optionally topped with glaze.
INGREDIENTS
2 cups of milk
200 g unsalted butter
2 cups plain flour
2 tbs vanilla sugar
2 pinches of salt
8 eggs
icing sugar – to dust
EQUIPMENT
3 large baking trays
large piping syringe with star shaped nozzle
whisk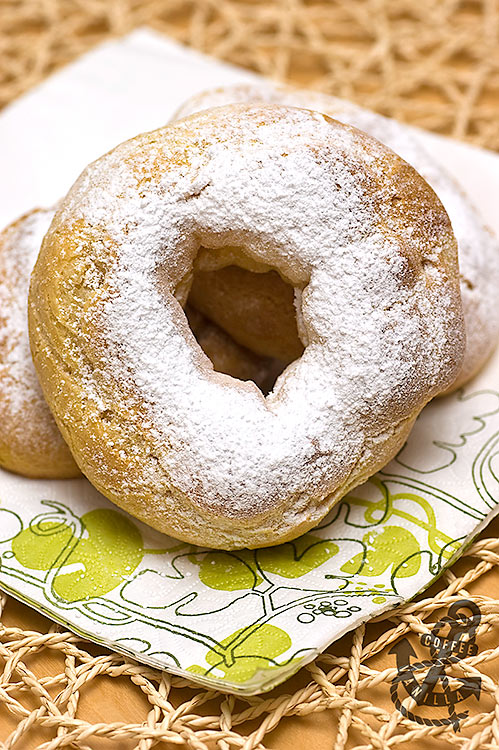 METHOD
Preheat oven to 150°C (302°F).
In a medium pot combine milk, butter, caster and vanilla sugar, salt and heat until butter is melted.
Slowly stir in also flour stirring constantly.
Remove from fire, transfer this mixture into large mixing bowl and slowly add also eggs, mix with whisk until mixture is smooth.
Place portion of the dough in piping syringe, create round (about 8 cm wide) circles, you may need to pass syringe two or three times if the end is small.
Repeat the same until dough is finished.
Bake until golden brown, dust with icing sugar and leave aside to cool down completely.
Dust again with icing sugar just before serving.
This recipe makes about 30 medium donuts.
NOTES
Oponki does not have texture like most of the donuts, they are soft and moist inside.
In traditional version donuts are placed on pieces of baking paper, then deep fried on both sides and dusted with icing sugar or even dipped in icing. Deep fried oponki are crunchy on outside but still soft and moist inside, like baked ones.
Design from star end of the syringe should be visible on donuts, I did not have the correct end.
For more baked doughnuts recipes take a look at our Baked Not Fried Doughnuts with Vanilla Glaze.