Our girls are taking part in a bake sale at their school (to collect money for new library shelves). They decided they will make healthier baked doughnuts for this occasion.
Over the last two weeks we have been trying several doughnut variations. We tested recipes both using baking powder and those with yeast. We also tried baking them with and without special doughnut baking trays.
This recipe, adapted from the one found on Wilton baking pan packaging, has been the most reliable so far and also quick to make what in batch baking for bake sale is quite important, unlike yeast recipes that fail to rise enough sometimes, plus require plenty of kneading and resting time in between.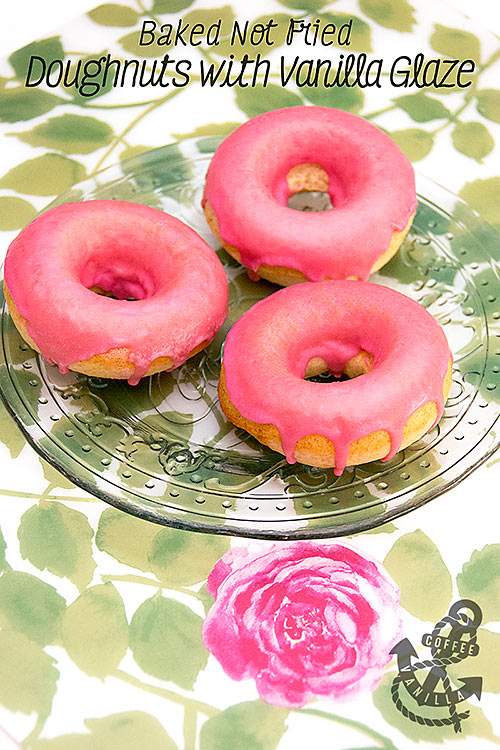 Our baked doughnuts maybe don't taste like Polish or German deep fried yeast doughnuts or like fried and glazed doughnuts from Krispy Kreme but they have turned out delicious, on their own way.
They are soft, sweet and salty at the same time and resemble a bit (dough texture wise) cinnamon sugar covered doughnuts we used to get on Camden market in London…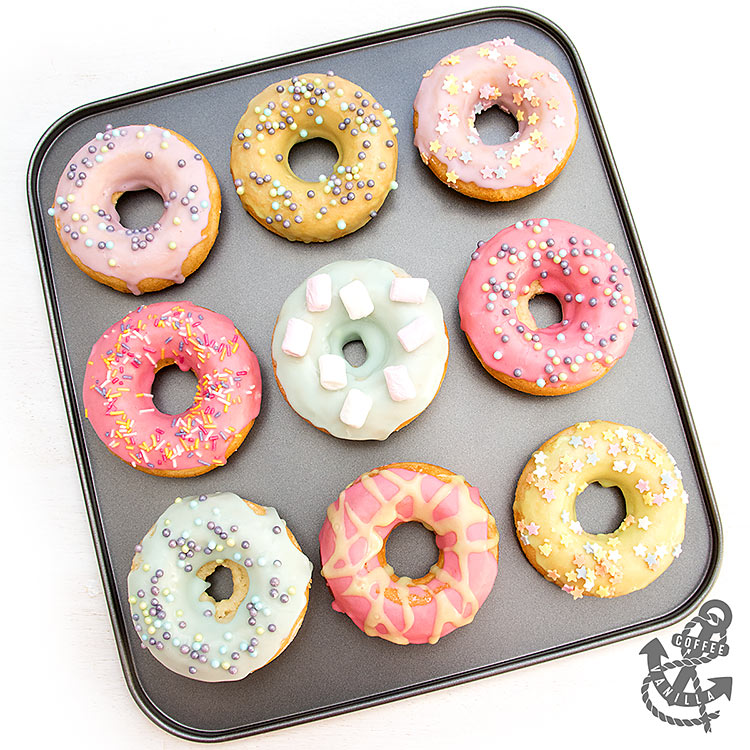 INGREDIENTS
for the doughnuts
2 cups plain flour (sifted)
¾ cup golden caster sugar
2 tsp baking powder
1 tsp fine salt
¾ cup full fat milk
2 eggs, 3 if small
3 ½ tbs of unsalted butter / about 50 g (melted) + some more (about 1 tbs for greasing the tins)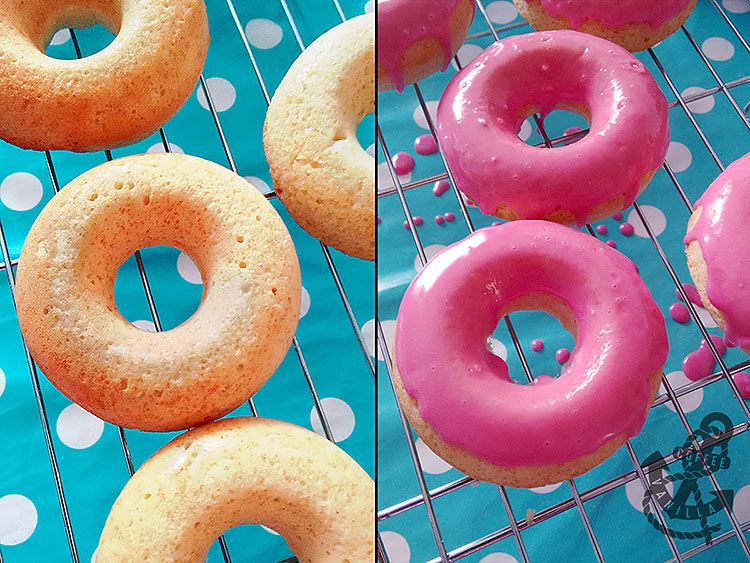 for the topping
1 cup icing sugar (sifted)
2 tbs of milk
½ tsp vanilla extract
natural gel food colouring – optional (we used red)
sprinkles or other sugar decorations – optional
mini marshmallows or other mini sweets – optional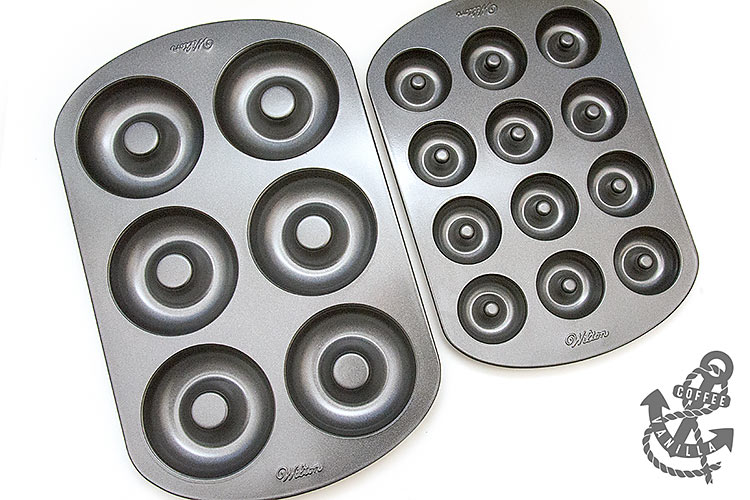 EQUIPMENT
doughnut pans (we used 2 large doughnut tins and 1 mini doughnut pan)
silicone pastry brush
large mixing bowl
small mixing bowl
flat bowl / deep plate for dipping in icing
pipping bag or any plastic bag with pointy corner
cooling racks – optional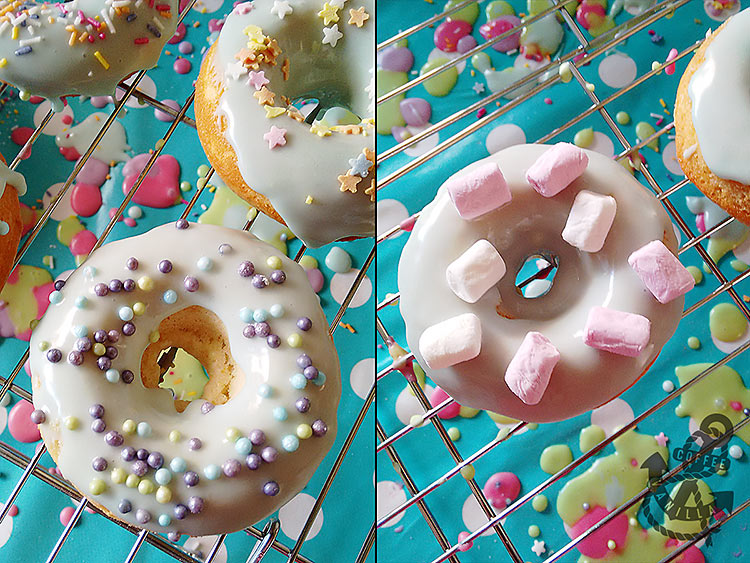 METHOD
Preheat oven to 220°C (425°F).
In a large mixing bowl combine all dry ingredients.
Melt the butter and use some of it to brush the tins.
In a small mixing bowl lightly beat the eggs, add milk and the rest of melted butter.
Add this to the bowl with dry ingredients and stir until batter is well combined.
Transfer the batter into piping bag – depending on the size of the bag you may need to refill the bag as you go.
Fill about 2/3 of each doughnut cavity (1 tbs batter for small doughnuts and 3 tbs batter for bigger doughnuts).
Place trays in preheated oven and bake for about 10 minutes for bigger doughnuts and a bit shorter for smaller ones.
Remove from the oven and turn the trays over the cooling rack… doughnuts should easily come out from the tins.
Once the doughnuts have cooled down completely prepare the icing by mixing all ingredients together.
Dip doughnuts in icing, one by one, place back on the cooling rack to drip off icing excess.
If you are using sprinkles or sugar decorations, top doughnuts with them quickly before the glaze will set.
If you are making patterns with icing let the glaze to set, then prepare different colour of icing, transfer it into the piping bag and drizzle over the doughnuts, again leave aside for the glaze to set.
Makes 16 regular sized doughnuts or 48 mini ones (we made 12 small ones and 12 big ones).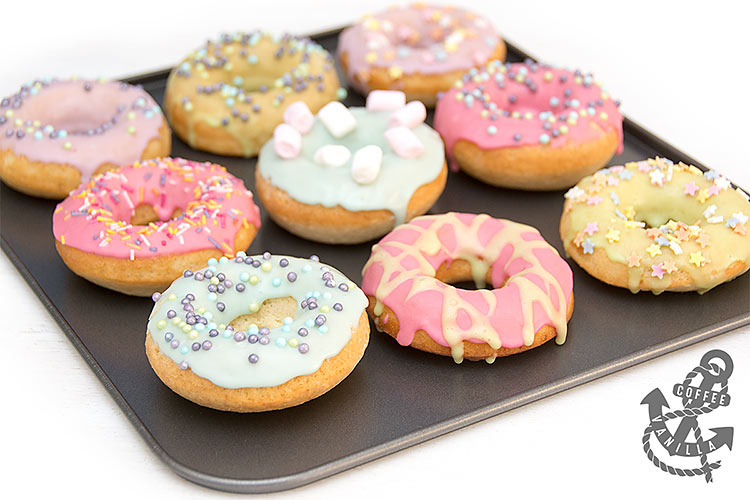 TIPS
Baked doughnuts taste best the same day but can be easily prepared night before and then glazed on the day.
Optionally skip the glaze and make cinnamon doughnuts instead.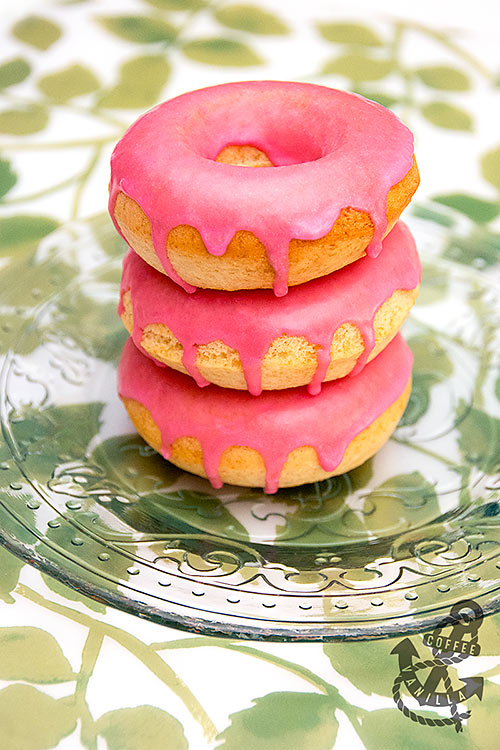 NOTES
For more baked doughnuts recipes, why not try Pączki Oponki recipe we made previously or Mabinut's Lime and Jasmine Doughnuts.
For traditional fried doughnuts take a look at our Vienna Doughnuts, Kavey's Glazed Vanilla Bean Doughnuts, Roz's Mini Doughnuts with Chocolate Dipping Sauce, Lucy's The Perfect Glazed Doughnut or Toffee Apple Doughnuts.
I'm adding this recipe to Lucy's Perfecting Patisserie challenge.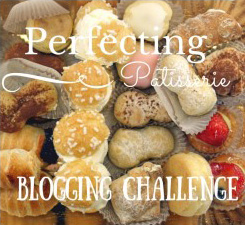 DISCLOSURE: This post contains some affiliated links.